Six mistakes that will wreak havoc on your HCM implementation
An HCM system can help HR bring employee recruitment and retention to new heights. Unfortunately, many companies get implementation wrong. Here's how to do things correctly.
Your HCM implementation is a critical and far-reaching transformation project that will provide the backbone for...
Continue Reading This Article
Enjoy this article as well as all of our content, including E-Guides, news, tips and more.
your people and talent management processes. Indeed, a successful HCM implementation can help you gain a competitive edge in recruitment, hiring, employee satisfaction and retention. And yet, too many companies wreck their HCM implementations.
Here are six traits these unsuccessful projects tend to have in common -- followed by what you should do instead.
Rushed deadlines
It may sound obvious, but not allowing for enough time to implement a human capital management (HCM) system is courting disaster. Yet, more often than not, organizations do not allocate enough time to prepare for the overall project.
In particular, critical stages that tend to get insufficient time allocations include testing and data conversion, as well as the stage of reviewing requirements and working through them to ensure they meet the needs of the business.
Usually, the members of the project team will still have their day jobs to complete alongside the project and, therefore, the HCM implementation should have sufficient time built into each stage. It's important for the project management office or partner to keep this in mind.
Make sure stakeholders have enough time to review your requirements and design, as well as time to review the system after configuration (especially with an Agile approach).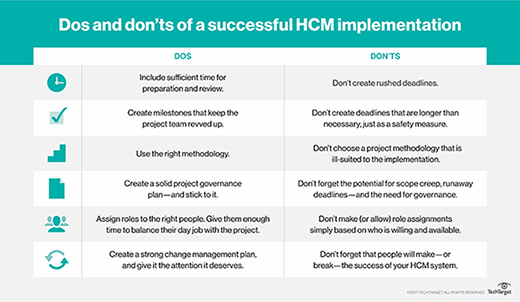 Preparation for the testing, preparation and execution of data migration should start early. Don't underestimate how much time is needed for these activities, and seek guidance from your implementation partner, as well as from other companies that have implemented your chosen HCM system to make sure your project plan contains the time needed. The necessary time will depend on how complex your design is, how much testing you do and how much data will be migrated.
Another key piece toward ensuring you have sufficient preparation is making sure you understand your current requirements. If you don't understand your requirements, it can be hard to design a future process that still encompasses all the organization's needs. Therefore, it is critical that multiple disciplines work through the requirements together, rather than collecting current requirements in silos. A strong overall view with input from multiple sources will help better define future requirements.
Flawed milestones
While it is well-known that a short timeline will make it difficult to complete a project successfully, it is not as well-known that a timeline that is too conservative -- that is, one that is longer than necessary -- can also lead to an unsuccessful project. Building in too much time, say 35% longer than ideal, just as a safeguard, can cause the project team to lose traction and momentum. Project burnout can become a major factor toward stuttering performance as the project enters its most critical phases.
Another typically risky milestone approach is implementing timelines that go in waves, where issues in the first few waves and missed deadlines can directly impact the following waves and, as such, create a ripple effect in overall delivery time.
Additionally, waved approaches may lead to a design that becomes outdated or obsolete. This happens because, often, the original template needs quarterly updates, but as the project team struggles to make the timeline, these enhancements are not taken in account.
The project timeline should always be realistic, although care should be taken to ensure enough time is built in to perform critical tasks. Don't be overly cautious with the time you need for each activity and each phase; the time adds up over the course of the project.
The wrong methodology
Not all project methodologies lead to success. You need the right methodology that supports the technology you will implement and that delivers value to your project. For example, a waterfall-based methodology is not likely to help you achieve real business value for software as a service (SaaS) projects. In general, this approach is best used for very large global rollouts.
Many SaaS implementation methodologies have a focus on multiple iterations of design and review, but a solid methodology will also have detailed approaches for data migration, integration and testing, which will span multiple phases. These methodologies -- which are typically vendor or partner specific -- are what you should look for to run your implementation.
A lack of governance
A lack of solid governance is a recipe for scope creep, runaway timelines and project failure. Project governance provides oversight and structure to how a project should be governed, and creates accountability and responsibilities.
Putting in place a strong governance model will ensure you don't lose insight on the scope. It will also keep your timelines rigid, and boost your chances of success. A steering committee can put together the governance structure and police it, although the project management office effectively enforces the governance on the everyday project activities.
As for the function of the steering committee, it should be empowered to define the roles and responsibilities of the project team members and to define the accountability of each role.
Additionally, you should appoint a strong project manager who will challenge decisions, enforce the scope (on both the customer team and partner team) and ensure the responsibilities and accountability defined by the steering committee are implemented and followed.
To be successful, the steering committee needs to consist of the right senior stakeholders, as well as representatives from the other parts of the business that are affected.
Ill-suited role assignments
This is another obvious trait, but it is a frequent occurrence that people get assigned to roles for which they are not suited just because they are willing and available.
It's not always the case that you have the right people for every role, so identify the roles early and identify a budget to bring in the right people to fill the gaps.
This is another obvious trait, but it is a frequent occurrence that people get assigned to roles for which they are not suited just because they are willing and available.
It's not necessary to have everyone from your HR team on the project -- remember that someone still needs to run HR while the project is underway.
However, it doesn't matter if you have the right people in the right roles if they are not assigned for the right amount of time to have an impact. Make sure your key people have significant roles, as well as enough time to lead work streams while keeping your HR running. In other words, for a successful HCM implementation, you need to build in the appropriate time for team members to work on both the implementation and their day job.
Additionally, you should make sure your implementation partner does not replace experienced or skilled resources with more junior resources, even for a short time. This is why including final say on resource replacement in the statement of work and creating a vetting process upfront can be so important.
Inadequate or no change management
Putting change management on the back burner, or worse, not giving change management any attention, is an almost certain recipe for HCM failure.
Your change management plan should include several key elements, including defining how the new technology should affect the organization, crafting a messaging strategy, creating a communications plan, engaging key stakeholders and project champions, and allowing for testing and training. A winning change management plan can help drive the success of the HCM project. It should also alleviate concerns that the project will get in the way or add extra work.
No one wants to be involved in an unsuccessful project or have a failed project on their CV, so adequate preparation and ongoing governance are critical to ensuring the only project experience is a successful experience.