Seven keys to a successful global HCM implementation
A global HCM implementation can be challenging, with many potential issues that must be addressed in advance. Here's how to plan ahead to help avoid potential problems.
Implementing a human capital management system can be a large and complex undertaking, no matter whether you are...
Continue Reading This Article
Enjoy this article as well as all of our content, including E-Guides, news, tips and more.
a small company operating in one country or a multinational corporation employing tens or hundreds of thousands of people. But if your HCM implementation is a global one, the complexity of the HCM implementation exponentially increases.
Fundamentally, having project teams scattered across the globe and an abundance of local compliance issues to deal with makes management of an implementation project all the more difficult. However, when managed correctly, what can seem like a daunting project can turn into a highly rewarding exercise in global alignment of culture, processes and success. These seven keys, which emphasize taking a proactive and strategic approach, help you manage that complexity and unlock global HCM success.
Create a comprehensive global HCM implementation
is a critical factor in your implementation. Building out a detailed project is the foundation for any HCM implementation software project. Ensuring each activity is allowed adequate time will factor heavily into whether project deadlines are realistic and can be kept. The biggest influencers to this are the size of the company's teams, the employee count (for data migration) and whether the implementation is multicountry.
When running a multicountry or global project, building project teams is important. Having local leaders and local HR experts is crucial to building a global template and meeting local legislative, regulatory and compliance needs. However, the biggest factor is having a leader who can manage these multiple teams and ensure adequate communication and meetings -- despite the time .
Companies should watch out for HCM implementation partners who insist on running projects remotely or largely remotely; typically in this scenario, a consultant is working on multiple projects and may not be able to focus fully on your project. Additionally, a resource helps you identify the level of resourcing you will receive and can be used to benchmark if you are really getting the experts you signed up for.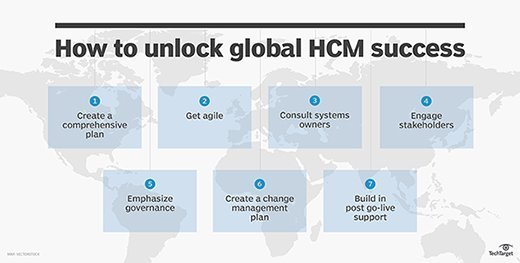 Get Agile
Most cloud HR implementation methodologies are Agile based, which means that the project will have multiple sprints or iterations of design and configuration. This practice gives companies a chance to see the initial design configured in the system and the opportunity to fine-tune that design to ensure it meets their needs and supports all their processes. Typically there are three iterations and it is fairly common for companies to have a hands-on review of the system during the entire iteration process. By doing this, companies can execute their processes firsthand and check that the system behaves as they want it to. Because of this, the user acceptance testing should run smoothly; first-time system users are working with something that the project team knows functions.
Get other systems owners involved
Almost certainly your HCM system will need to integrate with other systems, both HR and non-HR. This could be a benefits system, access control system or the finance system. Systems owners should be engaged early in the project to understand the scope, timeline and impact on their systems and day-to-day activities. Additionally, systems owners' feedback ensures that integration requirements are well-defined and sufficient testing is performed. It is important that there is no disruption to the operation of the integrated systems after go-live.
Engage business stakeholders early -- and often
Like with any business technology project, key stakeholders need to be engaged from the initial stage and be willing to provide input into the project and the project itself once it commences. Bi-weekly or monthly stakeholder meetings should be scheduled so that the project leadership can report progress and discuss critical issues.
Emphasize governance
A key part of managing the project is building the governance model that will determine the management structure of the project, how different stakeholders and business partners (including vendors and implementation partners) will interact with the project and its leadership, and what the key roles and responsibilities are for each project role. This is much more critical in global projects that have teams dispersed in different locations and time .
Create a nuanced change management
User education and adoption depend on a solid change management and communications strategy.
Managing change can often be overlooked, but it is an important cog in the project machine. Even with systems that are easy-to-use or engaging, user education and overall adoption depend on a solid change management and communications strategy.
For example, if self-service applications are new to the company, managers may feel that they have new responsibilities or more work to do than before. This would be an issue that change management needs to address. Identifying the benefits of the new system and selling this to key stakeholders and users should help them understand how these new activities make their life easier. Casual employee users are going to need to know where they can access information, such as how-to guides or general help. If a company uses a help desk for support, then this needs to be communicated along with the process.
Build in post go-live support
The HCM system journey doesn't stop at go-live, so thinking about how the system will be managed in the immediate and long-term periods after the go-live should be in the project plans from the start. A period of support in the few weeks after go-live (typically four weeks) can be useful to help the new users get settled with questions or issues that arrive.
Global implementations add complexity and challenges to HCM projects, which already touch many parts of an organization and require significant decisions from the key stakeholders. However, by following these recommendations, you can mitigate the risk that complexity brings and deliver a successful HCM implementation to your organization.