Integrated HCM systems help HR create a competitive edge
Companies are turning to human capital management suites that unify important business information. Here's a look at what they can do.
Superior talent management is a must for companies looking to succeed in today's business environment. Indeed,...
Continue Reading This Article
Enjoy this article as well as all of our content, including E-Guides, news, tips and more.
since employees are critical to a company's competitiveness, the technology systems that can help HR in attracting, managing, developing and retaining those employees are becoming increasingly important. Enter integrated HCM systems.
The overarching trend in enterprise software outside of HR functions is to use the best targeted application for specific operational business needs. For example, customers have recently been adopting best-of-breed applications, such as Zoho for accounting and Salesforce for CRM.
When it comes to HR needs, the trend is just the opposite: The human resources department is increasingly looking to integrated human capital management suites to better manage its workforce in a comprehensive way, which in turn enables HR to take a more strategic role in the company. As typically standard, HCM systems that handle multiple HR domains include modules for:
Employee administration
Organizational management
Process workflow
Recruiting management (including job posting and marketing)
Performance management
Goal management
Learning management
Career development planning
Talent assessments
Talent review meetings
Succession planning
In addition, integrated HCM systems may feature analytics, mobile access, and extensibility and customization capabilities. Most systems have some form of capability to integrate with third-party systems, including with a company's existing HR systems. Some products may include modules for benefits, time management and workforce planning.
According to the Aberdeen "Onboarding 2013" study, 80% of new employees will decide whether to stay or leave their company within the first six months, and according to the 2012 "Workforce Mobility Survey," Allied HRIQ, 25% of new employees leave within a year. Integrated HCM systems can play a role in helping companies better speak to the first statistic and better help lower the percentage of the second. It's safe to say that integration will be an important trend in the coming years. Indeed, recent press releases from major HCM vendors have shown that companies of various sizes and industries are adopting their cloud-based HCM suites. Additionally, the "2014-2015 HR Systems Survey" by Sierra-Cedar found that both data-driven and talent-driven organizations are more likely to adopt a majority of suite modules versus those that are less data- or talent-driven. This shows -- which my own field observations support -- that organizations leading in HR practices are looking at integrated HCM suites to help them drive these practices. It also supports evidence that talent-driven organizations are more effective, and that having an integrated end-to-end HCM technology suite enables this.
Looking to integrated end-to-end HR processes to gain competitive edge
To get the best efficiency from employees and the highest ROI in a HCM system, having integrated end-to-end processes is critical because it enables smooth, transparent and automated support of business processes. HR processes that cross multiple domains, require shared data and create data that has to be consumed in a subsequent part of the process -- as visualized below in an end-to-end hiring process -- need to be able to flow through the processes and be consumed by the system at the necessarily steps in the process. Data must be accessible when needed.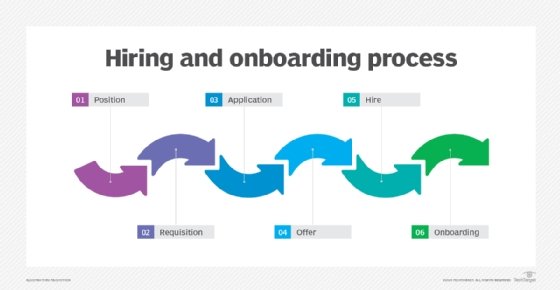 Without this flow of data, end-to-end processes become inefficient, and users become frustrated. Processes do not work well when users within one part of a process are unable to adequately handle their step of the process sufficiently or efficiently.
The above graphic visualizes a hiring process from start to end, but there are often other processes that are initiated at some point within the 12 months that follow the employee joining the organization. These include, but are not limited to, the following domains and processes:
Goal management
Learning management
Career and development planning
Performance management
Compensation management
Employee and manager self-services
Time and attendance and leave management
Travel and expenses management
Payroll processing
Contingent worker management and procurement
Many HR domains are interdependent and need integration to work properly. For example, goal management often forms the foundation of learning management, career and development planning, and performance management. As another example, the outcome of performance management is often used in compensation management processes and to drive further personal development processes -- learning management and career and development planning, in particular. And so the cycle begins again. The outcome of compensation management has to be passed to payroll for processing, and at some companies, compensation management is the process in which promotions are identified. Succession planning often relies on performance data as well as data provided by managers in various talent assessments. In all cases, data has to flow through to the correct parts of the system in the correct format. This is why it is imperative to have an integrated HCM system that can manage strategic end-to-end HR and talent management processes.
Clearing the way for insight with analytics and reporting
HR has always needed reports, and one of the major headaches for the modern enterprise is getting the classic headcount report. Without a single system-of-record, it can be difficult and time-consuming to compile a simple headcount report. Imagine if your organization didn't know how many employees it has or how much it is paying out in salaries and compensation.
Analytics go beyond reporting and offer a greater value to strategic HR organizations. Typically, analytics offer cross-dimensional reporting and drill-down capabilities, helping to pinpoint the detail behind the numbers. Often they can be graphical, representing data as pie or bar charts. Some examples of strategic HR analytics include:
Average time and cost to fill positions.
Quality of hire (performance of those who exit the company versus performance of new hires).
Breakdown of compensation and merit awards versus performance increase.
Breakdown of employees with development plans or learning activities that have increased performance.
Cost of succession planning (cost of long-term development activities per successor per key position).
Breakdown of development costs by type versus increased performance.
Percentage of incumbents of key positions that will retire within 5 years.
When taking into account the benefits of smooth, automated processes and holistic analytical capabilities -- among the other benefits an integrated HCM system can bring -- companies can really introduce cost-saving efficiencies and improve user experience for their employees. And being able to manage all aspects of the employee and organizational lifecycle in a strategic manner can make your organization a top performer in an ever increasingly competitive marketplace.