Five keys to choosing the best HCM software vendor for your company
The human capital management system you choose is critical to boosting your company's success. Here's how to make sure you choose well.
Selecting an HCM vendor is a critical decision for your organization. The vendor you choose will support your employee-facing...
Continue Reading This Article
Enjoy this article as well as all of our content, including E-Guides, news, tips and more.
HR processes for a significant period of time, and it will directly impact your employee engagement and retention.
Most cloud-based human capital management (HCM) systems are fairly similar, and it is really down to the detail and how well they meet your specific requirements that will influence which system is right for you. To that end, here are five keys to help.
Define your HCM software vendor analysis criteria. Identifying vendors is important, but it is also easier today than it has been in the past. However, in order to even identify vendors -- let alone assess them -- you need to identify your vendor criteria. This is important because, without the right criteria, it will be almost impossible to select the best HCM software vendor for your requirements.
The criteria should be directly related to your requirements, but also include criteria that is important to the type of vendor you want. For example:
The vendor should be a software as a service (SaaS) vendor with a multi-tenant solution and subscription-based pricing.
The vendor HCM suite should offer the full range of functionalities or include integrated partner solutions to complete the range of functionalities.
The vendor HCM suite should have integration and API capabilities.
The vendor should provide three references of similar size and industry.
The vendor should have a range of implementation partners.
The vendor should have data centers in your key regions, supporting local and regional data privacy laws.
The vendor system should cater to local compliance requirements for all or most countries.
Identify HCM software vendors. Of course, once you've defined your vendor analysis criteria, it's time to identify vendors. There are number of HCM vendors out there; you want to select your top five to 10 to which you will send a request for proposal (RFP).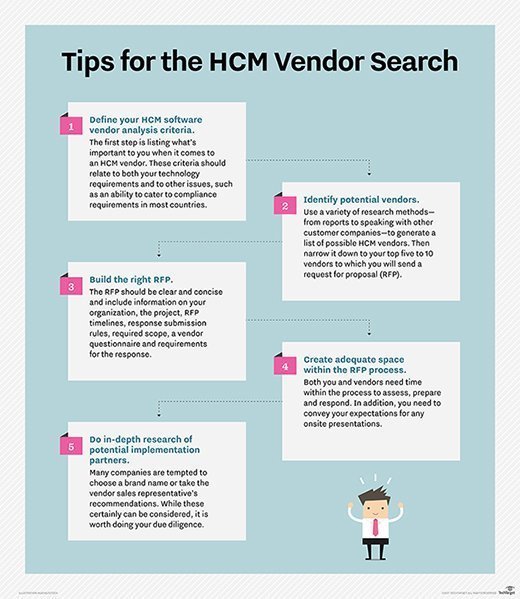 There are multiple ways to identify the best HCM software vendors, including performing a high-level analysis to identify the top 5 to 10 vendors. The analysis should include analyst reports, blogs and articles, videos, demos and more. It can always be worth visiting user conferences and speaking to other customers.
Build the right RFP. This is a very important part of your process. All of the hard work you have performed will go to waste if the RFP you build doesn't ask the right questions or enable you to assess the vendors adequately.
It is a common mistake to write an RFP that follows a set template. Your RFP should be unique to your organization and your specific requirements. A common misconception about RFPs is that they must be long and detailed. While in some cases such parameters are necessary, a vendor is more likely to provide a solid response if the RFP is short and focused.
An RFP should typically give a background of your organization, a background of the project and your goals, the timelines for the RFP process, the submission rules for the response, the required scope and a vendor questionnaire based on your requirements and the requirements for the response. It is important for your requirements to be clear and concise.
It is critical to have the right set of questions for the vendors. In addition to questions for your specific requirements, other types of questions you might want to ask include:
What features on the vendor's roadmap are not available?
Is your system configurable and flexible? If so, how is the system configured?
What functionality is available for configuring custom fields, custom objects, custom processes and custom workflows?
Do we have to take your processes, or can we configure our own processes?
Do we need to license all modules at once, or can we license individual modules?
What are your strengths and differentiators?
How does your system integrate with other systems?
Explain your support offerings.
Manage the RFP process. The RFP process itself is fairly straightforward, but you must remember to give both yourself and the HCM vendors that are bidding adequate time within the process. For example, bidders need time to complete the RFP response, and then need adequate time to prepare for any on-site presentation if they are selected to present. Likewise, you need to give yourself time to read through all of the RFP responses and to assess vendors, both pre-presentation and post-presentation.
Speaking of on-site presentations, you should make sure to be clear upfront about what you expect from the vendors. The topics you want to cover and any demo scripts can be tailored to each vendor based on their response. Ultimately, you need to make sure that, when they leave your offices after a presentation, you know everything you need to know about what their HCM software can do and, more specifically, what it can do for you.
Ultimately, this process is not to test the HCM software vendors' ability to submit an RFP response quickly or prepare for a full-blown presentation and demo in a matter of a few days. This process is to make sure you find the right software to support your organization's transformation project.
Select an implementation partner. Almost as important as selecting the HCM software is selecting the partner to perform the implementation. Many customers are tempted to choose a brand name or take the vendor sales representative's recommendations. While these certainly can be considered, it is worth doing your due diligence.
If you don't do your due diligence, you could end up with the wrong team to implement your HCM technology and deliver on your HR transformation efforts.
Many larger implementation partners have lots of projects and few experienced resources, so there's no guarantee your project will be staffed with the quality you need. The niche or boutique vendors often have a few skilled resources and can be personable and reliable. However, not all of them have the experience to run large projects. Legacy implementation partners that may have implemented on-premises HCM technology before implementing SaaS HCM technology may still be learning about SaaS implementations, which differ from on-premises implementations.
You should search out a partner whose culture fits your own, can give you named experience resources, will arrange interviews with the project team and can advise you on the best practice methods for running and staffing a project. If you don't do your due diligence, you could end up with the wrong team to implement your HCM technology and deliver on your HR transformation efforts. You will ultimately pay the price while the partner will still walk away with the fees you agreed to pay them.
Don't be afraid to demand the names and bios of the resources on your project. Ultimately, if the partner can't provide them, then they don't have them.
Selecting the best HCM software vendor for your needs is no easy task. But the work that goes into making the right decision will affect your employees -- and your company's -- success. Know that the time will be well spent.