Buying human resources software: The training phase
In this fifth article of a seven-part series on buying HR software, two experts emphasize the importance of training. Here is what to keep in mind.
Training. Sounds boring. Well, truth is, you've worked too hard to purchase the right human resources software,...
Continue Reading This Article
Enjoy this article as well as all of our content, including E-Guides, news, tips and more.
and frankly we've worked too hard getting you to step five in the buying process, to let it be wasted by employees who don't use or adopt the software. Not to put even more pressure on you, but software adoption (i.e., consumption, usage) isn't the goal. The goal is user satisfaction, meaning "How do we create an environment where users love the software they use?" Can people really love software? Yes, they can, especially if you selected the right product, asked the right questions during sales, implemented well, and approached training the right way.
Figure 1 illustrates our advice on HR software training. Call it the "Training X Factor" (but not "X Factor Training," which is probably something completely different). Let's explore its components.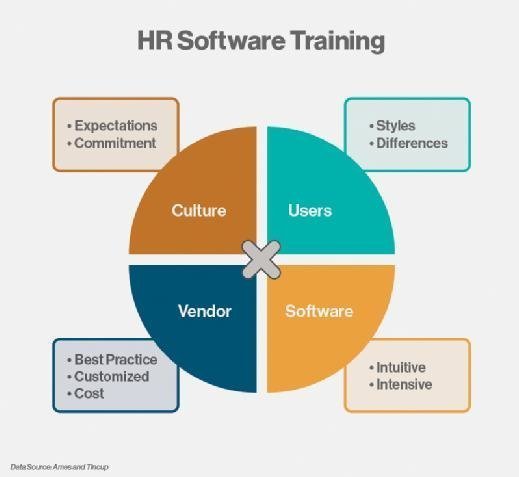 Training should fit the company culture
Expectations. Variability in the amount of training between organizations is astounding. If we think about the two ends of the bell curve, we realize that human resources (HR) software training will either fit in or stick out. In a culture with little formal training and more on-the-job (aka, fly by the seat of your pants) learning, how likely will the employees be to embrace a robust, week-long training? Conversely, how much anxiety will you cause the HR admin who is used to being extensively trained on every minor task if you turn him loose after a one-hour webinar?
Commitment. Software training initiatives often fail because they don't train users enough. Often, that is due to a lack of commitment on the part of the organization. One four-hour class on a snowy Tuesday in December and a follow-on webinar and voilà, the user is supposed to know everything. Users are starved for more training and truthfully it's the reason that most features and reporting go unused -- not because users don't care but because they don't know. "Don't know" results from a lack of commitment to training.
Understand that users have different learning styles
Learning styles. We all learn differently. Most training professionals know this, but the HR software market missed the class that explained the seven learning styles: visual (spatial), aural (auditory-musical), verbal (linguistic), physical (kinesthetic), logical (mathematical), social (interpersonal) and solitary (intrapersonal). Think about how we train folks when we purchase a new performance management system. Do we understand how they prefer to learn and serve up content that meets that style or do we corral them into a webinar or seminar? If we want users to love the software they use, we should train them the way they like to learn.
Learning differences. Learning differences or disabilities are far different than style. These are real impediments to learning. Consider dyslexia as an example. We all know folks who have dyslexia. Some of your users of the new HR software have dyslexia as well. How do we understand who has what learning difficulty and, moreover, how do we successfully train them in the new software? This is mostly about meeting people where they are, not where we want them to be. A part of meeting them is understanding what they need from us -- from a training perspective. We get it, this is a sensitive issue, but ultimately you want users to be comfortable with the software you purchase.
Vendors may know what training is best
Best practice. Vendors have a history of what works and what doesn't. They know how best to get your users "certified," whether that means real certification or simply in terms of who you're entrusting the system to. Think of this as quality control. You're investing hundreds of thousands of dollars in valuable software to help you achieve business goals and initiatives. Sounds like a Mercedes or Bentley, right? If the metaphor holds then why would you trust your fancy car to a driver with no license or insurance? Simple answer: you wouldn't. The best way to get users "certified" is to work with your software vendor.
Customized. The level of training customization -- meaning adjustment based on your system and situation -- the vendor is willing to do varies greatly, as does the level of customization of the system itself. Training customization, therefore, is a balancing act, and the easiest way to describe it is that you should be training on a system, and with training collateral (presentations, etc.) that will not detract from learning. Make sure the vendor describes that approach in detail, and work with them if you aren't comfortable with the approach.
Cost. Training should be free, and paying for training in software you're already paying for is like paying for air. Software vendors might not like this, but training for free means you'll be less likely to leave them. If training is free and all your users understand the software and maximize the value of your investment -- would you ever consider switching to another vendor? No, of course you wouldn't. We don't mind if software vendors bundle some training cost into license fees. What boils our blood is when vendors create a profit center out of training. That inhibits software adoption and is short sighted. Purchase software from vendors that will train your users and not charge you for the privilege.
Every software requires different levels of training
Intuitive. We've saved the most important player for last -- the software itself. Training has no cookie-cutter approach because every product requires different levels and different approaches. The trend is for intuitive products with in-context help, which means the amount of training is directly correlated to difficulty in completing individual tasks.
Intensive. Don't forget, though, we're also dealing with products that handle complex, multi-user workflows. Although you may have less work to do when having your employees complete their open enrollment, the process of setting up the benefits, the comp plan or the performance cycle, will still need proper training. The training style will be affected greatly by how intensive the process.
HR software training should not make your employees want to stick pencils in their or your eyes. We could leave it at that but we won't. Training should be fun. Fun is subjective but utterly painful is not. Err on the side of fun. As Jeremy pointed out in his SHRM article on learning management systems, add color to your training. Vendors are good at the basics of software training but they don't understand your corporate culture unless you educate them. There might be some awkward dances around the "fun line" but remember that the goal of software training is to build competence and confidence. That's why we do training in the first place. And if we can have fun doing so, then great.
As we close the books on the training section of our series, remember that HR software training should be never-ending, as should the value you'll get from the software. Find the Training X Factor, and you should be on your way.
The seven points of satisfaction
in buying HR tech
Each article in the series addresses one of the steps in the purchasing process that is a key determinant of buyer satisfaction.
Training
Follow us on Twitter @SearchFinApps.