Avoiding HCM implementation failure starts with these eight keys
Implementing an HCM system without giving proper attention to planning is likely to mean failure. Here's what you need to do long before you think about which system you want.
Choosing the wrong human capital management system can have major repercussions on your company's success. So,...
Continue Reading This Article
Enjoy this article as well as all of our content, including E-Guides, news, tips and more.
why do so many companies fail at HCM implementation?
They forget HCM technology is only a tool and requires much more to be effective for HR and the wider organization.
Indeed, an HCM system can help your HR organization successfully transform, but it's impossible to know which specific tool or tools you need if you don't know what you're building. That's why whether you are a chief human resources officer, HR director, HR information systems manager or another business leader involved in an HCM implementation, you need to take the most expansive and proactive approach to planning as possible. Here are eight keys to help you unlock success.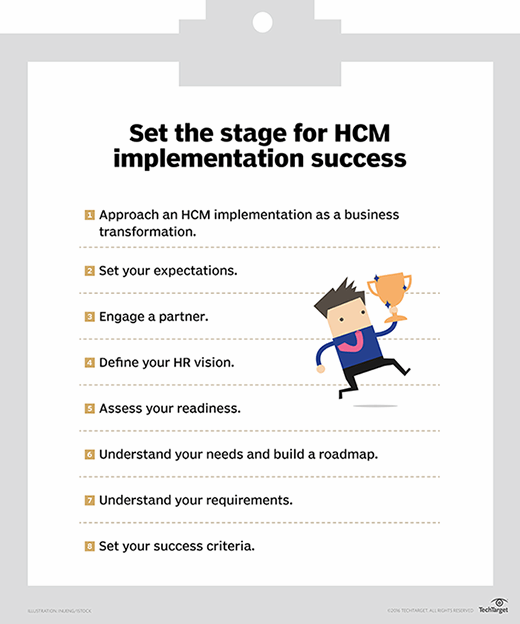 1. Approach an HCM implementation as a business transformation
A big mistake is to think of your HCM implementation as a technology implementation. The aim of your project should be to transform HR from where it is today -- good or bad -- to a higher level of value to your organization. By approaching your project in this way, you can ensure the right investment, planning and preparedness for the journey on which you are about to embark.
2. Set your expectations
HCM technology is not going to fix everything and make life in HR hunky-dory. Although technology enables HR transformation, including more effective strategies and processes, these things do not happen automatically. Expect a lot of hard work, politics and change management efforts, which will continue during and after your HCM implementation. The implementation may be stressful and put a lot of pressure on you and your team, and, in all likelihood, you are not going to become a world-class HR organization overnight.
Be realistic in terms of the ROI that you expect. Moreover, don't try to figure everything out on your own. Set the expectation that you will need one or more partners along the way, both from inside and outside of the business. It will be expensive and time-consuming, but your business case and ROI should have already confirmed that the expense and effort will bring rewards. And there is an old adage that is relevant: "If you pay peanuts, you get monkeys."
3. Engage a partner
It can be tempting to use your favorite firm for your implementation, but at this stage, it is better to choose the firm that is the right fit for you and your organization rather than the firm you know.
Performing all of the necessary preparation can be difficult, especially if you haven't done it before. If this is not something you are comfortable with or have experience doing, then you can seek a partner that can help you with these steps. There are a variety of consulting firms that can support you with this initiative, from the larger firms through to the niche boutique firms. Typically, your potential vendors will have expertise in HR strategy and preparing firms for HCM implementations; although, they don't necessarily need to have experience in implementing HCM solutions. The partner you select here may not end up -- and, ideally, should not be -- implementing your selected HCM system later.
Talk to many potential partners -- you can ask each vendor for more options, ask other companies that have implemented the software you are thinking of selecting, or look around for experts on LinkedIn or other social platforms that have significant experience. Then select the firm that better suits your culture and price range. If possible, be prepared to spend the right amount of money to get the right firm to help you. This investment will pay dividends later on. It can be tempting to use your favorite firm or use a firm that implements the technology you might be looking at, but at this stage, it is better to choose the firm that is the right fit for you and your organization rather than the firm you know.
4. Define your HR vision
Every HR organization needs to outline its vision, both in terms of what you will offer the company and how you will do so. You can use a vision statement to define the guiding principles of the vision and identify attributes and a required outcome for each guiding principle. This sets the direction for how HR will operate and, therefore, what software is needed.
Your vision statement should define what your organization wants HR to achieve. This could be something such as, "Attract, develop and retain the best talent within the industry through career development, a commitment to learning and building internal talent pools so that our company can become the market leader," or, "Engage, motivate and align our people and objectives by creating a culture of enablement and collaboration through actionable, measurable insights." However, only your organization can really define what it wants its HR vision to be.
As part of the HR vision -- and once a vision statement has been defined -- you should define guiding principles that each has a set of attributes and outcomes tied to it. For example, some attributes for aligning to business goals could be to support global business objectives, bridge skills gap or become an enabler for departments and managers. Outcomes could include evidence that each business objective has been achieved through HR actions, increased workforce efficiency, or increased core competence across the workforce.
5. Assess your readiness
Many organizations make the mistake of not understanding how ready they are. Yet, how can you prepare for success without knowing just how ready you are for an HCM technology or HR transformation project? That's why a readiness assessment is critical. Here are some typical criteria, although this is by no means a comprehensive list.
HR strategy
Ability to execute on the strategy
Understanding the business, competitors and external business environment
Alignment between HR and the business
Ability to drive value to the business
Understanding the differences between transactional and strategic HR
Processes (tied to strategic outcomes; integrated and scalable)
Ability to execute on processes
Definition of competency models, job catalogues and roles
Current HR technology
HR team: size and competence
You will assess the criteria you've chosen on a scale of one to four or one to five, identifying a rating for the current state and the future state, and assigning actions to each of those criteria that will improve readiness. For example, an action for the criteria "understanding the business' expectations of HR" could be "appoint HR business partners to key areas of the business." The actions you assign should improve the readiness, which, in turn, will help enable HCM implementation success.
6. Understand your needs and build a roadmap
Where are your HCM implementation challenges both in terms of technology and in terms of areas like strategy, process and culture? How can you make your workforce more productive and efficient? From the answers to questions such as these, you can create a clear vision of your HCM technology needs and the areas that HR needs to focus on to be become ready as a world-class HR team.
You will also need to build out a roadmap, which will define the order and timeline for your HCM implementation that will enable you to execute your HR vision. While no vendor will have been selected at this point, it is useful to know what types of functions you'll need to help focus your vendor interactions.
For example, if your vision is focused around learning and talent development, then you may need to focus your roadmap on a learning management system, goal management and career development planning. It is fairly common for organizations to build out a complete HR roadmap containing core HR, talent management and workforce analytics to meet its entire HR vision.
7. Understand your requirements
One of the biggest problems that organizations make when working toward vendor selection (which comes only after you have finished your HR preparation) is focusing too much on attractive features and functionality without truly understanding their requirements.
Moreover, basing requirements on your current processes can be a mistake. If you are transforming your HR, you are most likely going to rework your business processes along the way, and this means performing some preliminary process work to understand what your future state processes can look like. By doing this, you are going to have a clear understanding of what you are going to require from your new HCM software.
You should also make an evaluation of what current HR technology capabilities are available and what the current trends are. Knowing that recruiting has stronger capabilities for job posting and marketing, talent pooling and mobile applications will help you identify where your recruiting process can be improved and how you can, say, increase the quality of hires.
Let's look at an example. After deciding future goals you have for the recruiting process, you may identify that what you need from an HCM system is the ability to kick off a requisition from your open positions and integrate with background testing providers, among several other features you consider ideal.
It is important to be realistic with your requirements and understand that not every vendor can provide every feature or capability needed to support your future state processes. So, you'll need to rank your requirements to better evaluate the suitability of each vendor's systems.
8. Set your success criteria
Your success criteria will be based on your HR vision, guiding principles and outcomes, and your business needs.
What outcomes and adoption metrics are going to show that your implementation was a success? Organizations that don't set success criteria tend to lose focus on their end goals and implement an HCM system that doesn't meet their needs or align with HR's vision or business case. Although this is not specifically tied to an HCM implementation, it is important for all projects that are undertaken both inside and outside of HR.
Your success criteria will be based on your HR vision, guiding principles and outcomes, and your business needs. For example, if you want to focus on being a learning and talent development organization, then your outcomes are going to be focused on improved efficiency and productivity through learning, greater engagement and retention based on career growth and job opportunities, and improved innovation and execution across your organization.
Once you have defined your success criteria, you need to define a way to measure it. Just how do you know that you have achieved efficiency and productivity gains in your organization? How do you measure innovation and execution? Implementing analytics as part of your implementation can be useful for measuring your success criteria.
Adoption metrics are also important. Organizations that don't measure adoption don't truly know if the system is being used or whether their change management strategy was sufficient. Part of the success of the system and path to achieving your vision is to have people using the system as intended.
A pound of prevention
In today's rapidly changing business landscape, the fear of being left behind is powerful. It's tempting to rush in choosing and implementing an HR system in the attempt to gain a competitive edge. Yet, as Benjamin Franklin famously said long before HR systems were a thought, "By failing to prepare, you are preparing to fail." More often than not, project failure can be avoided by meticulous planning and preparation. And much of this planning starts long before your project kicks off.