Search
HR
Software
Guide to Building an Effective Employee Experience Strategy
Your expert guide to building an employee experience strategy.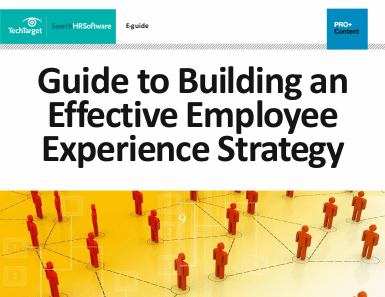 The employee experience has been a focus of the HR discipline and the driving force behind many organizations' HR strategies in recent years. It is also a design principle and marketing buzzword for HR technology vendors. But what does employee experience really mean? And how can organizations implement an effective strategy?
You first need to know that employee experience has more to do with human nature and corporate culture than it does with the speed and predictability of technology.
Next comes the following:
How it can affect your business
The role of technology in the employee experience
How to build an effective employee experience model (we've broken it down in 5 steps)
The future of employee experience
Also, this expert guide dives into how a positive employee experience leads to other positive effects including:
Higher productivity. More satisfied and engaged employees work harder and smarter, producing more and wasting less, both of which directly benefit the bottom line.
Lower turnover. The flipside of improved retention, this result helps avoid the cost of recruiting and training replacement workers.
Better customer experience. Happy employees tend to express more positive impressions of their company, its products, and services and deliver a higher level of customer service.
Keep in mind those benefits and avoided drawbacks ultimately boost revenue or reduce costs (or both); but avoiding the effects of a negative employee experience, like high turnover that hurts productivity, may be just as important.