Get started
Bring yourself up to speed with our introductory content.
The heady benefits of mindfulness in the workplace

Listen to this podcast
Mindfulness and meditation have real benefits for companies, including happier, more engaged employees, says expert Pandit Dasa in this podcast.
Far from an ashram in India -- at Oracle HCM World 2017 in Boston, to be exact -- I sat in a Marriott conference room filled with men and women clad in business attire. We were following the instructions of mindfulness expert Pandit Dasa as he led us in a seemingly impossible task: setting aside our rabid multitasking to become fully aware of the present moment.
It's the type of exercise that's showing up more and more in corporate America's employee wellness efforts, and for good reason.
A growing body of evidence shows that mindfulness boosts focus and creativity, lowers stress, increases emotional intelligence and helps lessen reactivity, to name just a few benefits. Indeed, leaders such as Salesforce founder Marc Benioff, Twitter co-founder Evan Williams and Cisco CTO Padmasree Warrior are noted meditators. And companies such as Aetna, General Mills, Keurig Green Mountain, Google and Intel have created programs for employees, with the goal of encouraging mindfulness in the workplace.
They're not alone. One survey from National Business Group on Health members and Fidelity Investments clients found that more than 20% of respondents were either offering mindfulness programs or planning to in the coming year.
Early results are encouraging. For example, Aetna reported lower healthcare costs, and Intel reported lower stress and increases in happiness, creativity, engagement and positive relationships.
Modern mindfulness
Perhaps surprisingly, technology can support mindfulness in the workplace.
For example, Aetna uses eMindful, which offers online and mobile mindfulness programs, and LinkedIn gives its employees access to Headspace, this year's most buzzed about meditation app.
Dasa, who gave a mindful leadership keynote and mindfulness meditation trainings at Oracle HCM World, believes meditation apps can be truly helpful in promoting mindfulness, since employees can use them at their convenience.
He has also led mindfulness trainings remotely via WebEx for geographically dispersed companies, and is interested in other ways of using technology to help promote mindfulness in the workplace.
The cost of multitasking
Dasa, who lived as a monk for 15 years, has conducted corporate meditation and mindfulness trainings at dozens of organizations, including Bank of America, Google, JPMorgan Chase and Capitol Hill.
During our discussion ahead of the conference, he gave a pertinent example of how being more mindful and using meditation can help in a corporate setting.
Imagine that you're about to go into a meeting that you know will be difficult.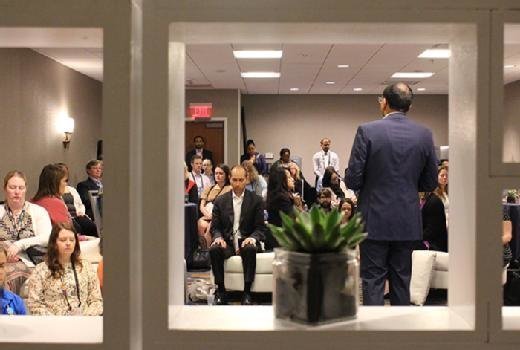 "Knowing that the meeting is going to be tense and difficult, [you're] already getting stressed out."
To counteract that turbulence, you can use your smartphone to do your favorite meditation beforehand, or take five minutes to think positively about the people in the meeting.
Dasa pointed out that when we take the time to approach a difficult situation in this way, we can "be prepared not just with our content, but we're also prepared with our frame of mind."
This example speaks to one of the major benefits of mindfulness. According to many experts, mindfulness creates more space between thought and action, which can lead to less reactivity and smarter, more levelheaded decisions.
That more present frame of mind is not something that comes easily or naturally in our multitasking world, which is why a concerted effort is required to promote mindfulness in the workplace.
Dasa pointed out that, as a culture, "we're always running around … We're trying to eat our sandwich while driving, [and] listening to our messages on the phone and planning something else," he said. "How are we going to have time to do one thing properly? We're not."
For [mindfulness programs] to really be accepted by everyone in the organization … it's important that leaders show up.

Pandit Dasamindfulness expert
As for what mindfulness is and how it differs from meditation, Dasa said, "Mindfulness basically means being aware of your thoughts and emotions, and keeping your mind in the present moment."
For example, "when you're having a conversation with somebody, you're actually in the present moment. It doesn't require you to close your eyes and meditate while someone is talking to [you]. It means listening to them deeply … not trying to [also] formulate a response," he said.
Meditation, in contrast, is the practice meant to support and enable mindfulness with its ability to calm the mind because "everyone's got basically a hurricane going on in their mind."
Making mindfulness in the workplace work
What's really important to the success of corporate mindfulness programs? According to Dasa, besides simply making such trainings available, one critical factor is leadership involvement.
"For it to really be accepted by everyone in the organization, it's really important that it's not just set up for 'everyone else' [i.e., employees] -- but I think it's important that leaders show up, as well."
Note: The podcast includes a mindfulness meditation from Dasa beginning at 13:21.