Manage
Learn to apply best practices and optimize your operations.
Turn accounts payable outsourcing into a value-adding advantage
Savvy companies know accounts payable outsourcing doesn't just save on non-core business processes. It can boost performance and spur innovation.
As companies search for ways to improve performance and create added value, outsourcing noncore business processes, such as low-value functions in the accounts payable (AP) process, is a perfect place to start. The market for AP outsourcing (APO) has seen many changes in recent years, and what was once an emerging trend is now becoming a normal part of corporate services. Organizations are exploring AP outsourcing services that can turn a cost burden into a comprehensive advantage that has significant potential to reduce AP costs, leverage capabilities and deliver sustainable business value.
While outsourcing the entire AP process may not be practical for most organizations, more companies are choosing to outsource certain functions while keeping full control of other, more strategic AP functions in-house. This modular approach to outsourcing is gaining momentum in the market.
Beyond cost reduction
Companies are looking for ways to harness value from consolidation and automation that goes beyond cost reduction to include accessing and building capability, scalability and flexibility that support the company's core business strategy. In fact, more companies are incorporating outsourcing as a strategy in their business planning. It's a strategy that lets the company focus on improving client service -- producing better products -- and do a better job overall, in a more cost-effective way.
What constitutes noncritical AP functions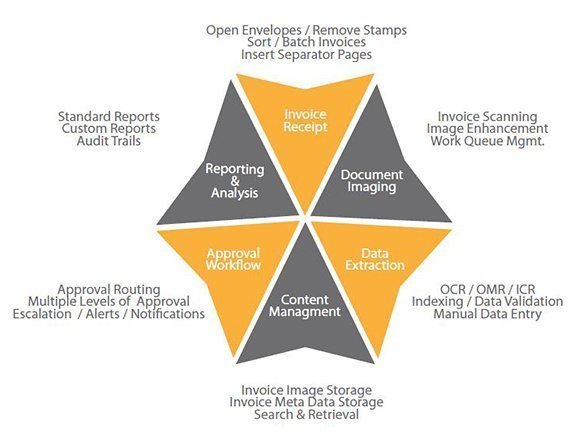 Figure 1. AP outsourcing services can help streamline and optimize the invoice receipt-to-pay process and deliver tangible results from processing efficiencies and cost savings.
Credit: Paystream Advisors
While every function in the AP process is certainly important, outsourcing the front end makes sense for two reasons. First, prepping and scanning invoices and entering data into an enterprise resource planning (ERP) or accounting system does not add value to the approval and payment process. Second, even if an organization decides to use automated data capture to extract data from paper documents instead of relying on manual data entry, such tools need continuous monitoring and are often cost-prohibitive for small companies. The low value of the process, coupled with the complexity of advanced tools, makes it appealing to leverage the expertise of an outsourcer. Outsourcing companies can provide service-level agreements that guarantee a 99%-plus accuracy rate in data extraction and quick turnaround times. Figure 1 outlines the functions offered by AP outsourcing providers.
Reaping the rewards of outsourcing
The multitude of benefits achieved through AP outsourcing goes far beyond cost containment and includes the ability to:
Reduce upfront costs
In-house technology options, especially licensed software, have an upfront investment followed by ongoing maintenance expenses. In contrast, outsourcing providers usually charge per transaction based on transaction volume, payable over the period of the contract. In this way, outsourcing not only enables companies to convert the fixed costs into variable costs, but also allows them to defer the costs over a longer period, freeing up capital for other purposes.
Deploy systems sooner
As a service delivered via a Web browser, outsourced AP automation can be deployed more rapidly and less expensively than software that requires extensive integration with enterprise and legacy systems. These Software as a Service (SaaS) models eliminate the need to purchase hardware and software, an important consideration for buyers who are eager to bring the benefits of automation into their organizations as quickly and painlessly as possible. Another compelling advantage of outsourced AP is that the buyer is not burdened with the periodic expense and effort of upgrading to new versions of the software and paying annual maintenance fees. SaaS solutions are automatically updated without the need for IT resources or new software.
Go live quickly
Even after implementation, it can take considerable time to go live on technology projects because the system needs to be tested and users need to be trained. Depending on the complexity of the system and the technical savvy of the end users, this process can take anywhere from a few days to many months. However, outsourcing solutions can go live almost immediately because most of the staff used on the project are trained employees of the outsourcing service provider who are already familiar with the technology and only need minimal training on the client's specific business processes.
Increase efficiencies
The rationale for outsourcing is that it is usually better for an expert service provider to perform nonstrategic activities than to manage these repetitive, low-value tasks in-house. Using an outsourcing provider enables companies to do more with fewer internal resources. Under the outsourcing model, organizations leverage a third-party provider's technology and expertise to offload transactional functions and gain the ability to focus more sharply on higher value and analytical activities. An outsourcer's economies of scale and cost structure can deliver a valuable competitive advantage to companies, particularly in low-margin vertical industries.
Decrease labor costs
Companies that have high employee turnover or seasonal or cyclical spikes in invoice volume and need to bring in temporary employees understand that hiring and training is an expensive and time-consuming task. Furthermore, temporary employees may not always live up to expectations. Even companies that do not fall under these categories have limited capital, human and technical resources that need to be allocated appropriately. Such companies would find outsourcing appealing because it allows them to maintain internal staff at steady levels.
Minimize risk
Every technology investment carries the risk of not functioning as expected or being more expensive to maintain than planned. Changes in organizations' business environments and government regulations, as well as technological advances, increase the risk involved in implementing automation in-house. With outsourcing, the third-party provider assumes and manages the technology risk.
Manage solution provider relations
One of the biggest barriers that hinder AP automation initiatives, especially for electronic invoicing and payments, has been supplier adoption. Persuading suppliers to change their processes to align with buyers' needs can be costly and time-consuming, and success depends largely on the buyers' ability to present a compelling value proposition to suppliers. Many buyers fail to effectively communicate the value of AP automation initiatives to their suppliers and, as a result, struggle to generate the expected results. Outsourcing supplier onboarding and enablement allows buying organizations to leverage the best practices and expertise of the provider. In addition, it provides the necessary resources to communicate to your suppliers while letting you focus on daily tasks.
Smart business
By outsourcing the low-value functions of AP, businesses have more time to focus on their core business strategy. This is simply smart business. To learn more about AP outsourcing, download a complimentary copy of PayStream Advisors new 2012 Optimizing Accounts Payable report, titled "Improving performance and creating added value through outsourcing."
About the author
Henry Ijams (pronounced "Iams") is managing director and founder of PayStream Advisors Inc., a research firm based in Charlotte, N.C. A frequent speaker and writer on back-office financial operations, Ijams formerly held positions with Citibank and Manufacturers Hanover Trust and was a manager of Ernst & Young's financial services consulting practice. Email him at [email protected].