alphaspirit - Fotolia
Kronos Workforce Dimensions stirs HR tech world
Workforce management leader Kronos intended to reshape itself in a turbulent HR tech world, say executives behind the vendor's new mobile-first SaaS system, Workforce Dimensions.
The Kronos Workforce Dimensions mobile-first SaaS system represents a major course shift for the long-dominant,...
Continue Reading This Article
Enjoy this article as well as all of our content, including E-Guides, news, tips and more.
but sometimes stodgy, workforce management and time and attendance software vendor.
The company, based in Lowell, Mass., unveiled the new AI-based suite of social media UI-style workforce management (WFM) apps at its KronosWorks user conference in Las Vegas.
Kronos sunk about $150 million and three years of R&D into building Kronos Workforce Dimensions, and it hopes to smoothly migrate many of its existing on-premises software and hosted cloud customers to the subscription-based service housed in the Google public cloud, executives told SearchHRSoftware.
Kronos tries to evolve
If that strategy succeeds, the $1.2 billion firm, which has historically been wedded to older-generation software, could, indeed, transform itself into a more agile, cloud-first vendor in a next-generation HR tech world.
Two leading older-generation, large HR tech vendors, Oracle and SAP, are attempting similar, though perhaps less dramatic, transitions with their human capital management (HCM) offerings, while smaller Kronos competitors, such as Ceridian and Ultimate Software, already are cloud-only.
"We see a lot of potential opportunities to change the direction of and disrupt markets," said Bill Bartow, vice president of global product management at Kronos. "We want to challenge ourselves ... Put ourselves out of business."
Bartow was not speaking literally, but rather reflecting a strategic outlook articulated by Kronos CEO Aron Ain when Kronos formed an off-site working group of about 20 people in August 2014 to conceptualize an entirely new product -- what became Kronos Workforce Dimensions.
Soon, that team swelled to several hundred dedicated to the project.
Building new WFM software
An analyst who previewed the system, Mark Smith, CEO of Ventana Research in Bend, Ore., said the Kronos Workforce Dimensions product is a significant departure for Kronos, and one that looks poised to meet the company's goal of reinventing itself and pushing the WFM market toward thorough digitization.
"For a company to move toward the next evolution, they had to basically take their existing product and say, 'We've taken this as far as it's going to go, and we'll still maintain it, but we're going to need a new digital platform for the broader needs of the workforce,'" Smith said. "This is a smart move. There are not many companies that can put people, resources and time to build something that's new and takes you to the next level."
Inspired by Workday
For his part, Bartow cited the cloud-only HR tech paradigm pioneered, in particular, by Workday -- one of Kronos' big HCM vendor partners for Workforce Dimensions -- as one inspiration.
"Our vision became to transform the workforce management market," Bartow said.
The other HCM partners, so far, are Oracle and SAP SuccessFactors. Notably absent from this list are Ceridian, which Kronos views as a direct competitor in the WFM space, and Ultimate.
Analysts noted that both WFM vendor Ceridian and WFM vendor Ultimate, though offering robust WFM technology, mainly go after midsize customers, while Kronos' target market for Workforce Dimensions is large enterprises.
In an interview, Bartow and Jim Kizielewicz, senior vice president and chief marketing officer at Kronos, emphasized the artificial intelligence and deep learning technology they said underlies Kronos Workforce Dimensions.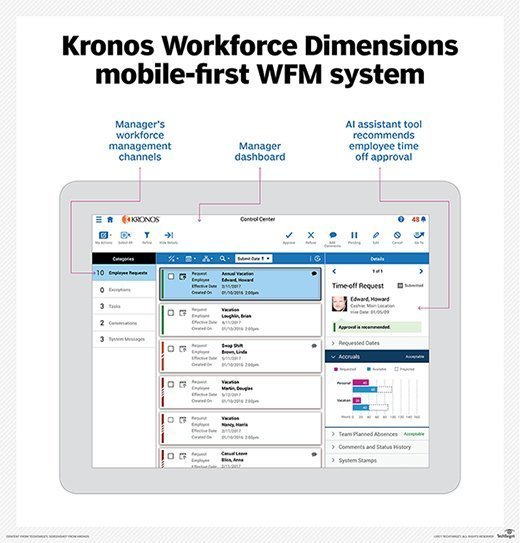 Kronos puts AI in HR tech
This is a smart move. There are not many companies that can put people, resources and time to build something that's new and takes you to the next level.

Mark SmithCEO, Ventana Research
A key theme of the new system -- intended to be used primarily on smartphones and tablets, but which also runs on laptop and desktop computers -- is automating many routine tasks corporate managers feel swamped by and give the executives more time for strategic work. Those tasks could be approving timecards, vacation requests or shift swaps.
The software's machine-learning-based assistant, Workforce Advisor, delivers recommendations, which can become more automatic as the system learns about the manager's intent regarding approvals and the manager starts to trust the advice.
WFM tech for managers and workers
Meanwhile, Kronos found in its product development research that many line employees are now influenced by gig economy culture and want more say over their own schedules, better balance between work and home life, and more feedback from managers.
Workforce Dimensions, which also has a module for salaried employees, enables hourly employees to find and choose their own shifts while informing managers in a "collaborative self-scheduling" mode, according to Kronos.
For HR tech and IT professionals, Kronos is providing the new Kronos D5 platform that supports all the functions in Workforce Dimensions. The platform as a service is built with what Kronos calls "foundational AI," and it includes open APIs, a new domain model and unified information architecture.
The D5 platform also enables high-volume, real-time processing, embedded analytics and forecasting, and the predictive artificial intelligence of the system, including proactive compliance, Kronos said.
In its development of the Workforce Dimensions suite, Kronos also relied on feedback from 10 large employers it calls "early adopters," which piloted the system and plan to stick with it when it goes live in the commercial release expected in March.
Early adopters
Those early users are BorgWarner, Brookstone, GATE Petroleum Co., Google, London Energy, Snyder's-Lance, Things Remembered, Tru Blu Beverages and University of Colorado, Boulder.
Still, the Kronos executives said the company will still support its Kronos Central hosted cloud WFM system, and the new product will have "feature parity" with the older platform.
However, they said Kronos built transition tools into the new system to help streamline the process of migrating customers that want to move to the mobile-oriented SaaS software. Pricing is per employee, per month, depending on the module.
Migration a key challenge
As for that migration issue, Ron Hanscome, another analyst, said converting many of Kronos' 7,200 Workforce Central customers to the cloud, just as Oracle and SAP are doing, will be a critical and likely challenging task for Kronos. Kronos has 13,200 customers using other products.
"This does present a target to start bringing in these customers to. How do you migrate your legacy base and keep them in the mainstream of your product support?" Hanscome said. "This introduction triggers 10 years of migration and transition of the customer base."
Even so, Hanscome came away from his preview especially impressed with the new system's AI and machine learning technology and broad WFM applications.
"Clearly, they've put a lot of thought into the new architecture. What they've done around user experience and how to help the employee, the manager and the IT function, they've addressed those issues," he said.
Kronos' new offices sport fun features
SearchHRSoftware interviewed the Kronos executives at the company's newly renovated world headquarters in the former Wang Laboratories complex it moved into in the fall of 2017.
For Kronos, the ultra-modern offices -- complete with remote employee temporary docking stations, "scrum-rooms" for impromptu brainstorming and employee lounges with expansive new picture windows and foosball tables -- embody its attempt to remake the 40-year-old company.
Dig Deeper on Workforce management and planning software