Gajus - Fotolia
Employers pull back on hiring of tech talent for H-1B jobs
With an uncertain H-1B program, a survey, by job marketplace vendor Hired, says employers and foreign workers are showing markedly less interest in tech jobs for skilled foreign workers.
U.S. employers' hiring of tech talent for H-1B jobs slowed significantly after the November 2016 election because of uncertainty about the fate of the visa program for skilled foreign workers.
That insight and others came from a new report from Hired, a job marketplace software vendor, which sifted through hundreds of thousands of data points from companies' requests for interviews with candidates for H-1B jobs. The company also surveyed 362 tech workers.
H-1B revamp
Four months after he took office, President Donald Trump announced plans to reform the lottery system used to award H-1B visas to give preference to the most highly skilled workers such as software developers and engineers.
While no changes have yet resulted from Trump's executive order directing four federal agencies to report on how to tighten the H-1B program, uncertainty immediately hit tech hiring for H-1B jobs, according to the Hired research.
The San Francisco-based vendor flips the job-seeking process by providing employers with top candidates whom companies then request interviews from. Hired also releases periodic reports based on its data, such as one on the impact on hiring due to the United Kingdom's Brexit vote.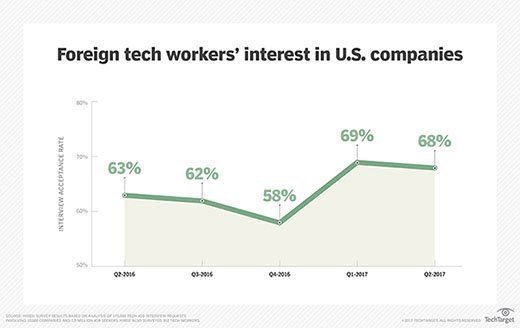 H-1B jobs down after election
The company's H-1B data showed that foreign tech workers' interview request rate dropped in the fourth quarter of 2016, just after the November election.
Interest in tech H-1B jobs rebounded in the first two quarters, though, likely because while there is still uncertainty about the future of immigration reform, things have stabilized to some extent, Hired CEO Mehul Patel said.
In any case, Hired's data analysis also shows a 46% decrease in companies' interest in tech talent candidates for H-1B jobs from first quarter 2016 to first quarter 2017 and a 37% decrease from second quarter 2016 to second quarter 2017.
"We were really looking for a before and after view of what happened with the election," Patel told SearchHRSoftware. "What we saw already, without the regulations even in place, was a massive drop in interest in foreign workers by U.S. companies."
Some agreement on H-1B jobs
At the same time, in a companion survey of 362 tech workers in June, Hired hit on a few somewhat counterintuitive insights.
We were really looking for a before and after view of what happened with the election. What we saw already, without the regulations even in place, was a massive drop in interest in foreign workers by U.S. companies.

Mehul PatelCEO, Hired
Strikingly, while Trump's hire-Americans-first stance has informed his position on H-1B reform, the tech worker survey found that most American tech workers think immigration brings more innovation and needed diversity to the technology sector.
Meanwhile, the survey revealed that non-U.S. citizen tech workers overwhelmingly (75%) said there is not enough qualified tech talent in the U.S. to meet demand -- the main rationale behind the H-1B program.
However, only 24% of American workers reached the same conclusion, though 48% of the American respondents said they didn't know.
On the issue of whether the H-1B visa program as currently structured is working, U.S. and foreign workers concurred to some degree, with sizeable percentages of both groups saying the program is dysfunctional.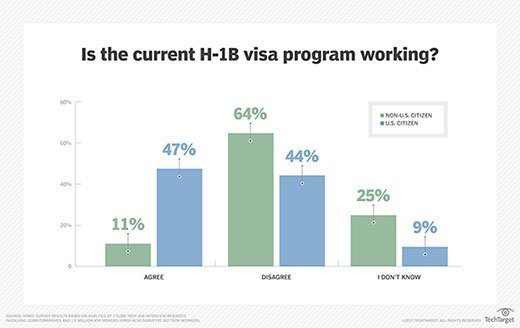 H-1B dysfunction
A key critique of the way H-1B jobs are apportioned through the visa lottery, from the political right and left, is that big outsourcing companies that mostly supply lesser-skilled workers have been favored by the process. That has come at the expense of highly skilled workers the program was originally intended to supply.
In the Hired poll, 44% of U.S. workers said the program isn't working, compared to 64% of foreign workers who said the same.
Tech talent undersupply
Pitched debate over H-1B, meanwhile, is occurring amid the backdrop of what is widely seen as a major shortage of U.S. technology workers that is expected to mushroom by 2024.
Because of that tech talent pinch, support for the H-1B program has been strong from Silicon Valley tech giants like Google and Facebook to big employers in manufacturing, finance and retail.
"You've got the long-term issue of chronic undersupply of technology workers," Patel said. "The U.S. can solve that in one of two ways. One is a long-term fix with education policy and more homegrown talent, but that's multigenerational and takes many years."
"The second, and this is how the U.S. has traditionally handled this, is immigration policy," Patel added. "But if you clamp down on foreign workers, you do end up exacerbating this issue."