Fotolia
Anthem is early adopter of next-era Oracle online learning software
Anthem is planning to go live with the Oracle Learning Cloud to improve reporting and analytics and to allow subject matter experts to create and publish their own content.
Anthem, a health benefits provider, is preparing to deploy the Oracle Learning Cloud in a major move to access...
Continue Reading This Article
Enjoy this article as well as all of our content, including E-Guides, news, tips and more.
more advanced reporting and analytics and to empower employees to generate their own content.
Anthem, an early adopter of the online learning software, plans to start a pilot in July with 500 to 1,000 employees and then go live in January for 53,000 employees and about 7,000 contractors, according to Rochelle Wright, a senior manager in HRIS at Anthem.
"I am very excited," Wright said during an event at Oracle HCM World in Boston. "It is definitely a game changer for us."
Learning could empower SMEs
With the Oracle online learning software, she said, Anthem plans to empower employees, especially subject matter experts (SMEs), to create and publish short videos or other content and bypass a traditional support model.
Currently, Wright said, to get content posted on the learning management system, a SME must reach out to the learning team and work with an e-learning designer or content developer. But she said Anthem wants to give SMEs enough flexibility to react more quickly to deliver content to meet the needs of employees.
The Oracle Learning Cloud makes it easier for users to make and post content. With the learning cloud, SMEs could create and publish the videos themselves without having to first work with the learning team under Anthem's existing stringent support model, Wright said.
"They can put out those sort of quick hit, short shelf life, microlearning types of content," Wright said.
That will save time for the content development team and the team can focus more on full-blown quality e-learning, she said.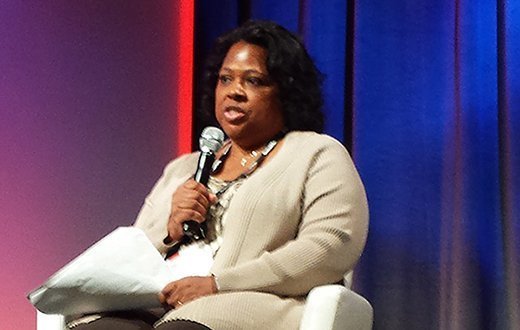 Tools to maintain standards
To help maintain standards, the learning cloud has an option for users to report content that is inappropriate or a violation of guidelines.
In addition to enabling self-posting of content, the Oracle Learning Cloud includes "very robust" reporting tools, Wright said. Dashboards for managers will display the learning status of employees who report to them, helping assure that compliance courses are completed.
"During compliance training that will be very powerful," Wright said.
Anthem, headquartered in Indianapolis, plans to use the Oracle learning module as part of an Oracle human capital management (HCM) Cloud suite. Anthem went live with Oracle HCM Cloud Goals Management in early 2015, then performance management at the end of that year, and in February of last year, the company deployed the compensation module for bonuses and incentive pay. Anthem is replacing its Saba learning management system with the Oracle online learning software, she said.
The Oracle Learning Cloud, which the vendor dubbed the "YouTube of the enterprise" when it was unveiled two years ago, has been available for purchase since the fall of 2015 and was scheduled to be fully developed over three years, according to Oracle.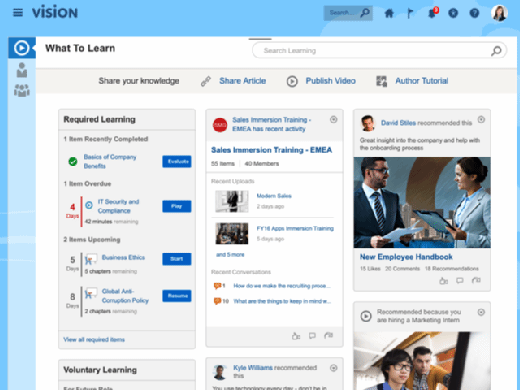 Tracking and reporting is critical
The online learning software allows employees to produce and distribute video tutorials, provides pathways or collections of content on a certain subject, and allows managers to report and track the more prolific contributors of content, most popular content and learning assignments, according to Oracle.
"Tracking and reporting is critical to us," Wright said.
Managers, experts on topics and administrators can run groups for specific training and manage membership and learning assignments based on business rules, according to Oracle. For example, users can create groups for sales or new hire training and members can recommend learning items to other members and collaborate socially.
Learning grows in HR tech spending
Anthem is going live with the Oracle Learning Cloud as employee training overall is becoming more important at many companies. In 2017 Global Human Capital Trends, a Deloitte Consulting global survey of 10,400 businesses and leaders in human resource management (HRM), among 10 HR trends learning was ranked the second most important trend, up from fifth last year, and new employee learning systems were the fastest-growing segment in HR technology spending.
"Companies are seriously looking at replacing their employee learning infrastructure and shopping for new tools at all levels of the learning technology stack," the Global Human Capital Trends report said.
In addition, the survey noted that companies are seeking curated content, video and mobile learning, microlearning, and ways to integrate and harness the exploding library of external online courses and video available on the internet.
Vendors are moving to meet the demand. In addition to Oracle's learning software, Josh Bersin, principal and founder of Bersin by Deloitte, the research group of the human capital management (HCM) business at Deloitte Consulting, cites learning software from Workday, SAP Jam, SumTotal, Saba and Cornerstone OnDemand, along with new tools from innovative vendors such as Grovo, LinkedIn Learning, Degreed, Pathgather and EdCast.
The Oracle Learning Cloud will allow Anthem to provide "just in time learning" by putting videos in its corporate portal, other talent-management modules in the suite or other applications used by employees, she said. Learning can be pushed to users, meaning training can be provided when it is needed, according to Oracle.
Oracle Learning Cloud follows Taleo
Users of older Taleo online learning software could face a difficult decision about whether to change to the more advanced Oracle Learning Cloud.
Oracle bought Taleo in 2012 and launched the Oracle Taleo Learn Cloud Service before it released the learning cloud in the early fall of 2015.
During HCM World, a couple of users questioned an Oracle director about the process for moving from Taleo to the learning cloud.
Kautul Mehta, director of HCM Cloud product strategy at Oracle, said the Oracle Learning Cloud should have all planned functions by the summer of 2018 and that it would be up to each Taleo customer to decide whether to switch to the learning cloud and the timing of any change.
He cautioned that it would be a "reimplementation" to move from Taleo to the learning cloud, requiring data migration and evaluation of business processes.
At least one other user said she wants to wait to implement the Oracle Learning Cloud.
Francesca Cantarella, director of global HR systems and benefits at Conservation International, a nonprofit based in Arlington, Va., said her organization decided against an implementation of the Taleo learning software as part of a cloud-based package it purchased from Oracle. She said the learning cloud would offer more innovative features such as an option for offline mobile support to help employees in remote parts of the world.
Employees can complete an assignment off the internet. When a device connects online again, it synchronizes the learning assignment progress and completion status with the server, according to Oracle.
Learning to drive performance
"It will be extremely powerful to drive learning and impact performance," Wright said.
The Learning Cloud will be valuable for onboarding and executive development programs, she said.
For example, as new hires join Anthem, they will be able to connect to a group of employees who are taking the same courses and use the Oracle Social Network to share knowledge within the same cloud-based platform that provides the content, she said.
The platform is visually appealing and highly graphical, Wright said. One cool feature provides a snippet of a video to introduce a course, similar to a movie trailer, she said.
Social learning
A search function also encourages peer-to-peer learning. "If you happen to take a tutorial and you like what you learned and you believe that person puts out good content, you can follow the expert by searching for their name and getting back all that content," she said.
Anthem currently uses a highly customized Microsoft SharePoint platform for classroom social learning and Wright said she is highly confident Anthem can transition to the Oracle Learning Cloud for that purpose.
The social capabilities will be essential for the success of so-called "flipped classrooms," which permit sharing of short videos, blogs or question and answer pieces ahead of formal discussions or projects in a class.
"We need to have the ability to deliver video, multimedia rich content, to provide that YouTube-like experience," she said.
Dig Deeper on HR learning and development software