Melpomene - Fotolia
Oracle touts cloud-based HR software and financial management tools
At customer conferences in Boston, Oracle co-CEO Mark Hurd released statistics showing that Oracle's cloud-based HCM and ERP sales saw explosive growth during the last quarter.
Oracle co-CEO Mark Hurd touted the advantages and rapid growth of cloud-based HR software and financial management tools and released statistics to illustrate the vendor's sharp increases in sales stemming from the applications.
Hurd gave separate keynote speeches at Oracle HCM World and Modern Finance Experience at separate hotels in Boston, and then spoke with media and analysts to cap the day. Oracle is hosting the two conferences at nearby hotels in Boston -- one for HR users and the other for users of financial management tools. Attendees also include users of Oracle's on-premises applications, such as PeopleSoft and E-Business Suite.
Hurd said Oracle's cloud-based HR sales rose more than 100% during Oracle's quarter that ended Feb. 28, compared with the same quarter last fiscal year, and the vendor won 206 new customers and 217 expansions. In cloud-based ERP, Oracle's quarterly sales grew 280%, with 564 new customers, not including those from the recent acquisition of NetSuite, and 120 expansions.
Revenues from all cloud-based software rose to $1.3 billion in the quarter, up 71% from the same quarter last fiscal year, he said.
Rapid growth in cloud-based sales
"If you went back five years ago, our cloud revenue was zero," Hurd told reporters and analysts. "It has scaled to this."
We have no intent of orphaning our on-premises customers -- none at all.

Mark Hurdco-CEO of Oracle
Hurd said Oracle has 2,000 developers working on human capital management (HCM) products and 3,000 developers on ERP.
Hurd told reporters and analysts that Oracle is not leaving behind its customers of on-premises software. However, he conceded he is a strong advocate for cloud-based HR software and financial management tools, and said all of Oracle's customers will move to cloud-based applications on their own schedules.
"We have no intent of orphaning our on-premises customers -- none at all," Hurd said.
More innovation and better security
Hurd said cloud-based software offers more innovation, better security and it costs less than on premises, which requires costly customizations to meet a company's needs for its on-site computers.
During his Modern Finance keynote, Hurd explained the high cost of on-premises computing with an anecdote about the customizations involved with an upgrade. He said a customer complained about paying $20 million to upgrade to a new release of Oracle E-Business Suite.
"I go meet with the CEO who opens the meeting by saying, 'I hate you.'"
Hurd said he took the statement seriously and told the customer that Oracle made "zero" on the upgrade. All the costs involved new customizations of the prior customizations of the product for the customer, he said.
Benefits of cloud-based software
With a cloud-based application, a user will receive three releases every 14 to 15 months, with 300 to 400 new features -- and they are all automated.
Encryption also means cloud-based software is more secure, he said.
"That is what is driving these crazy growth numbers in cloud," Hurd said. "This is the fundamental argument that drives it."
During his keynote at HCM World, Hurd emphasized that Oracle is using its own cloud-based HR software in recruiting, hiring, training and promoting employees. He said Oracle is pushing its own tools as hard as any customer.
Hurd said Oracle has 140,000 employees, up from about 90,000 in 2010.
Oracle hiring thousands each year
He said Oracle hires a net 7,000 to 8,000 employees a year, when accounting for attrition, and has an insatiable need for talent and to grow and develop it.
Hurd introduced Gretchen Alarcon, group vice president of human capital management strategy at Oracle, who demonstrated new mobile capabilities for HCM and a new HR chatbot.
Alarcon demonstrated how the Oracle Learning Cloud is benefiting from the new mobile capabilities.
With the mobile application, a user can pull up a 30-second video to provide some information before a meeting or about a customer before a presentation. The learning can be tailored for individual users, their different interest or groups.
"I have the ability from my phone to pull up my required learning, any voluntary learning that I have signed up for or any recommended learning," she said.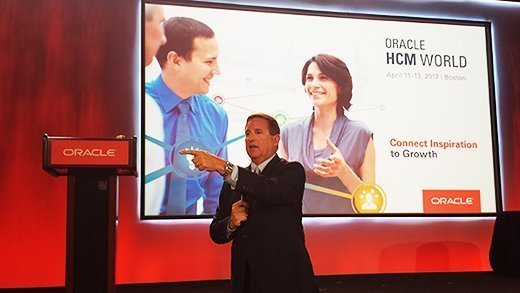 New HR chatbot
She also demonstrated a new HR chatbot that can answer basic questions via mobile text.
"I can say to the chatbot, 'Did I get paid?' All right, I am getting paid on Friday. Next question: 'Can I take a vacation now that I have been paid?'"
The mobile application also allows "peer to peer" feedback in real time, said Alarcon, who writes a blog for Oracle on HCM.
Hurd said there is more innovation coming from Oracle, especially in the area of cognitive computing or what he called "machine to machine" learning, which he said will be integrated with analytics to drive better decisions about employees.
He said cloud-based HR software will become more prescriptive with automation, telling an executive where to recruit, how to recruit and who to recruit.
"All of this can be done by machines," Hurd said. "Historically, we used to do this with lots of people clumsily going through incredible levels of detailed data with the hopeless task of trying to come up with an answer. This now can all be automated."