News
Stay informed about the latest enterprise technology news and product updates.
Companies are seeing a seismic shift in use of people analytics in HR
Deloitte Consulting surveyed more than 10,400 business and HR leaders and found that learning, recruiting, talent analytics and performance management are undergoing big changes.
People analytics in HR is undergoing a "seismic shift" in companies, sparked by widespread adoption of cloud-based...
Continue Reading This Article
Enjoy this article as well as all of our content, including E-Guides, news, tips and more.
systems that are making it easier for executives to access real-time data to understand an array of business functions, a new report said.
People analytics in HR, or the use of software and data to measure, report and understand employee performance, is going mainstream at companies, according to the report, "2017 Global Human Capital Trends," by Deloitte Consulting LLP and Bersin by Deloitte. The 137-page report includes responses from more than 10,400 business and HR leaders in 140 countries.
The report looked at 10 trends and ranked them in order of importance determined by respondents. Organization of the future was first, with 88% calling it important or very important, followed by careers and learning, talent acquisition, employee experience and performance management. The last five trends were leadership, digital HR, people analytics, diversity and inclusion, and the future of work, which includes the augmented workforce, robotics, cognitive computing and artificial intelligence (see figure below).
Huge amounts of data for analysis
People analytics in HR is no longer insulated from the rest of the business, the report said. Instead of HR finding information and flagging it for managers, executives across a company are analyzing huge amounts of people data and using predictive analytics and other tools for workforce planning, talent management and operational improvements.
While quality and accuracy of data remain a challenge, Josh Bersin, lead researcher of the report, said companies want any line manager to use analytics in HR to make decisions.
"Why do we have work grievances in this plant?" said Bersin, principal and founder of Bersin by Deloitte, the research group of the human capital management business at Deloitte Consulting. "Why do we have low productivity in this department? Why do we have turnover in this sales office? Why do we have a low retention rate or low engagement rate over here? That is where analytics is going."
Ford Motor Co., for example, and others have expanded human resources analytics to work across all business segments, including finance, HR and operations, the report said. Leading ERP vendors are implementing a set of people analytics dashboards available to a CEO to help explain attrition, hiring metrics, employee costs and engagement by geography, business unit and manager, the report said.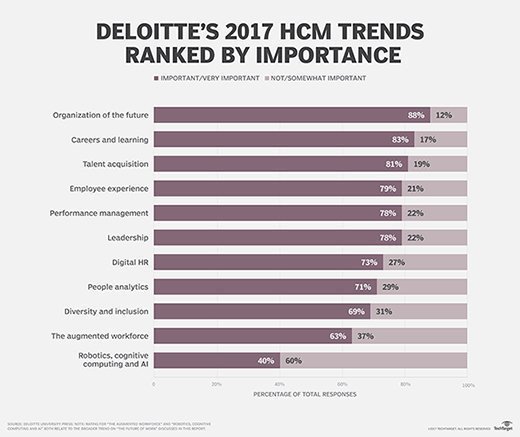 Radical changes in learning
Learning, which became the second most important trend, up from fifth in last year's survey, is facing radical change, with new employee learning systems constituting the fastest-growing segment in HR technology spending, the report said.
Traditional learning management systems, which generally manage, track and record training use, are being supplemented or replaced by new tools, the report said. Next-generation vendors provide curated content, video and mobile, microlearning and ways to harness external online courses and video on the internet, the report said.
Employees are pushing for continuous skill development and dynamic careers.
"We have all become very addicted to our phones, our videos, YouTube, Snapchat, Twitter or Facebook, whatever it may be," Bersin said. "We don't have time to sit down and go to two-day classes every month to learn something."
"We want to learn on the job when we need it in a fast video format. There is lots of that content available, but the corporate infrastructure to support it and enable it is not there in 95% of companies. Companies have old-fashioned learning management systems that were designed to register you for a course. They were not designed for video content management and video distribution."
Talent acquisition is hot
Bersin said he was not surprised that talent acquisition was ranked as the third most important trend, because 20% to 25% of people change jobs every year, even during a recession.
"It is becoming a hot part of HR," he said. "It is becoming even more important."
In a growing economy, companies are struggling to acquire talent, and applicants are becoming more particular, he said. Talent and skill shortages are widespread.
Recruiting technologies, including cognitive computing and artificial intelligence, predictive analytics in HR, video interviewing and social networks such as LinkedIn, are helping reshape the workforce, the report said.
IBM Watson Talent, for example, is moving into recruiting with a machine learning platform that ranks the priority of open positions and two other tools for social listening for a company's and competitors' publicly available reviews on Glassdoor, Twitter and news feeds, and for providing fit scores for candidates based on experience and skills.
HR is struggling
Each of the trends affect the role of HR, which is scored in the report according to how well HR executives believe their teams can address the talent issues around them. The report found that HR is struggling this year, with 36% of HR teams rating their capabilities as good or excellent, down from 39% last year.
"We believe that the HR function is in the middle of a significant identity change," the report said.
HR is facing a major challenge. HR must deliver efficient and excellent talent programs, and it also needs to focus on employee engagement, productivity, as well as the entire realm of work, job and structural design, the report said.
The report said 41% of respondents have either fully implemented or made significant process in adopting cognitive and artificial intelligence technologies, and another 35% report pilot programs.
Chatbots moving into HR
Cognitive computing, which refers to software that learns, and artificial intelligence also produce more analytics in HR, as well as underscore the importance of HR to become involved in these areas, Bersin said.
For example, many chatbots are now available to help with employee queries on basic issues, such as where to get a computer repaired or how to fill out an expense account. A chatbot can find the answer quickly and can also refer an employee who is asking the same question and might be good to know.
These queries are stored online and can alert a company about a process that is drawing a lot of attention or creating problems and may need to be fixed. The more that technology automates functions, the more data it produces and the more it can be analyzed.
"That's why HR has got to get its act together," Bersin said. "The rest of the business is doing this at a much faster pace, and the HR data needs to be just as fast and easy to get to."
Dig Deeper on People analytics software