Fotolia
News
Stay informed about the latest enterprise technology news and product updates.
Skillsoft and TalentQuest offer e-learning technology and micro-videos
Skillsoft is releasing micro-videos and a new learning system, while TalentQuest is providing a new platform with virtual reality and interactive educational games.
Skillsoft, a top provider of e-learning technology, this month released micro-videos for business people and unveiled...
Continue Reading This Article
Enjoy this article as well as all of our content, including E-Guides, news, tips and more.
a new platform with updated curation for improved search.
Skillsoft, based in Nashua, N.H., delivers cloud-based content and services. The company has 40 million active users and 6,700 customers, including compliance training for more than 1,000 organizations, said Tara O'Sullivan, chief creative officer at Skillsoft.
The new content in the e-learning technology, called business skills and leadership, includes 200 courses and more than 1,800 micro-learning videos between three and five minutes in length. The videos will be released this month, and an additional 1,100 will be released before the end of December, she said.
Existing subscribers on the current platform automatically receive the new content, which is delivered anywhere, including mobile, at no charge.
New concept for training
Skillsoft's new concept moves away from instructor-led training. The biggest differentiator in the videos is the use of professional actors to depict real-life situations that focus on key messages, O'Sullivan said. Over time, users get to know the actors, such as Seth, who keeps making mistakes at work, and Tom, the CEO who is calm and analytical, she said.
"People learn way better if they are looking at real-life scenarios with actors who are good, rather than being lectured at by a guru, for example."
Skillsoft offers "a vast modality of content," she said, totaling more than 165,000 courses, e-books, videos, animations, audio books, tests and assessments.
The vendor is first refreshing e-learning technology for business skills and leadership; in the future, it will do the same for the IT and compliance categories, she said.
The new content delivery and learning platform, called Percipio, will eventually replace the existing Skillport platform, O'Sullivan said. Existing customers will migrate to the new platform over the next year or two, she said. New customers will start on Percipio.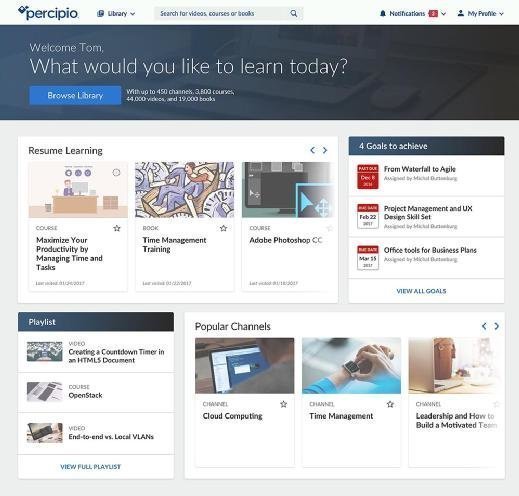 Curation done mostly by hand
Content curation is the most outstanding feature of the new platform, O'Sullivan said. With the new curation, users will be able to search on Percipio and receive the five best courses, videos or books for a topic -- for example, time management.
Experts at Skillsoft are currently combing through the vendor's content to provide the best-five rankings. The top five would depend on use and the expert's knowledge in the area. The content is being curated manually, and it will rank results of topics, while also providing a full list of search outcomes, O'Sullivan said.
"A lot of the initial curation is being done by hand. We think that is the way it has to be done, because there is a huge focus around what is the best experience for users."
Aiming to increase adoption and employee engagement, the e-learning technology on the platform will be easy to use, and it will include personalized content, such as playlists and notifications.
The platform will include a homepage where learners can track their goals, launch popular content and follow designated learning paths, according to a press release. Other comprehensive features include customized curated channels that adapt to learners' specific needs after a short self-assessment. These channels are an easy way for learners to find all resources available on a specific topic.
Reporting is also key on the new platform, with a lot of data visualization, she said.
Administrators will have a dashboard to align learning to business objectives and calculate the return on investment for courses, she said.
TalentQuest releases new LMS
TalentQuest, a provider of cloud-based talent management software, is touting the release of a new learning management system (LMS) that features technology obtained from a company that it purchased last year.
The acquisition of Purpleframe allows us to really create the next-generation type of learning content and content that is very interactive, very immersive, using 3D, using virtual reality and augmented reality.

Kevin Sessionspresident of TalentQuest
Kevin Sessions, president of TalentQuest, said the new TQ Learning Management System, which offers enhancements and updates to the prior system, is "a real game changer." In August, TalentQuest announced the purchase of Purpleframe Technologies, noted for its virtual reality software, interactive educational games and new type of assessments.
"The acquisition of Purpleframe allows us to really create the next-generation type of learning content and content that is very interactive, very immersive, using 3D, using virtual reality and augmented reality," Sessions said. "We wanted to make sure that with that we had the best way to distribute that content and provide it for our clients, so hence the LMS."
The learning system, built by TalentQuest, was made available last month as a module within the provider's talent management platform. It is designed within the software's new user interface, according to a press release.
New LMS is live
Some customers are live and others are implementing the learning system, Sessions said. Prior to the new system, TalentQuest, which is based in Atlanta and has about 300 customers, had partnered with an LMS provider, he said. Existing users get the new system for free as an update.
The new system is extremely flexible and configurable, and it delivers all types of learning content, he said. Users can access the content on a desktop computer, tablet or mobile device, in the office or at home.
Learning, a strategic part of an overall talent management program, Sessions said, is integrated into all of TalentQuest's modules, with data and information flowing from one area to the other.
Major focus on micro-learning
When a manager conducts an employee's performance review, for example, and competency gaps are identified, the employee can immediately be enrolled in a course to address the gap. When a course is completed, the software automatically updates the employee's profile.
A major focus of TalentQuest is micro-learning, or shorter courses with brief videos that tend to be much more interactive, Sessions said. For example, a traditional 30-minute course might be broken down to six or seven micro-courses.
Dig Deeper on HR learning and development software