ra2 studio - Fotolia
IBM expands cloud-based Watson talent analytics offerings for HR
HR can use IBM Watson for recruitment, career coaching, exploring workforce data, recommending learning for employees, and answering questions about benefits and services.
IBM is expanding the availability of its Watson talent analytics for HR this year, giving companies the ability...
Continue Reading This Article
Enjoy this article as well as all of our content, including E-Guides, news, tips and more.
to use the artificial intelligence software for recruiting and career coaching.
IBM Watson Talent is a category of cloud-based products that consists of IBM Watson Recruitment, Watson Career Coach, Watson Talent Development, IBM Cognitive Agent Assist for HR and Watson Talent Insights. Talent Insights is the most mature, with a release in 2015.
IBM is making Watson Recruitment and Watson Career Coach commercially available as software as a service sometime during the first half of this year. Watson Recruitment is currently available through IBM's Recruitment Process Outsourcing, and Career Coach was rolled out internally at IBM late last year.
Cloud-based Watson Talent Development and IBM Cognitive Agent Assist for HR were announced during World of Watson in October and are currently being delivered to customers.
Great potential in talent analytics
Holger Mueller, principal analyst and vice president of Constellation Research Inc., said Watson holds tremendous potential.
"Now, Watson has to show it can scale and deliver value for enterprises' people decisions," Mueller said.
The Talent Insights product allows HR to make strategic, fact-based decisions based on talent analytics to improve business results, according to information provided by IBM. The product enables HR to explore virtually any workforce data by simply typing in questions to help understand and predict the effect of talent decisions.
Talent Insights for HR talent analytics
Hyoun Park, chief research officer at Blue Hill Research in Boston, said the Watson Talent products, other than Talent Insights, are still mostly at a relatively early stage of adoption.
Park said Talent Insights is a strong offering in HR talent analytics, noting that the application is very good at telling users why data matters, so it is most valuable for managers who are more curious about their data.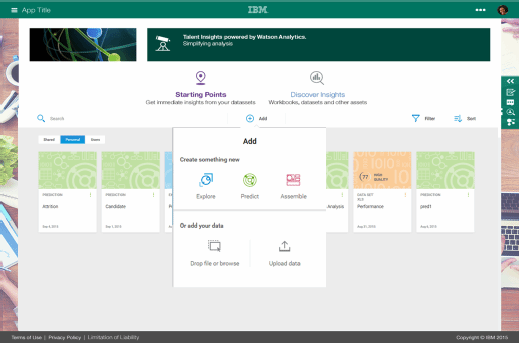 "For instance, Talent Insights can give a direct answer to the literal question of, 'Which employee source leads to the best performing employees?' Or, 'Which country has the least attrition for service employees?'" Park said.
The user interface, which uses natural language software and lets users directly question their data, is a little different from most analytics products, he said.
Watson Talent Insights challenge
It is best for HR managers who are more strategic and focused on finding competitive advantages to manage and improve their company.

Hyoun Parkchief research officer at Blue Hill Research
Being able to ask open-ended questions about the data is also the biggest challenge with Watson Talent Insights, Park said. Although the software provides recommended questions as a starting point, it is built as a tool for discovery, instead of providing a dashboard with specific key performance indicators, he said.
"It is best for HR managers who are more strategic and focused on finding competitive advantages to manage and improve their company," he said. "It may not be as helpful for HR managers who just need a consistent and static view of specific HR metrics."
But the product has a mature ability to provide almost immediate predictive, statistical and correlative insights to understand "what is most related to what," he said.
Watson HR product lineup
Talent Insights aims to elevate the expertise of HR, said Bob Schultz, general manager of IBM Kenexa. If employees are leaving a company, for example, Talent Insights would list some possible reasons for the departures and assign probability ratings to each possible cause, giving HR more information for decision-making.
Watson Career Coach allows employees to ask questions in natural language. It looks at an employee's current role and performance and suggests specific steps for a promotion or improvement, he said. Career Coach stays with an employee throughout employment and recommends a career path that's right for the worker based on career goals, desires and skills.
"How do I move from sales to marketing and make that transition?" he said. "Career Coach will make those recommendations for you."
Watson Talent Development is considered a pair with Career Coach, he said. Similar to the way Netflix suggests movies to viewers, Talent Development provides tailored recommendations on learning to employees.
Watson Recruitment helps recruiters become more efficient by providing market insights, setting priorities for job openings and measuring how difficult it is to fill an opening and predictive hiring. The software establishes profiles of a successful worker for a job partly by looking at performance data of employees, and then it matches candidates to that profile, he said. Watson Recruitment continues to learn after an employee starts.
"Is the new person on track, or ahead of plan or behind?" he said. "If they are behind, where is the gap, and what did we miss and what might we recommend? If they are ahead, how might we adjust the profile?"
IBM Cognitive Agent Assist for HR uses cognitive computing to automate help with questions about employee benefits, payroll or other services. By understanding natural language, it seeks to allow HR to serve employees better, while helping to reduce costs and boost productivity.
Watson addresses new HR
The Watson Talent products can be used with IBM Kenexa, but the products are open and can work across a variety of human capital management tools, such as Oracle HCM, Workday and Ultimate Software, Schultz said.
The Watson Cognitive system includes three elements, he said. First, it can interact with people in a natural way, such as understanding questions and answering them.
The system also reasons, he said. It looks across the data and can give a range of answers and the probabilities around those answers.
It is also dynamic, he added. "As the data changes, as new data sources are added, as it starts to see where you are exploring and where you are going and the questions being asked, it starts to change what it is presenting and connections it can make for you."
Schultz said Watson addresses new expectations for HR, which is shifting from a need to drive efficiency, compliance and cost controls to assuring the company employs and hires the best people to execute a business strategy and make an impact on the business.
Employees also have different expectations. They want an individualized experience and help with developing, growing and advancing in their careers, he said.
IBM Watson Talent is focused on helping HR get the right people in the right place at the right time, Schultz said, and is aimed at helping employees become more engaged and more productive at work.