News
Stay informed about the latest enterprise technology news and product updates.
Red Sox job hopefuls pitch credentials on video interview software
The Boston Red Sox ended chaotic annual recruiting events for game day staff at Fenway Park and now use on-demand video interviews and online surveys for hiring.
When hiring for game day staff, the Boston Red Sox used to hold a major career day at Fenway Park that could be...
Continue Reading This Article
Enjoy this article as well as all of our content, including E-Guides, news, tips and more.
chaotic, with long lines making it difficult for some candidates.
Now, job applicants for the Red Sox are stepping up to the plate through video interview software.
"We needed a faster and more streamlined recruiting process," said Michael Danubio, senior director of human resources for the Red Sox, at the Human Capital Institute's strategic talent acquisition conference this month in Boston. "We needed a better candidate experience."
The Red Sox use HireVue, based in South Jordan, Utah, for on-demand videos, including the hiring of about 200 people each year to be among 700 game-day staff such as the grounds crew, ticket takers, ushers or security and employment of full-time front office positions.
The videos, totaling about 2,000 a year, reduce the time it takes to hire, provide digital talent pools and lead to better quality hires -- and they also save time on the telephone for Red Sox personnel.
Video key for filling sales positions
The video interview software was critical in 2013 for cutting the time to hire, Danubio said. The team found itself in the unusual position of needing to sell season tickets for groups and individuals after an historic sellout streak at Fenway Park ended earlier that year in the wake of missing the playoffs in 2011 and a last place divisional finish in 2012.
In three weeks in spring 2013, the Red Sox used video interviews to help hire 12 people plus a manager to lead the newly formed Red Sox Sales Academy, he said. Without video interviews, it would have taken a lot longer, he added.
Job candidates also complete an online process.
Like many teams in professional sports, The Red Sox use TeamWork Online as a portal for accepting online applications from job hopefuls. If an applicant goes to the Red Sox careers page, the page links to TeamWork Online.
Also, all applicants for only game day staff answer eight to 10 questions in an online survey, which partly help the Red Sox find out how many games and other events applicants can attend and what time they can get to the park.
The Red Sox create the survey questions and MLB Advanced Media assists in putting the survey on the team's website. After that, they can advance in the process by taking the video interview.
Although they hold an annual Sports and Entertainment Career Fair each spring where prospective employees can network with over 100 companies in the sports and entertainment industry, the Red Sox last held a major "career day" specifically for game day staff at Fenway Park in 2011, he said.
No one is hired based solely on a video, Danubio said. The videos allow managers to get to know a candidate better before inviting them to an interview in person, and provide for more rich conversations, he said.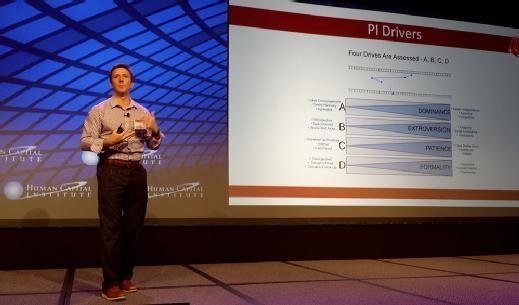 Most candidates see video as effective
In a survey of 428 job applicants, 58% agreed the video interview software was an effective way for an employer to get to know them, a number the Red Sox want to see go up, he said. Video interviews may still be in the early innings, according to Danubio.
"A lot of people say, 'I was nervous; it was a little nerve-wracking,'" Danubio said. "I am still waiting for someone to say, 'Oh, I have done five of these now, this is kind of commonplace.' It is going to get there at some point I assume."
Other data from the Red Sox showed 93% were satisfied with the number of questions asked, 94% were satisfied with the relevance of the questions, 83% were satisfied with the ability to showcase their skills and experience and 86% were satisfied with the total length of the interview.
Red Sox cover bases with personality assessments
In addition to a video interview, the Boston Red Sox also use a personality assessment to help learn more about job applicants.
In 2012, the organization began using the science-based assessment offered by Predictive index, based in Westwood, Mass.
Michael Danubio, senior director of human resources, said the Red Sox use the behavioral assessment to find the core drives of applicants for part-time or full-time positions in the front office such as a marketing assistant or member of the HR staff. It is not used for hiring game day staff.
Four attributes are assessed: dominance, extroversion, patience and formality, he said.
Candidates are surveyed for attributes that are either considered high or low such as "outgoing" or "introspective" for extroversion and "organized" or "disorganized" for formality.
Hiring managers can set up a profile for what they think is a right fit for a job, and see how well it matches with a candidate's profile, he said.
The assessment helps the Red Sox understand an applicant's preferences and how they make judgments.
"Are they an adapter?" he said at the HCI conference. "Someone who can be a multitasker or singular-focused person? Are they a concentrator? Are they a juggler? All these things provide us with a lot of information in our hiring decisions."
The videos include four to six questions for game day staff with a final question that gives candidates a chance to share anything they feel is important and a three-minute limit on answers. Eight to 10 questions are asked for full-time positions in the front office.
For some positions, he said, a hiring manager or staff member will appear on the video and ask questions that were recorded ahead of time.
Interview videos customized for each job
The videos are customized for each individual position by hiring managers with input and guidance from human resources. A nice feature for managers is being able to watch specific questions that may be most important to the job first, and evaluating a candidate's answers before moving on to the next question.
"Hiring managers are able to spend more of their time on candidates they deem most qualified as opposed to spending valuable time on a phone call or in-person call with those that are less qualified," he said.