Golden age of HR predictive analytics on horizon, report says
An annual Deloitte survey of business and HR leaders found that HR analytics, learning and engagement are among the most important human capital trends of 2016.
Organizations are entering a "golden age" of HR predictive analytics, and progress could accelerate in such areas as recruiting and retaining talent, and scheduling of workers, according to a worldwide study of business and HR leaders.
The rise in use of analytics is one of the top 10 trends in human resources, according to the report, Global Human Capital Trends 2016, produced by Deloitte Consulting and Bersin by Deloitte. The study included responses from more than 7,000 business and HR leaders from 130 countries.
Although HR organizations have been talking about building analytics teams for several years, 2016 should see a major leap forward in capabilities, the report said.
Josh Bersin, founder of Bersin and Associates, now Bersin by Deloitte, based in Oakland, Calif., said this year's findings contrast with last year's survey, which found that HR predictive analytics was "stuck in neutral," despite heavy investments in technology.
More companies using predictive analytics
"Now, we are seeing tremendous growth," Bersin said. "Many companies have taken HR software and put it on the cloud, so they have better access to data. They also have analytics teams. Being an HR analytics person is now kind of a cool job."
Companies that are fully able to use HR predictive analytics are still an elite group, but the percentage doubled from 4% last year to 8% this year, the report said. In a sign of what's to come in the field, the number of companies ready, or somewhat ready, for analytics jumped by a third, from 24% to 32%.
In another key trend, the survey found that HR leaders are developing stronger skills, becoming more innovative and more often partnering with business leaders to help improve profits. Although last year's survey concluded that HR needed an "extreme makeover," this year's research showed that HR's performance is steadily improving.
The readiness of HR teams was up from last year's report in four important categories, including 14% in dealing with leadership development; 13% with employee engagement and culture; 11% in analytics; and 7% in learning.
Increasingly, CEOs are recognizing the importance of talent, so HR professionals are getting the message that they need to move faster, Bersin said. Also, younger people are entering HR, and bringing new perspectives and skills, he said.
Organizational design most important trend
The report cited major trends among HR departments. The top five trends are organizational design, leadership, culture, engagement and learning. The other five, in order of importance, are design thinking, which focuses on tools and methods to improve employee satisfaction, productivity and enjoyment; HR skills; people analytics; HR mobile apps; and workforce management.
The design of an organization was rated as the No. 1 trend, with 92% of respondents saying it is important or very important. Companies are decentralizing authority, aligning around customers and products, and creating networks of teams -- powered, in some cases, by new tools to continuously track performance and goals, keep up with customers, communicate about quality or brand issues and build a common culture, the report said.
Innovative learning management systems were rated as important or very important by 84% of executives, but only 37% said they believe learning programs are effective. Companies should adopt new learning systems, such as Internet portals, to share knowledge via videos, mobile learning apps or online platforms, such as Udemy and Coursera, the report said.
'Always on' approach urged for employee engagement
Almost 90% of companies rated employee engagement as important or very important, but engagement, or an employee's level of commitment to an employer, still is only measured once a year by 64% of companies. The report urged that companies adopt an "always on" approach, including use of pulse survey tools or anonymous feedback systems.
According to the report, companies are using HR predictive analytics to identify the risk of top talent quitting their jobs, and prescribe ways to keep them, develop profiles of top salespeople, pinpoint the traits of the most productive workers, reduce bad hires and discover patterns of unplanned absences.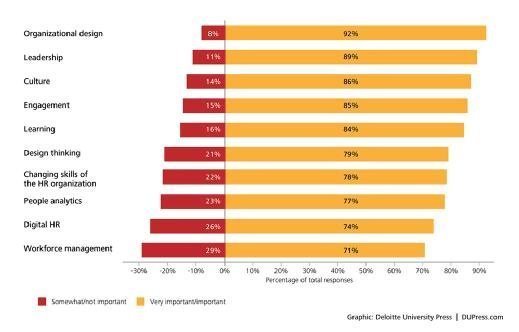 But Bersin cautioned that there is a lot of room for improvement in HR predictive analytics. The survey found, for example, that 62% of organizations rate themselves as weak in using data for recruiting, and 55% are weak at using analytics to predict workforce performance and improvement.
Bersin said companies still face several obstacles in implementing HR predictive analytics, including data kept in different software and paper files. Companies also need to create and empower teams to evaluate projects, interpret the analysis, and then use the findings to effect change.
It takes three to five years for companies to get good at people analytics, he said. He added that insurance and technology companies are leaders because of their expertise and history of using data.
The use of HR analytics "is still early days," Bersin said. "I think we are in a 10-year journey, and we are probably in year two."
Dig Deeper on HR analytics