Simppler taps into employee referral networks
Stepping in to solve a problem for many employers, Simppler uses machine learning and data analytics to improve, speed and rate employee referrals for open job positions.
Each quarter, the editors of SearchFinancialApplications recognize a new piece of software for innovation or market...
Continue Reading This Article
Enjoy this article as well as all of our content, including E-Guides, news, tips and more.
impact. This quarter, that product is Simppler's employee referral software.
Product and company name: Simppler
Release date: Aug. 8, 2014.
What it does
Employees can use Simppler to easily refer people for open jobs in their companies, as well as to work with hiring managers and recruiters during the process.
Vipul Sharma, CEO and co-founder of Simppler in San Mateo, Calif., said it is often tough for employees to recall all possible referrals in their networks, especially as companies and job vacancies grow. Simppler Employee referral software attempts to solve this problem, he said.
Simppler makes it "super easy for employees to figure out the people they are connected with, or they have known in the past, who would be great fits for various positions in the company," Sharma said.
While there have been key breakthroughs in recruiting technology, employee referrals -- the most critical channel in recruiting -- have largely been ignored, he said.
"That is where we are putting all our energy and innovation," he said. "We are taking this one problem and using lots of machine learning in building a recommendation system."
During a demonstration, he showed how employees log in to the employee referral software via an email and can see open jobs. Using sophisticated analytics, Simppler examines the posting and pulls contacts from an employee's network, including from Facebook, LinkedIn, an address book or Microsoft Excel spreadsheet, and then does a deep crawl on public Internet sources to rank those contacts for the open job.
Employees can agree or disagree with the recommendations from the employee referral software and can click to say how they know the referral, along with a confidence level, including "bet my life" as the strongest indicator of support.
Employees also have the option of emailing a candidate, providing a link to the open position and giving the person the option of indicating interest.
In addition, employees can look up a person in their network and the software will tell them where the individual might fit in the company.
Recruiters can track the referrals and their status, as well as an employee's relationship with the candidate and their confidence in the recommendation.
Why it matters
Simppler uses analytics similar to the recommendation algorithms in Netflix to rank the referrals an employer would like best for an open job, Sharma said.
Simppler integrates with the applicant tracking systems (ATSes) of vendors Greenhouse and Lever, and the company is in discussions with other ATS vendors.
There are deep integrations with the ATSes, said Shikhar Mishra, co-founder of Simppler.
"We use all the knowledge for all the referrals that we generate, that make it through the system, that make it through successive hiring stages," he said. "We use all of that for the training of our algorithms to provide feedback into machine learning systems. We try to create a hiring DNA for an organization's machine learning."
The software also uses machine learning to take into account the history of an employee's referrals. If an employee, for example, is consistently giving a high confidence level to candidates that are being hired, the software will remember this fact and rank the referrals of that employee above other referrals, Mishra said.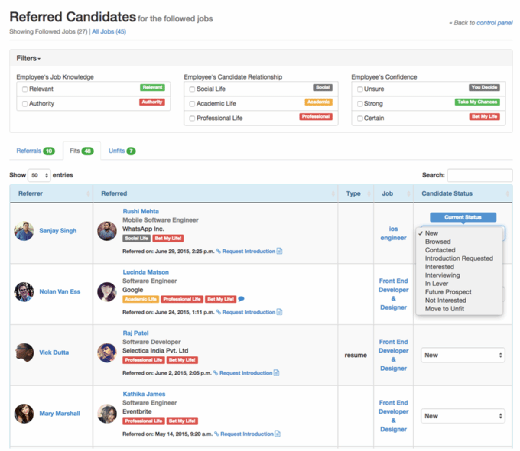 A referral will also be ranked higher if the recommendation is from an employee who is closest to the open job -- an engineer referring for an engineer's posting, for instance, he said.
Simppler's algorithms also remember if a referral is marked as fit for an open position and use that information as a signal to feed into possible future job recommendations, he said.
Hiring managers and recruiters also have the option of listing the name of a perfect candidate for the position, and the software will search their contacts for similar people.
What a user says
John Fallone, head of talent at Tilt, said the company's employees are excited about using Simppler because the software is dramatically expanding the number of employee referrals.
Before Simppler, Tilt would receive 40 referrals a month from employees, even though the company heavily promoted the referral program, he said. During the first month with Simppler, the company received more than 600 referrals from employees, including 40 to 50 candidates from some workers, he said.
"I don't think I could find anything else that does the same thing as Simppler," he said. "That is what makes it so unique and valuable."
Tilt, a crowdfunding website based in San Francisco, has about 80 employees. The company began using Simppler about three months ago, Fallone said, and has hired 20 people, including engineers, product managers and growth associates -- 15 to 17 of which were through referrals.
By encouraging and generating referrals, Simppler is saving the company some big dollars, he said. A Silicon Valley or San Francisco technology company probably pays a recruiter $25,000 for each referral who is hired, he said.
Fallone also said he likes the gamification feature in Simppler. Tilt launched a challenge to see who can make the most referrals.
He said implementation took a week and the software works well with Tilt's applicant tracking system.
Price
Fallone said Tilt pays $10,000 a year for a subscription to Simppler. The vendor declined to disclose other pricing information.