 BACKGROUND IMAGE: iSTOCK/GETTY IMAGES
News
Stay informed about the latest enterprise technology news and product updates.
Five cool products from the HR Technology Conference
IBM Kenexa Talent Insights with HR analytics from Watson cognitive computing leads a roundup of innovative software demonstrated at the 2014 HR Technology Conference & Exposition.
LAS VEGAS -- This year's HR Technology Conference & Exposition had no shortage of new products in the hot categories of HR analytics and social and mobile recruiting.
Here are five of the coolest HR technology products shown at the conference.
IBM Watson, HR data scientist
IBM used a big-screen monitor at the most conspicuous corner of its booth to show off Talent Insights, a soon-to-be-released feature of its Kenexa talent-management suite. Powered by Watson, the company's celebrity cognitive computing system, Talent Insights looks like it could be the imminent future of HR analytics.
No mere dashboard tool, the software accesses the Watson Analytics cloud service that IBM released in September, and is the first iteration of that offering for line-of-business managers. Watson responds to natural-language HR questions with recommendations for the statistical correlations that could be most relevant, displaying them in large graphs (see photo). It will also suggest questions to ask, such as "What is the number of high-risk employees by location?" or "How long does it take a new hire to onboard?"
IBM claims that putting Watson Analytics behind the new software's simple wide query window avoids having to "hardwire" the user to the tool or an underlying database, thereby masking the complexity of the processing taking place behind the scenes.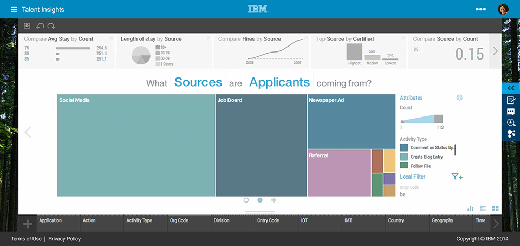 IBM Kenexa Talent Insights comes out on Nov. 17 and will be available standalone or as part of the full suite.
HireVue Insights finds hidden clues on potential hires
HireVue, which made its name in video-interviewing software, claims to be the first vendor to apply predictive analytics to job candidates. HireVue Insights, launched in June, taps into the company's huge database of digitized interviews and related data to match 15,000 interactional, behaviorial and performance attributes with those of top performers. It was named a top HR product of the year in an awards luncheon emceed by conference organizer Human Resource Executive magazine, and later joined five other "awesome new technologies" selected for on-stage demos in a general session.
In an interview and demo on the show floor, Scott Sessions, HireVue's director of marketing, said "deep-learning" analytics software called Iris functions like the Netflix movie-recommendation engine. "A digital interview has 15,000 to 100,000 times more information than a resume can have," Sessions said. "The system's going to self-learn and pick candidates that match your preferred candidates." The software can also rate candidates on how engaged, motivated or distressed they seem, based on aural or visual clues in their videos.
Sometimes HireVue Insights will call attention to candidates whose videos weren't viewed by the hiring manager. And the tool's analytics aren't just directed at job candidates. Sessions said it can also guide interviewers to ask better questions, and help their managers rate their effectiveness as interviewers.
Sessions said five customers were using the software at launch. HireVue identified Chipotle Mexican Grill as one of them, in a press release.
Video recruitment marketing for the young and restless
Viewing short Web videos on smartphones is becoming almost as commonplace as texting, especially among the young Millennials most hiring managers have their sights set on. Startup Match-Click goes with the flow by providing a platform for companies to promote their job openings in 20-second videos.
"It lets employers market their positions with information that candidates actually want and that candidates will respond to," said Match-Click founder and CEO Maury Hanigan, who formerly ran her own college-recruiting consultancy for clients in the Fortune 500.
"Almost all employers today will tell you that they're interested in passive candidates -- the ones that are succeeding somewhere else," she continued. The problem is they don't have good ways to find those people, other than by looking at social media sites such as LinkedIn and sending out text job descriptions.
Match-Click cuts through the recruitment marketing noise with three short videos from people the new hire will work with. "It's the actual person you report to, and two co-workers," Hanigan said. Video subjects are encouraged to devote their allotted four or five sentences to information that might interest top-quality candidates, such as Agile development. The videos become part of a webpage containing other outbound marketing information, such as the job description, a list of benefits and a link to the company's website. Typically, passive candidates identified via social media or employee referral networks are sent a link to the job profile page.
Hanigan named other video-enabled sites, such as Glassdoor and Ongig, as indirect competitors, but said they don't offer Match-Click's streamlined production of short videos by hiring managers and co-workers.
Employee healthcare portal on steroids
Employers have huge healthcare challenges, not the least of which is the familiar one of paying for and delivering health insurance and related benefits. Some companies are getting more proactive about their employees' health by using social media and other Web technologies to encourage and facilitate exercise, healthy eating and self-care.
The Enterprise Healthcare Cloud from Castlight Health attempts to address those challenges. Like HireVue Insights, it was singled out for its innovativeness in the Awesome New Technologies for HR session. The cloud-based offering consists of four main modules, including an analytics tool for optimizing costs and employee outcomes, and one for designing benefits packages with new kinds of pricing and reward mechanisms. A third component is essentially the portal for integrating third-party clinics and other providers. The care module provides decision support tools and advice on multiple platforms, including smartphones.
In customer implementations thus far, "we've been been able to drive down ER utilization by 9% across the board," said Michele Law, Castlight's chief revenue officer.
Social recognition with real business value
Rallyteam is a social collaboration platform that enables a company's employees to develop their skills and demonstrate their value to the organization by volunteering to help with small projects. It functions like an internal marketplace for matching employee skills and interests with specific project needs.
According to Dan Ellis, the startup's co-founder, Rallyteam pulls in workers' LinkedIn profiles to build a database of skills. Participants then state how much time they can give to a project. Completing one can bring social recognition "badges," and the system tracks how much time and money was saved. "Employees see how they add value," Ellis said.
The information can be fed into a performance management system, allowing supervisors to include it in their employee reviews. Companies can also see which skills are most in demand, and where hiring and training might be needed.
Rallyteam claims customers of all sizes, from a 200-person nonprofit to a 180,000-employee telco, Ellis said. The product was launched and won an award at the TechCrunch Disrupt conference in San Francisco in September.
Dig Deeper on Workforce analytics software