WavebreakmediaMicro - Fotolia
Zoomi online learning software predicts the best ways students learn
The Zoomi e-learning platform allows Progressive Business Publications to target students who may be at risk of failing an online course and provide ways to help them improve.
When HR professionals take online courses at Progressive Business Publications, a machine learning algorithm determines if they are struggling or succeeding.
Progressive Business Publications uses Zoomi online learning software from Zoomi Inc. to offer certificate courses to HR and other professionals. The Zoomi technology analyzes student learning patterns to predict how they are performing in an online course. Using more than 100 algorithms, the online learning software recognizes learner preferences and dynamically adapts content to meet their needs.
"This is where the opportunity with Zoomi lies," said Sal De Spirito, chief marketing officer at Progressive Business Publications. "It is hugely exciting for us and a competitive advantage to have the ability to use their algorithms and tools and to make changes in a course when a learner is taking it." Previously, the company could not determine if a student was having difficulties until the distance learning course was over.
"Our goal is better completion rates," De Spirito said. "We want to decrease the amount of time someone is spending to get through the course. We want to make sure it is seamless. If there are critical points a student cannot get past and it is a content issue, we want to know that. Zoomi has provided us with that information."
Zoomi online learning software provides managers at Progressive Business Publications with lists of students taking the courses and predicts who is likely to complete and who is experiencing problems. The predictive analytics take place in real time and allow managers to develop targeted campaigns to help students improve and get them to finish the course and earn a certificate.
Algorithms can suggest ways to change content
For example, the content in a chapter might be switched to a different format. Zoomi's algorithms would indicate a student's performance might be improved by switching from a video to a PDF, if they detect a student is struggling with a video by racing through it or getting frustrated and dropping off.
On the other hand, if students watch a stretch of video, pause at the end, watch it again and make a note or highlight a corresponding point in a PDF, that indicates they are reviewing the material and likely comprehending it.
In practice, Zoomi online learning software looks at much more fine pieces of behavior. Those are things that differentiate the algorithms and are not disclosed publicly, said William McColgan, president and general manager of Zoomi.
Zoomi's suite includes three products: a Dashboard, an engine for processing data and a player for delivering the online content. With the Zoomi Dashboard, for example, online learning managers can collect, index and obtain visuals of data from existing training programs, allowing them to analyze trends and identify learning preferences, patterns and anomalies.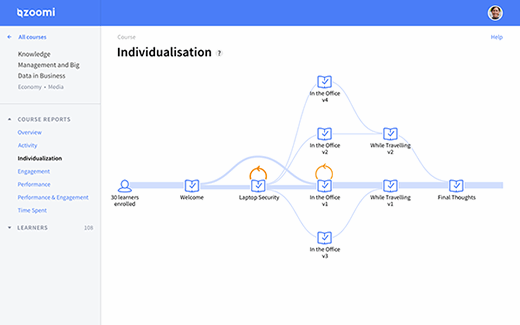 McColgan said the technology, which was launched in January 2015, wraps powerful proprietary analytics around a company's existing learning data to gain intelligence. Through adoption of SCORM and other standards, Zoomi can integrate with more than 100 learning management systems.
Algorithms created at Princeton University
Princeton professor of electrical engineering Mung Chiang, along with a team within the university and external developers, created Zoomi online learning software by focusing their research on improving the quality of student learning through behavioral analysis and machine learning. The research was based on a study of the behaviors and success rates of several hundred thousand students enrolled in a so-called massive open online course. The result was the creation of Zoomi's algorithms, McColgan said.
Machine learning algorithms examine "reviewing behavior," such as whether a learner watches a video several times or rewinds the video. The algorithms also track sections of a course that a learner highlights or notes.
"No particular action on the part of the learner is especially useful to analyze," McColgan said.
Rather, it is the sequence of individual actions that form patterns recognizable to Zoomi's algorithms, which hold the predictive power, he said. "Our algorithms look for these patterns using the same technology that gene sequencers look for patterns of nucleic acids and recognize them as genes."
He said Zoomi can tailor instruction to each student. "The one-size-fits-all approach has its limits," McColgan said. "There is a unique solution for every learner. The closer we get to an individualized experience, the more effective distance learning is going to be."
Course completion rates have improved
Since Progressive Business Publications went live with Zoomi's online learning software in September, course completion rates are up an average of 12%, when compared to the same period in the prior year, De Spirito said. So far, that is translating to about a 30% increase in revenues for the company.
Progressive Business Publications operates two training programs -- Women's Leadership and Managers are Heroes -- on the Zoomi platform, with four courses in each program. The company offers certificates for people in HR, finance, medical and other industries.
The company began using Zoomi as an early adopter, and about 500 students have taken courses. Both Zoomi and Progressive Business Publications are based in Malvern, Pa.
De Spirito said Zoomi was fairly intuitive and easy to learn and that his company receives "white glove" treatment from Zoomi in implementing and operating the platform.
"It is pretty close to plug and play," he said. "I have heard very positive feedback from my team in using the platform."