Get started
Bring yourself up to speed with our introductory content.
Why your employee experience design efforts should start now
'Employee experience,' which borrows from customer experience and design thinking, trumps employee engagement as a strategic focus. Here's a look at why.
The economy is doing better, the hiring market is heating up and employees want more from their jobs. It's not hard to see why designing a great employee experience for your workers yields a competitive edge. When it comes to the war for employees, to the victor goes the great talent.
What does designing a great employee experience entail?
Named a critical trend by Deloitte and other thought leaders, employee experience encompasses the depth and breadth of how a worker perceives his job. As Jacob Morgan, a workplace futurist and author of the recently released book The Employee Experience Advantage, puts it, employee experience is "creating a company where people actually want to show up."
Employee experience is not specifically a technology issue. However, every piece of technology that current or prospective employees interact with matters -- from the ease of mobile tools to the intuitiveness of an applicant tracking system to the user experience of ERP software. Give workers clunky technologies that cause them to duplicate efforts, lose work or use workarounds, and you are creating a bad employee experience.
"I've interviewed all sorts of companies where employees might say, 'We love our corporate culture. We love our physical space. But we're thinking about quitting,'" Morgan said. When he asks why, the employees point to the outdated technology. "When technology breaks down, it becomes a human problem," he said.
But here's the rub: Culture and physical space are critical, too. Morgan has done extensive research on the nuances of employee experience, including speaking to more than 150 senior executives on the subject. He believes one critical factor in getting employee experience right is using a holistic approach, a view shared by other experts. "The best companies out there, they do an amazing job at all three," he said. Those are the companies that gain real ROI.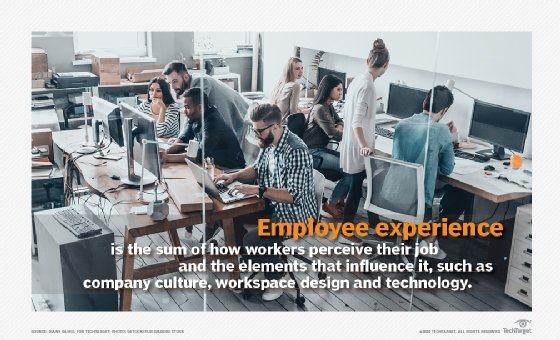 Boosting employee engagement vs. designing employee experience
By many accounts, employee engagement across the U.S. is stagnant. Just look at what employees are saying on social media, especially sites like Glassdoor, and you will read an evocative story.
Traditional surveys tell the same story. Gallup's 2015 employee engagement survey found that only 32% of workers are engaged and that "viewing engagement as a survey or program instead of as an ongoing, disciplined method to achieve higher performance" is a major part of the problem. Indeed, Gallup noted that companies mistakenly focus on measurement, rather than improvement.
Reaction to this tendency to throw a survey or perk at a problem that's systemic is one reason that savvy business leaders are focusing on employee experience. These leaders realize that new solutions are required to meet the demands of a recovering economy and a generation of workers who are expecting more from their employers.
Most business and HR leaders don't yet understand that employee experience is something that needs to be managed in a nuanced, holistic way, although that is starting to change, according to Samuel Stern, a principal analyst in Forrester's customer experience research practice (which also includes employee experience). In his view, employee engagement is "just one measure, not the totality," whereas employee experience encompasses "the connections employees get to colleagues, to managers, to the larger purpose of the company." This includes feeling valued, having autonomy, being supported in mastering new skills and having a career progression at the company.
Attempting to understand that entire experience requires both in-person efforts and using technologies, many borrowed from customer experience, as well as data-gathering tools.
"I think there have been point solutions around improving the employee experience," Stern said. "Companies are measuring, but they're not measuring all of those interdependencies and relationships. So, they understand some of the component parts, but maybe not all and certainly not all as a system that makes up an employee experience."
Morgan has a similar take: "Employee engagement has become kind of like the short-term adrenaline shot or perk that companies use to try to get people to be happy." He said that, of the hundreds of companies he's interviewed, most that say they're investing in employee engagement usually point to some kind of a perk -- some sort of a free food or new office design -- in other words, some kind of a short-term fix. "But rarely do they actually spend time truly engaging employees and focusing on designing a long-term solution," he said.
The in-depth nature of an employee experience design strategy
In other words, the emphasis is on comprehensiveness. Perks and a new office design, for example, may factor into your employee experience strategy, and using feedback tools and other technologies to understand your workers will almost certainly be required, as will great enterprise technologies and wellness programs. Yet, these things are ideally part of an integrated strategy that results from intensive work to find out what employees need to be productive and happy.
An employee experience design strategy will inform your investments across culture, workspace design and technology. For example, at Airbnb, which is often held up as one of the paragons of employee experience, WhatsApp is used to promote collaboration and foster belonging. Yet, what may sound like a trendy tech fix in isolation is really just one small part of what, by many accounts, is a comprehensive and serious strategy around employee experience.
Why focusing on employees experience matters
General Electric is one company that recognizes the importance of employee experience and, indeed, is one of the companies that created a job last year specifically to focus on it. Paul Davies, a veteran HR leader who is the employee experience leader at GE, said: "We realized that the world that we live in and compete in for talent has dramatically changed from even five years ago." GE still wants great talent and wants to retain that talent, Davies said, but now, the idea is to offer employees great experiences again and again so that GE gets great work and employees have a career filled with meaning and purpose.
We realized that the world that we live in and compete in for talent has dramatically changed from even five years ago.

Paul DaviesEmployee experience leader, GE
Stern also believes employee experience is key for today's companies. If you make employee experience something that differentiates your company from others, you will have a chance at ranking on employer lists, such as Fortune's Best Companies to Work For and Glassdoor's Best Places to Work, and such distinctions are critical in this marketplace, according to Stern.
Morgan's research shows that, across financial metrics -- including stock price performance, revenue and profit -- companies that score the highest on his employee engagement index outperform everyone else.
Ignore employee experience at your peril
Indeed, companies that show little regard for their employees' experience are more likely to have unhappy employees, who are more likely to leave the company. Stressful workplaces are more likely to result in ill effects, such as absenteeism, health problems and turnover, issues that collectively cost U.S. industry $300 billion annually, according to a study by the American Institute of Stress. Moreover, a number of studies say that turnover is rising. As just one example, a report by nonprofit group Catalyst found that more than two-fifths of employees are thinking of leaving their jobs.
And high turnover carries costs -- both direct and indirect. It negatively affects employee productivity, morale and revenue. One study by the Center for American Progress reported that a typical cost of replacing an employee is 21% of the employee's annual salary. Many studies put this number much higher.
There are a lot of companies that do a terrible job at [employee experience], and they are doing OK now. But how well will they be doing in five years?

Jacob MorganWorkplace futurist and author
"There are a lot of companies that do a terrible job at [employee experience], and they are doing OK now. But how well will they be doing in five years?" Morgan said. "Organizations that invest in employee experience -- essentially, what they're doing is investing in a future for themselves. They're trying to make sure that they outlast the competition."
Make no mistake: Creating a great experience for employees will likely be difficult and require intensive work and change -- this is no discipline of quick fixes or payoffs. Still, the tide is changing.
Forrester's Stern, for example, said there is mounting evidence that happy employees make for happy customers. He pointed to companies such as Adobe, USAA and Southwest Airlines and said that they take the importance of employee experience as a given "so that employees can focus on the work and, in turn, delight customers."