Evaluate
Weigh the pros and cons of technologies, products and projects you are considering.
ViziRecruiter online recruitment software adds visuals to job posts
ViziRecruiter software parses text in a job description and automatically turns it into an ad with colors, icons and pictures intended to be more attractive to candidates.
Each quarter, the editors of SearchFinancialApplications recognize new software for innovation or market impact. This quarter that product is Vizi.
Product and company name: Vizi by ViziRecruiter Inc.
Release date: June 2016
What it does
Most posts for job vacancies include just black and white text that can seem dull and hard to distinguish. At a time of heated competition for talent, the plain text may do little to market a company over the internet and present it as an exciting place to work.
ViziRecruiter, based in Troy, Mich., intends to end the problems created by boring job posts.
The cloud-based vendor, which received about $2 million from private investors, developed online recruitment software designed to make job ads more appealing and attractive to candidates. Executives at ViziRecruiter said the software creates a "Vizi" -- a new type of job ad -- by using proprietary algorithms to analyze and post the most important information from a job description, along with a design and rich visuals that make it stand out.
The process to create a Vizi is easy and fast, saving time for recruiters and HR managers, said Patrick Frenzel, co-founder and president of ViziRecruiter.
The online recruitment software allows a user to automatically convert text in a job description into an ad with colors, icons, pictures and graphics. The ad can be posted on social media such as LinkedIn, Facebook or Twitter, or it can be more targeted with an email to a candidate.
Why it matters
Users copy the text of a job description and paste it into any one of five templates, which defines the layout and navigation of the ad, Frenzel said. After that, a user just presses a button to transform the text into a visual representation called a Vizi.
"It is a much better way to market your job than taking a black and white wordy job description and putting it on the internet," Frenzel said in an interview at the HR Technology Conference & Exposition in Chicago.
A recruiter or hiring manager can also brand a Vizi by choosing the colors and fonts or by adding background images or logos. Users can choose their own images or they can tap the vendor's library.
The online recruitment software is designed to be used on a mobile device and is intended to encourage employee referrals and to appeal to a passive candidate.
The software, sold via a monthly subscription, does not rewrite the job description, Frenzel said. It takes key elements and presents the material in a way that makes it easier to read and understand. It also links to the original description via a summary.
Analytics track use
When candidates click an "Apply" button on the Vizi, the talent acquisition software brings them to a company's applicant tracking system (ATS) or wherever a recruiter or hiring manager chooses.
Analytics allow users to track the number of "Apply" clicks from a Vizi, overall views, clicks on keywords and social media shares. On social media, the ad appears with a summary and a link.
One Vizi can be used to hire as many people as possible, Frenzel said. A call center, for example, could use a single Vizi to hire 500 agents if needed.
Computational linguistics key
ViziRecruiter also recently signed an agreement to become fully integrated with iCIMS Inc., a leading provider of ATSes and recruiting software, said Joseph O'Connor, co-founder and CEO of ViziRecruiter.
ViziRecruiter has about 75 customers, O'Connor said. The online recruitment software received some positive buzz at the HR Technology Conference when organizers of the show named ViziRecruiter among the top 10 HR products for 2016.
O'Connor said the software uses computational linguistics to analyze the job description and determine the key elements.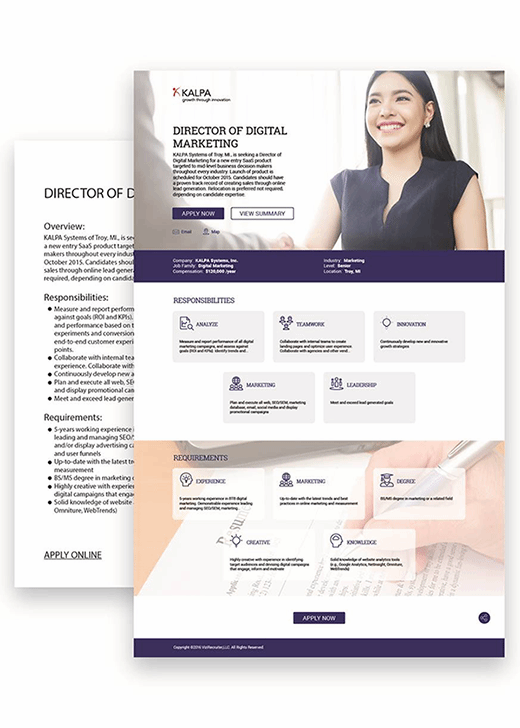 What a user says
Kim Benedict, the CEO of TalentMinded Inc., which provides recruitment services, said that employees at her company have created about 250 Vizis. The Toronto-based company subscribed shortly after the service became available.
"It is so easy," Benedict said. "You basically take your job ad and upload it into the platform and, within seconds, it creates a visual document with icons. It parses the information, interprets the information and creates the visual job ad, which can be immediately published, shared, promoted, tracked and measured through the system."
She said visual marketing can be especially critical for attempting to fill positions in high demand such as sales and technical positions.
Drilldown
Vizis receive a higher level of engagement than traditional job ads, with more activity on social media and more people applying for the position. Recruiters and marketers post Vizis on all relevant social media and link them to the TalentMinded ATS, Benedict said.
In the last month, TalentMinded has completed about 20 hires and has used the ViziRecruiter online recruitment software for each one of those, she said.
Benedict said ViziRecruiter has expanded her company's talent pool and increased the quality of candidates and the ability to attract skilled people who might not be actively looking for jobs.
"I cannot imagine not having it," she said. "It is very exciting. It is a great platform."
Price
ViziRecruiter is software as a service and hosts Vizis for customers. You can get a free trial for one Vizi for 10 days. Five Vizis cost $89 a month; 15 cost $245 a month; and 30 cost $459 a month.