Gajus - Fotolia
Uber HR tech move is private hire firm's first foray into HR
Uber moves into HR tech with software that enables employers to manage workers' rides on business trips. Uber tools also enable rides as perks for employees and job candidates.
Uber HR.
You might find yourself getting used to the idea.
The private hire/ride-sharing technology giant has launched an HR tech play, with software platforms for employers to manage rules and policies for business trip rides, to ferry candidates to job interviews and to award rides as perks.
Uber HR could be part of what some see as the often controversial company's "Uberization of everything" strategy that extends Uber into industries ranging from healthcare to finance to restaurants.
Uber at HR Technology Conference
In any event, Uber -- perhaps somewhat uncharacteristically -- unspooled a soft rollout of its new HR features in the weeks preceding the 2017 HR Technology Conference and spent much of the show meeting with analysts and reporters.
Now, it's selling the Uber HR platforms under the Uber for Business flag.
"This is [the] first time we're kind of trying to dip our toes into the HR space," Max Crowley, head of strategic initiatives for the Uber for Business unit, told SearchHRSoftware in an interview at the HR Technology show in Las Vegas.
For Uber, it's a natural fit to put its personal travel data stores and technology to work in the workplace.
What Uber HR does
With the Uber HR enterprise software, employers can request more information from employees about trips and set up individualized ride programs for employees. For example, a group of sales account executives could be required to enter reason or location codes for rides, but also have no spend allowance because they're riding with clients.
"These rules and restrictions are for anything, but the new functionality we've launched basically unlocks new types of programs, some of which we think have real interest for HR," Crowley said.
The aspect Uber is emphasizing the most is travel as an employee perk, especially with commute and transportation employee benefits becoming widely popular among workers, particularly younger ones.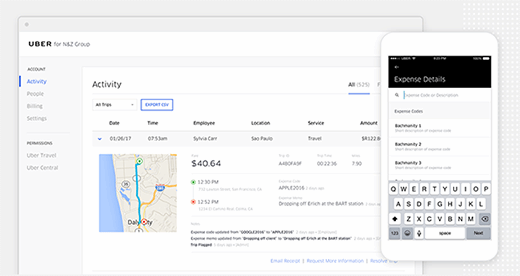 Commute perks
Employers can use Uber to provide a certain number of monthly rides as a benefit, whether on personal time or heading home after working late. Or companies can give employees rides as part of a relocation package.
"The commute thing is interesting because everyone spends a ton of time in traffic, and employers do spend money on the commute for parking," Crowley said. "So we're saying create a flexible commuting program that Uber is a component of."
This is [the] first time we're kind of trying to dip our toes into the HR space.

Max CrowleyUber
One veteran HR tech analyst, Ron Hanscome of Gartner, wasn't totally impressed by the Uber HR move, noting that major human capital management suites already include travel and expense management tools.
"What organizations like Uber are doing is building stuff for their core specific use case and then finding opportunities to apply that or sell that if they see it as part of a broader market need," Hanscome said in an interview in the busy analyst media room during the HR Tech Conference. "The question is how much energy do they have to put to the marketing of it and customer support."
HR tech consumerization
Hanscome added, however, that Uber's foray is part of the consumerization of HR tech, with apps that are available both to the employer and worker. This trend includes such other West Coast-based technology goliaths as Google and LinkedIn, both of which also boast newish HR tech systems.
Another influential HR tech analyst, John Sumser, founder, principal author and editor in chief of HRExaminer, an online magazine, took a somewhat dimmer view.
"Not anything new there," Sumser said. "They make it easy for the company to call you a taxi. This is not a social invasion. It's 'there [are] some expense accounts here; let's see if we can go get on some expense accounts.'"
Uber sees HR as natural move
But from Uber's perspective, finding corporate ride applications, such as dispatching Uber drivers to pick up job applicants to improve the candidate experience, is intuitive.
"It's a no-brainer," Crowley said.
Asked about the potential market size, Crowley paused.
"I think big," he said.
Next Steps
Uber and fintech disruption
Uber shows up as exhibitor at HR Technology Conference
Ceridian uses its joint venture partner for its own employee perks
Dig Deeper on Travel and expense management software