Gajus - Fotolia
Top HR tech trends highlighted by VC investments
HR tech VC investments in 2017 are going mostly to vendors of talent acquisition and core HCM software for midsize employers, according to research by analyst George LaRocque.
In the world of HR technology analysts, George LaRocque runs a solo shop. As an independent analyst, LaRocque produces a lot of original and sometimes offbeat research. In this Q&A, LaRocque elaborates on his recent infographic on major venture capital investments in HR technology vendors through mid-July 2017.
One of the key HR tech trends you focus on is the rise of vendors selling into what you call the middle market, or employers with between 50 and 10,000 workers. Why has that segment seen so much growth?
George LaRocque: The reason I wrote this to 10,000 is because most of the vendors in the space kind of run their top line on the middle market, between 5,000 and 10,000. The middle market is where I think we're going to see more activity. Prior to [recent years], finding the middle market required thousands of salespeople and a call center – so, most of the funding and effort went into the enterprise. Now, it's less about the vendors finding the segment and more about the segment finding the vendors. It's also about the world becoming flatter. It's about a small company from Chicago competing with a large business in London on a deal in New York. That's happening. Not only are they competing for customers and revenues, but they're also competing for talent. With that, for the small and middle market, their challenges became just as sophisticated as those of the large businesses.
Now, it's less about the vendors finding the segment and more about the segment finding the vendors.

George LaRocqueHR tech analyst
What about the gig economy that appears to be penetrating nearly every work sphere? How is that affecting HR tech trends?
LaRocque: We're just a couple of years away from when we should see over 50% of the Fortune 100 being contingent workers and freelancers. It's a big trend. The interesting thing about it is, it used to be just a staffing problem, whether on the shop floor or in IT for contract developers. But now, it's throughout the organization -- in marketing, finance, everywhere. As we look at other trends involving culture and performance, I'm managing a team that's maybe 20% to 50% not my employees. How do I incent, recognize or motivate them the way I would an employee?
One of the fast-growing HR tech trends you've spotlighted includes what always used to be called job boards. What's fueling VC interest in this breed of vendors?
LaRocque: This was surprising to me in that so much of the money was, at the end of the day, invested in job boards. A few months ago, Google introduced Google for Jobs. That's what my reference [in LaRocque's infographic] is to about there being a new sheriff in town. There are all these startups coming to market calling themselves marketplaces. They're really just targeted job boards. They're advertising jobs, they're finding candidates, there's a fee involved for placing the ad. That's a job board. There's just a few of these vendors that actually do things like manage the billing for freelancers, and they add a different kind of value to the employer to manage this set of workers. If I'm a small job board, I'm going to see Google for Jobs really own the SEO for jobs, and I need to find different ways to add value.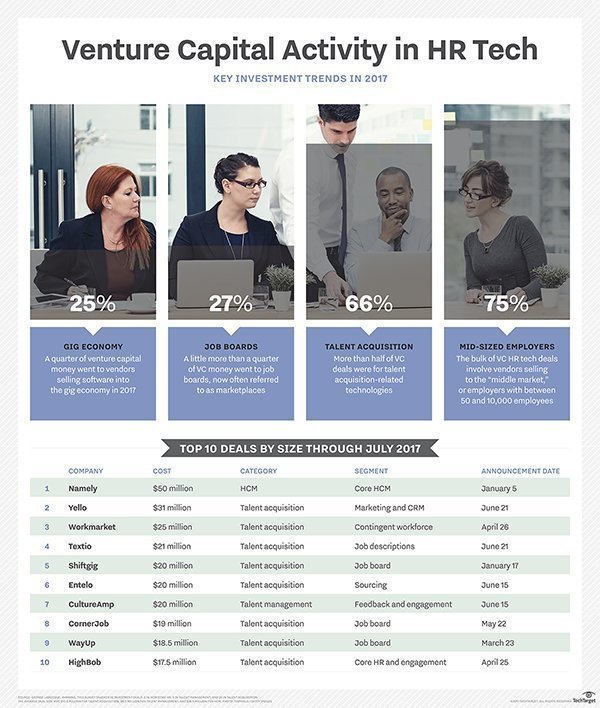 Should the big HR tech vendors – say, Oracle, SAP, Workday and ADP -- be worried about companies like Namely [a LaRocque client] and Yello, which drew the biggest investments so far this year?
LaRocque: Are they nervous? No. But they'd be foolish not to pay attention. In a competitive field of startups, they're near the top of the list.
As far as artificial intelligence (AI) and machine learning go, your research shows they haven't been the hottest HR tech trends, at least not for now. Why?
LaRocque: There's still a lot of definition going on. What's AI for talent acquisition? What is it for HR? Where are companies looking to implement it?
There's no doubt in my mind we're going to see more of this. But I think it's a little bit early. We're behind the rest of the B2B market.