Talla uses NLP software and machine learning to manage to-do lists
Talla the Task Assistant can be installed for free on Slack and uses machine learning and natural language processing to help employees schedule tasks.
Each quarter, the editors of SearchFinancialApplications recognize new software for innovation or market impact. This quarter that product is Talla the Task Assistant.
Product and company name: Talla the Task Assistant by Talla
Release date: July 2016
What it does:
Talla the Task Assistant is a free HR chat bot that uses natural language processing and machine learning to provide "to do" lists for Slack users.
NLP software allows users to talk to a bot in the same way they would a human, according to Rob May, the CEO of Talla, based in Cambridge, Mass.
The task bot is the foundation for a future release of a larger platform of HR processes and wider use of NLP software.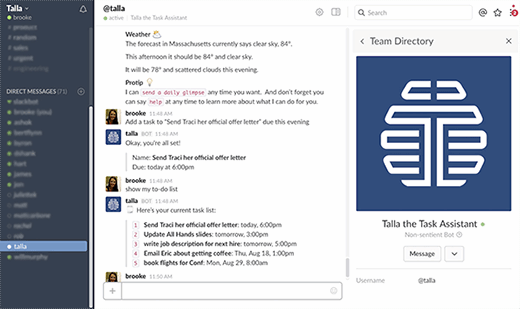 Talla is currently a task bot, but over the next few years it will become "a very powerful tool" for companies by constructing a repository of knowledge about each company, May said.
Two more products on the horizon
Talla is currently in private beta testing for two paid products including an onboarding tool that answers daily questions about a company, such as team practices for a new engineer, and an HR "question and answer" tool that answers basic questions such as how to start a health savings account, when to collect a paycheck or how to obtain a password for a wireless network.
"By managing these workflows, Talla is building a knowledge graph of your company so that she will get smarter and be able to do more and more over time. It is capturing the information that is in the heads of employees and the things they know and what they are working on," May said.
He added that Talla received $3.5 million in seed capital from Avalon Ventures.
Talla's goal was to sign up 50 companies in the first month, May said. However, in just a few weeks, Talla is at 700 companies with 30,000 total users.
No charge for task bot
Talla the Task Assistant can be installed for free into a user's direct messages on Slack, which integrates with email and provides notifications and alerts from the task bot or other team members. Talla is also scheduled to be on Hipchat before the end of this year.
After a brief overview, Talla prompts users to add a task and promises to send a reminder. Users can change settings on the task bot to get task reminders 24 hours before the due date, one hour before the due date and exactly when the task is due.
At any time, users can ask Talla to show a task list, reschedule a task or mark it as done. Users can also receive a "daily glimpse" in the morning that includes the weather report for the local zip code.
Talla lays out busy day
"Looks like we've got a busy day ahead of us!" Talla says in a glimpse. Tasks, with a spiral notepad icon, include "2 due today, 2 past due and 4 due this week." Talla the Task Assistant also provides a separate reminder list and reminders can be rescheduled or deleted.
May said NLP software is difficult to build.
NLP software remains imperfect and not fully developed, and there aren't a lot of engineering best practices around building a technology stack or creating a good user experience, he said. The tools and techniques that exist for other areas of engineering don't exist at the same scale for NLP software.
After launching the natural language to-do list manager for Slack, for example, Talla learned that human language is extremely varied, May said.
Even with something as straightforward and limited as a task list, the company was surprised at all the different ways people engaged with Talla, he said. Add things like appreciations, metaphors, misspellings and slang and it constitutes a wide variety of things in which Talla needs training.
What a user says
My team at TechTarget uses Slack as a collaboration tool, so I decided to install Talla and use the bot myself and experience the NLP software firsthand. It offered an unusual opportunity to sample the software in one of my stories. Talla is a little tricky to use at the start, but over time, I became proficient with help from "pro tips" and other suggestions from the task bot.
In rapid exchanges with the bot, I learned an important lesson: always start a command with syntax that Talla understands.
In rapid exchanges with the bot, I learned an important lesson: always start a command with syntax that Talla understands. Talla works well when you follow her advice and write beginning phrases such as show my tasks, add a task, complete task 1, reschedule task 1 or remind me.
After you start a message with one of those phrases, it then helps to use quotes around a task so Talla can more easily identify the name of the task.
Talla is polite and nice
Talla is not human after all, though maybe humans can learn a little etiquette from the bot. Shortly after I first installed the bot, Talla provided my current task list, and I responded "more."
"Sorry, I didn't understand that. Let me know if you need help," the task bot replied.
"Yes," I answered.
"Unfortunately, I'm still not getting it," Talla wrote." If you need help with something, you can try 'help'"
While Talla is mostly easy to use if you adhere to the bot's suggested syntax, it can occasionally test your patience a little.
Just the other day, Talla told me, "Include more details when you first add a task, and I will add them automatically." That prompted this exchange:
Me: Add task "call SAP" due Friday, Aug. 19 at 11 am
Though I provided the due date and time, Talla didn't get it on the first try.
Talla: "When is "call SAP" due?
Me: Friday, Aug. 19 at 11 am
Talla: "Okay, you're all set!"
Talla cheers your progress
Over about 10 days of using a bot for the first time, I found Talla to be a fun way to manage to-do lists and get reminders about messaging my wife or wishing happy birthday to a colleague, for example. The other day, when I told Talla that I completed certain tasks, the bot seemed more pleased than I.
"Well done, you're on a roll, you whiz of thoroughness! You've done 5 tasks today!" Talla told me.
I'm no technology whiz, that's for sure. Just like with Box, a newer tool at TechTarget that allows you to become more efficient by managing and sharing files on the cloud, Talla requires, at least for me, some time and practice with the rules.
Another user, Graham Chynoweth, chief operations officer at SilverTech, said Talla is convenient and useful for tracking tasks and reminding him to complete items such as annual performance evaluations.
He said Talla is straightforward and he is not finding a lot of problems in the way it functions.
SilverTech, a digital marketing agency based in Manchester, N.H., uses Slack for communications and a growing number of employees are downloading Talla into their feed for direct messages on Slack, he said.
"Right now it is making me a lot more productive," he said. "As more and more of our developers get on it, it will make us more productive as a company."
Price: Talla the Task Assistant is free and currently can only be installed on Slack.
Bots could be future for HR
In the years ahead, bots could carry out most HR tasks because of work that is occurring at the intersection of NLP software and machine learning.
Rob May, CEO of Talla, said his company is focusing on building HR bots because much of the information in HR, including resumes, employee training and performance reviews, benefits manuals and guides, is in "a natural language format," or word documents, text fields and other software applications that lend themselves to the type of analysis required for NLP.
To perform tasks, Talla uses machine learning algorithms to process language and to learn what people are asking, he said.
If Talla makes a few mistakes, the company can correct those mistakes and Talla can learn and get better over time, he said.
As it rolls out to more companies and collects more data, Talla can anonymize and gather the data, create and train models and use those models to amass more data.
With onboarding, for example, Talla can start to make predictions and make corrections to the process based on the actions people take at various levels of the process.
May said training and testing will improve if companies feed information from an HR handbook into the NLP software.
"In six to seven years, I think Talla can manage most of the HR stack, everything from sourcing employees, recruiting, managing that process, applicant tracking, employee onboarding, on to benefits management and training and ongoing development and performance reviews. And I think do all of that in a conversational fashion."
Next Steps
HR bots could be hot tool in future
Teams can work more closely together on Slack
HipChat can be platform for independent apps
Dig Deeper on Task and activity management software