Secrets of tech-enabled workplace mindfulness programs
As part of their employee wellness programs, some companies are using technology to promote mindfulness at work. Here's a look at how they're doing it.
Workplace mindfulness programs are one of the hottest business trends around, and it's not hard to see why they're needed.
At its simplest, mindfulness is simply being fully present in your current situation versus the far more typical state of thinking about what just happened, what is about to happen, what your email inbox looks like and so on. Experts say the benefits of mindfulness include being less reactive and less stressed, among a host of other gains.
Such benefits are important in our always-on culture -- especially at work -- where ongoing digital distractions can contribute to lack of focus, stress, job burnout, inefficiency, unproductivity and, by extension, health issues. Chronic stress alone may account for 60% to 80% of visits to primary care physicians per year, according to a 2013 study, posted on the Journal of the American Medical Association Internal Medicine website.
As a way to counteract the negative effects of digital distraction, organizations of all sizes are adding workplace mindfulness programs to their employee wellness efforts.
Indeed, in 2016, a survey by the National Business Group on Health and Fidelity Investments found that 22% of businesses were soon introducing mindfulness programs, with 21% planning future programs -- a total of 43%. By the next year's survey, those numbers had risen, with 35% of businesses planning to roll out mindfulness classes or training for employees, and 26% considering such programs for the future -- a total of 61%.
So, what do these workplace mindfulness programs look like? Though it may seem paradoxical given technology's reputation as the great distractor, some organizations are using technology to support a culture of mindfulness. Cisco, Intuit and Harvard Pilgrim Health Care are three such companies. Here's a look at what they're doing.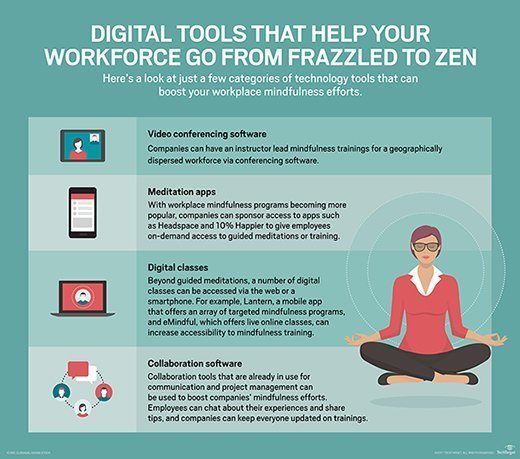 Video chat, collaboration tools, VR support Cisco's mindfulness training
On Oct. 5, 2017, global networking giant Cisco announced internally its new employee mindfulness program, Mind Set. It's a five-part course, available to all U.S. employees, that teaches mindfulness principles and practices. It also explains the science behind how mindfulness promotes well-being, said Ted Kezios, Cisco's senior director of global benefits.
Each 60-minute session will be delivered beginning in November via Cisco's WebEx video conferencing and online meeting service to approximately 20 to 30 employees. A mindfulness coach, via webcam, will lead each session. A short meditation practice will be integrated into the educational sessions, Kezios said.
Cisco Spark collaboration software will also play a role, enabling internal mindfulness "champions" to spark dialogue and share information and tips to help grow a mindfulness practice among Cisco employees, Kezios said.
Mind Set will help teach Cisco employees how to be "thoughtful and deliberate" in managing digital distractions, said Karen Wiens, Cisco's director of global benefits. For example, while many employees feel they should stay connected to email and IM during meetings, doing so can prevent active listening, which, in turn, can cause meeting attendees to miss important information. The Mind Set sessions will help employees understand how and when to go into "do not disturb" mode and stay focused, such as paying closer attention to information shared during meetings, she explained.
In addition, Cisco recently began piloting two virtual reality (VR) pods in its San Jose headquarters, Kezios said. The goal is to help employees "relax, re-energize and reduce stress" through four tranquil, exotic settings delivered via immersive VR headsets.
Cisco isn't targeting specific ROI metrics with its mindfulness program, Kezios said. But the company will be gathering feedback from program participants with pre- and post-course surveys and ongoing self-reporting. The goal is to determine the program's "long-term stickiness," among other things, he added.
Headspace, Lantern and eMindful among Intuit's mindfulness training tools
Pre-2015, a few small groups of Intuit employees had started their own mindfulness practices, according to Jennifer Gentry, benefits program manager for the financial software developer.
At the same time, anonymized data revealed that Intuit employees with anxiety or depression missed work 1.5 times more often and visited emergency rooms three times more frequently than their colleagues, Gentry said. Also, 50% of Intuit employees who completed their Health Reimbursement Arrangement reported having high stress levels. And more than 70% said they wanted to try something to reduce stress.
And so, in 2015, the time seemed right for Intuit to expand its corporate wellness program with Well Minds, Gentry said. The program is meant to promote "emotional well-being" by helping to reduce stress, improve focus and boost creativity, she added. Well Minds includes multiple components, including Intuit-sponsored access to Headspace, a meditation app for Android and iOS; Lantern, a mobile app offering personalized guidance and exercises based on cognitive behavioral therapy and mindfulness; and eMindful, which offers virtual classroom sessions with a live mindfulness coach.
To date, more than 2,000 of Intuit's 8,000 employees have taken advantage of Well Minds, Gentry said. Intuit offers some in-person offerings, too, such as a monthly mindfulness session at its own health clinic, as well as mindful spaces at its various offices. For example, at the newest building on Intuit's Mountain View campus, employees can seek solace in a reflection garden, "where minimal noise is encouraged," she explained.
But technology makes it easier to offer mindfulness programs to all Intuit global employees, Gentry said. One benefit of technology is that employees can maintain their practices at their own pace.
Technology, especially smartphone apps, can even help extend workplace mindfulness beyond the corporate walls.
Case in point: Intuit offers mindfulness coaching and education to employees' families. One digital mindfulness tool that Intuit offers employees, Whil, includes a program specifically for teenagers, she said. "As employees learned mindfulness skills and saw the positive impact on their lives, they wanted to involve their families," Gentry said.
It's still early in Intuit's employee mindfulness program, so there's no hard data on how effective it's been, Gentry said. "But we expect to see a reduction in healthcare costs and absenteeism," along with continued employee engagement in the program, she added.
Harvard Pilgrim uses 10% Happier, Adobe Connect to support mindfulness at work
Harvard Pilgrim Health Care is a not-for-profit provider of health insurance to 1 million employees of New England employers. In 2006, long before most enterprises provided employee mindfulness programs, Harvard Pilgrim offered its first mindfulness course, said Tara Healey, who initiated the program. (She's currently program director for mindfulness-based learning at Harvard Pilgrim Health Care.)
Harvard Pilgrim's workplace mindfulness program includes monthly sessions that are offered to the organization's 1,100 employees -- who are located in multiple offices -- via Adobe Connect conferencing software, along with in-person sessions, said Jon Roberts, operations manager for mindfulness-based learning at Harvard Pilgrim. The health insurance provider offers mindfulness sessions in person, as well as virtually, to employees and corporate clients.
Some people say the [mindfulness] course has changed their lives.

Jon RobertsOperations manager for mindfulness-based learning, Harvard Pilgrim
Harvard Pilgrim also integrates the 10% Happier website and app into its mindfulness program, providing employees with free access to its digital video lessons for four months.
Harvard Pilgrim's video conference mindfulness sessions and app-guided program are still in their infancy, making it difficult to pinpoint specific ROI, Healey said. But small-scale surveys, in which mindfulness participants are asked to assign numbers to their stress levels before and after a course, have helped paint a picture of the program's effectiveness. "Some people say the course has changed their lives," Roberts said.
Participants have said that the combination of in-person and digital mindfulness programs provides "the best of both worlds." The in-person sessions help foster a sense of community and shared purpose, while the digital components enable people to more easily participate at their own pace, Healey said.