SaaS HR software dominates as cloud HCM systems proliferate
HCM systems for big employers are increasingly in SaaS form and incorporating a wide range of HR tech beyond core functions, such as engagement and employee experience tools.
Big HCM vendors have moved decisively to SaaS HR software platforms and are increasingly adding talent management, employee engagement and other new tools to supplement core HCM functions, according to a report from Forrester Research.
In fact, for the first time, SaaS HR software has surpassed on-premises systems in the HR tech market, accounting for 56% of installed HCM systems, up from 36% in 2013, according to the report, lead authored by Paul Hamerman, vice president and principal analyst at Forrester.
In the report, "Vendor Landscape: SaaS Human Resource Management Systems, 2017," Hamerman argues that big employers are moving away from legacy single-function "point solutions" in favor of omni-purpose HCM systems.
HCM increasingly comprehensive, but innovators remain
"These HRMS platforms have become more comprehensive and are getting into some of these innovation areas, either by building or acquiring additional functionality," Hamerman said in an interview. "A lot of companies have proliferated point solutions to the extent that they really have to rein them in and go with a comprehensive platform."
All of the dominant HCM vendors have gone to SaaS HR software, Hamerman notes in the report. These include the leading vendors from the on-premises era, Oracle and SAP, which have shifted to SaaS going forward, and ADP, Ultimate Software and Workday, which are SaaS-only, the report said.
But while the big vendors are offering a much wider range of capabilities now than in the past -- ranging from workforce management and recruiting and onboarding to engagement and learning -- Hamerman acknowledged in the interview that "best-of-breed" vendors can often do specific things better. As a result, these specialized providers still have a receptive audience, he noted.
"There are a lot of products that are quite innovative and the comprehensive vendors still haven't gotten to that level of functionality that these best-of-breed players can provide," Hamerman said. "You see that in a number of areas, not just employee engagement, including talent acquisition and management and learning."
Another area that the big SaaS HR software providers have not yet moved to incorporate is benefits optimization of the kind that independent vendors such as Castlight Health are developing, Hamerman said. But he expects the biggest vendors to eventually move in that direction as well.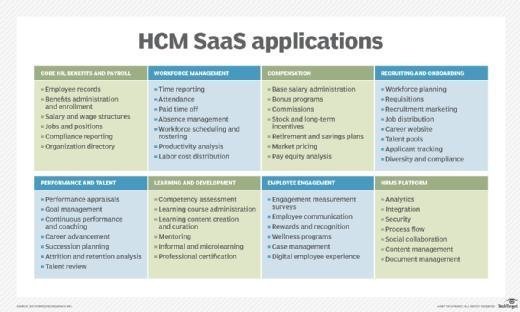 Vendors, employers offer wide range of new features
One of the report's highlights is that the big HCM vendors have realized that large companies need to accommodate the fast evolving needs of their workers and to stay competitive in a tight talent market.
"Traditionally designed to support HR professional workloads, the modern HRMS now puts the employee first," the report said. "The solutions footprint of these systems has moved well beyond transactional functions like employee records, benefits and payroll to encompass broader organizational requirements."
According to the report, the comprehensive vendors are enhancing their HCM systems in these key areas:
engagement programs to increase employee loyalty, based on a mobile experience and including messaging systems, surveys and sentiment analysis;
continuous performance management, including coaching; and
boosting recruitment capabilities with advanced talent relationship management tools such as applicant tracking, advanced candidate engagement and talent sourcing.

A lot of companies have proliferated point solutions to the extent that they really have to rein them in and go with a comprehensive platform.

Paul Hamermanvice president and principal analyst, Forrester Research
In addition, the overwhelming move to SaaS is driving vendor subscription revenue growth, the report pointed out.
Meanwhile, Oracle's strategy, for example, is to "not only move existing 'on-prem' customers to the cloud, but also to win new customers," Hamerman said in the interview.
"But they face some pretty stiff competition, both from SAP and Workday particularly around the large company," he said. "There's a real battle going on right now for large enterprises with these cloud HR systems. It's pretty much of a no-brainer that these big companies are going to move from legacy systems to cloud-based systems, and a lot of it has already happened."
SaaS now dominant in HR tech
One sign of the dominance of SaaS as an HR tech platform is that HR is one of the top five markets for corporate SaaS adoption, the report said. The others are CRM, e-purchasing, e-commerce, and project and asset management, Hamerman said.
Amid the SaaS transformation of HCM, the overall market for HR management software remains dynamic.
An earlier Forrester report on the global tech market outlook estimated the total size of the HR management software market at $19 billion in 2016. Now Forrester is forecasting it to grow to $21 billion in 2017 and $24 billion in 2018.