Report underscores workforce management tools as essentials of HCM
A study of workforce management software by Nucleus Research evaluates vendors on elements such as worker scheduling, mobile, payroll and compliance with the federal health law.
The Nucleus Research WFM Technology Value Matrix for 2016 provides a comparison of workforce management software. The comprehensive 24-page report examines workforce management tools offered by 13 vendors in categories such as payroll and benefits administration, time and attendance, mobile access, workforce analytics, compliance with the federal healthcare law and labor standards and global reach.
Brent Skinner, principal analyst at Boston-based Nucleus Research, and author of the report, discussed the findings.
The report notes that workforce management tools should be a top priority for employers. Why is that?
Brent Skinner: Workforce management is payroll, time and attendance, benefits administration and other elements of the essentials of employing people. Workforce management is, in other words, at the epicenter of human capital management. Any company looking to build an HR technology ecosystem is wise to start with technology for managing the workforce -- and with a progressive vendor whose origins are in WFM.
Are Ceridian, Workforce Software, ADP and Infor positioned best to provide workforce management tools for larger companies?
Skinner: Yes, of those vendors in the Nucleus value matrix for 2016.
Ceridian is the No. 1 leader among workforce management tools for ease of use and functions. The vendor enjoys a significant advantage with a single application producing a single data set and running a single rules engine. Why is that critical?
Skinner: That means all the information, all the data in the WFM ecosystem is one data set, all the time. Whether you are in payroll, or whether you are looking at time and attendance, benefits administration or some other element, you are seeing the same data set. You are not looking at two data sets combined in the background. You have all the data governed by the same rules. This is critical for compliance, which is where the rubber meets the road with workforce management.
You believe Ceridian has the best WFM technology for companies looking for ways to deal with today's tough employment regulations. Why is that?
Skinner: If you are a large retailer, for example, with a large hourly workforce with schedules that can change on a week-to-week basis across different regions, you don't want to be dealing with more than one data set. You could be out of compliance very quickly, and with all sorts of regulations. Regulations are becoming increasingly complex, whether they be in the Fair Labor Standards Act, which varies state to state or the Affordable Care Act, which has very strict rules about how many hours an employee can work before becoming eligible for employer-subsidized health insurance. It is very important to have an elegant and simple architecture behind the scenes. This is the reason Ceridian comes out on top.
In the report's comparison of workforce management tools, the biggest story is Kronos. Kronos, long a leader in workforce management, is lagging peers in innovation and is trending downward and losing deals to Workforce Software and Ceridian. Is Kronos being left behind by more pure cloud players?
Skinner: Yes. Modern HCM technology is in a real cloud, a public cloud and a multi-tenant cloud where all the customers are on the same cloud. For a large contingent of its customers, Kronos only offers managed hosting, not a multi-tenant cloud. The only real cloud from Kronos is for small to medium-sized businesses (SMBs), and our conversations with HCM users strongly suggests it's well suited only for the smallest of small businesses. Kronos is basically the antithesis of modern HCM technology. Behind the scenes, it is running several applications. ADP suffers a little bit from this, but to a lesser extent and mostly on its older products only. I was listening to satellite radio in my car this week and I heard an advertisement for Kronos that said Kronos offers a unified system with a single employee record and a single user experience. Those are very subtle games with euphemisms dancing around the idea that it is not necessarily a single application or a single data set. Obviously, there can be what looks like a single employee record for the user, but that doesn't necessarily mean what the notion implies, and plenty of archaic architecture could -- and does -- exist behind the façade.
What are some key reasons Paycom, Paylocity and Paychex are the best workforce management tools for SMBs?
Skinner: SMBs, especially the smaller ones, have relatively simple needs when it comes to workforce management software. You need to just get up and running on maybe just payroll or time and attendance. You might have fewer than 50 full-time employees and therefore not fall under the provisions of the Affordable Care Act. A simple solution will suffice. Vendors such as Paychex and Paylocity are good for that. Paycom actually has a full HCM product that is well suited for SMBs. The report notes that most users at Paycom have 50 to 2,000 employees, but companies with as many as 7,000 employees are increasingly turning to the vendor. I would not lump Paycom with Paychex and Paylocity.
ADP gets good marks for service to global companies. You noted its advantages in payroll, mobile, benchmarking and benefits administration.
Skinner: The report notes that payroll is the backbone of ADP's software and ADP is long known for its global payroll software. The report says that ADP's coverage reaches to 111 countries and territories. From that standpoint, ADP is probably the best bet for a global solution.
The report digs into the importance of mobile workforce management software. What is the major reason mobile is so vital among workforce management tools?
Skinner: There are many reasons. Companies might want to have smartphones or mobile devices enabled for hourly employees to clock in to a work site. That can help to improve the accuracy of work hours tracked. If an employer has a vendor with sophisticated mobile clock-in, the employer can geofence that and thus keep workers from clocking in before they get to a site and gain pay for unworked time. Geofencing uses GPS to set geographical boundaries. Mobile also makes things convenient for employees. Many hourly employees at retailers, for example, can use their mobile device to log their preferred hours for a week, or employees can swap shifts in the moment under rules set within the system by a supervisor.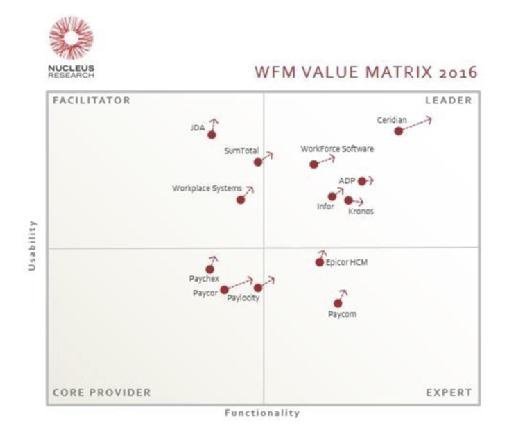 The report notes that Ceridian and Infor are improving their mobile interfaces and functions for workforce management and that ADP is deploying mobile for SMBs using ADP time and attendance. Kronos also has added mobile time punching and requests for time off and Workforce Software supports robust mobile functions and access. JDA has completely reworked its mobile application. It seems like there is intense competition to provide the best mobile?
Skinner: Yes. More and more, work is occurring outside the office and pushing to the perimeter. That is where workforce management is moving in general. Vendors have no choice. They have to compete in mobile.
Which vendors are best for analytics such as labor forecasting, calculating returns on labor investments, schedule optimization, leave management and time-off planning?
Skinner: For the latter three especially, I would say Ceridian. Its single data set, application and rules engine provide real-time navigation of the system and ability to produce schedules that are tied to the needs on the ground. Workforce Software and JDA are also good, especially for labor forecasting and calculating returns on labor investments. JDA, for example, is narrowly focused on retail for time scheduling. JDA syncs workers' schedules with software for supply chain management. The report says this means that managers can set associates' schedules on the job based on data from sales history, foot traffic in stores and shipments.
The Nucleus Research report also singles out Workforce Software for its blossoming integrations with SAP SuccessFactors.
Skinner: SAP has turned to Workforce Software for sophisticated functionality in time and attendance for customers who need it. SAP SuccessFactors is great for talent management, but in many instances seems to need Workforce Software at the epicenter of HCM, for time and attendance -- one of the essentials for employing people. It says a little bit about SAP, which heavily promotes the relationship with Workforce Software -- thus tacitly admitting that it has middling capabilities in some areas of workforce management.
Dig Deeper on Workforce management and planning software