Rawpixel - Fotolia
Pokémon GO could boost use of gamification software among businesses
Before Pokémon GO, Deloitte Consulting touted gamification as maybe the next big thing in leadership training and used an in-house mobile game to improve long-term planning.
The sensational success of Pokémon GO may lead to increased use of gamification software by HR to improve work processes such as recruiting, onboarding, learning, performance and leadership development.
The Pokémon GO craze, which is demonstrating that games can be powerful for engaging and motivating people, is an example of how games can build a sense of community and learning through something that is fun and interactive, said Cary Harr, the senior manager who leads the Deloitte Digital Center for Immersive Learning. Harr said clients are asking how they can use something like Pokémon GO to promote their organization's goals. "They are seeing firsthand how games have the power to change how we all do business."
Pokémon GO, a leader among gamification examples, is being played individually or with other gamers by an incredibly wide range of people of different ages and backgrounds.
Gamification can help train leaders
Harr is among four authors of a Deloitte Consulting report released in May -- more than a month before the release of Pokémon GO -- that said gamification software could be the "next big thing" for training programs.
Deloitte also experienced its own "huge engagement" with Mini Deloitte, an in-house mobile game that attracted 10,000 registered players in the U.S. at Deloitte Consulting and was aimed at helping align employees with a new long-term strategy for the business. In Mini Deloitte, played over four months starting in April 2015, players scored points by correctly answering strategy questions, building their practice by adding new floors in a virtual office tower and managing mini employees.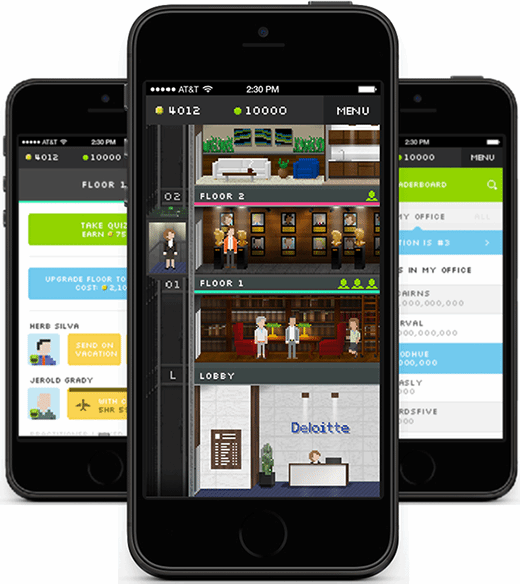 Pokémon GO, an augmented reality game, is breaking the stereotype about games being an isolating experience, because people help and talk to each other through the game, Harr said. As for gamification examples, Pokémon GO shows that games can go beyond entertainment and be unparalleled in their ability to direct users' focus toward a common goal, he said.
Pokemon Go may spark gamification software
Holger Mueller, vice president and principal analyst at Constellation Research, said gamification in human capital management (HCM) was the focus of much hype two to three years ago, helping some dedicated vendors such as Bunchball and Badgeville. The trend slowed recently, but the raging success of Pokémon GO may give a big boost to gamification, he said.
Gamification software tapped for recruiting
Malak Sedra's company is among a growing number of organizations that use gamification software to promote the company brand and connect with potential employees in a light-hearted way.
Sedra, founder and CEO of e-SKY Solutions, a Montreal-based online training platform, said he quadrupled organic traffic to his company's Facebook site after he posted a puzzle game by Klujo.
Sedra said "the power of gaming" is working for e-SKY Solutions.
"The main idea, at least for my business, is to get users engaged with the brand," Sedra said. "It's to have them interact and help them to get to know us."
Sedra recently posted a word puzzle designed to recruit people for an opening as sales account manager.
"What do you do when opportunity doesn't knock?" the message above the puzzle said.
"If opportunity doesn't knock, build a door," the puzzle said when pieced together.
Winners are then provided a job listing link and a 10% discount to an online class.
Tamer Rafla, founder and CEO of Klujo, said gamification is a way to tap into candidates' desires for achievement, competition and rewards, to get them hooked and wanting more.
Klujo helps organizations bring their branding to life with gamification in order to stand out among an overwhelming amount of online content, he said.
Mueller said more and more organizations will use gamification as a tool to direct employee behavior and provide rewards and incentives, partly because it is economical and offers reach. It can often be a cheaper way of achieving alignment than a traditional rewards program.
"Somehow, it gets us all going, no matter the date of birth," he said.
Mueller said Oracle HCM, for example, is having good success with My Competitions, gamification software that allows enterprises to create contests among employees, such as fixing a software bug or naming a new product.
Even before the release of Pokémon GO, Deloitte's Harr said he was seeing a significant uptick in desire for learning games over the past three years in both the private sector and federal government.
Deloitte Consulting creates own mobile game
Mini Deloitte also stood out among gamification examples. Deloitte Digital assembled a team of product managers and developers who designed and built the game and then created a comprehensive marketing plan to get employees to download and play the game.
Harr said that on average, users played the game 2.5 times a day at an average of seven minutes per visit. More than 1 million strategy questions were answered in the first two weeks.
In the mobile game, players answered questions that tested their understanding of the strategy road map for Deloitte Consulting. If players answered correctly, they were allowed to "hire" consultants, placing them on projects and earning points.
Players were encouraged to return to the game to check on their staff. If staff were on projects that aligned with their skills, they were more productive and scored more points for the player.
Various prizes were awarded during the game including gift cards and office parties for offices with high adoption rates and prizes for people who reached certain milestones and learning credit hours for all practitioners who played the game for an allotted amount of time. Drawings were held as the game progressed to encourage use of the game.
"Because of the success of Mini Deloitte, we are currently in the process of building a game that increases the technical fluency of Deloitte practitioners through game-based learning," Harr said, adding the game is scheduled to be rolled out in the fall.
Gaming can close leadership gap
In a report released in May and called "Gaming Away the Leadership Gap," Deloitte said "serious gaming" can help develop effective leaders by simulating situations requiring leadership similar to the way the U.S. Army uses games for training junior officers to understand the consequences of their speech, body language, posture, temperaments and action.
One organization, for example, uses a customized game to include different scenarios a leader could face, including handling difficult conversations with employees, taking responsibility for work that falls short or managing an employee's career path, the report said.
Some of the momentum for gamification stems from a new generation of workers that grew up with gaming as a primary source of entertainment.
Research shows that adults learn best through experience and reflection, the report said. Serious gaming can allow people, especially new leaders, to acquire experience and reflection outside of the possible hazards inherent in dealing with employees at the office.
"I think what we are seeing is people are entering leadership positions faster than ever before," said Kelly Monahan, a manager at Deloitte Services and co-author of the report. "We know that leadership is developed through experience. Video games are providing that experience in a safe environment, where they can build that skill set they might be lacking from their own actual experience based on age or lack of tenure."
Next Steps
Gamification examples are in Oracle's work-life products
Game mechanics can be successful at work
Sales reps use gamification to improve skills
Dig Deeper on Employee engagement and recognition software