sommai - Fotolia
Performance review tool fuels learning at market research consultancy
Workers at Lieberman Research Worldwide connect to HighGround for continuous performance management and use results to drive training on the Litmos learning management system.
At Lieberman Research Worldwide, continuous performance management software is for more than coaching, check-ins, feedback and goal setting.
While those functions are vital, the company also uses the HighGround performance review tool to drive learning and development, said Kent Frazier, who runs leadership development and executive development at the market research consultancy. Frazier said coaching and career discussions can be a springboard for employee learning and development.
"The conversations in HighGround help us think through what our L&D agenda should be for the year," Frazier said.
Los Angeles-based Lieberman Research Worldwide (LRW), which has about 500 employees, went live with HighGround two years ago and with the Litmos learning management system (LMS) last year, said Frazier, who recently became a consultant after serving as vice president of talent at the company for three years. The performance review tool and learning management system are both software as a service and replaced Halogen Software, he said.
Real-time feedback on HighGround
At LRW, the HighGround performance review tool allows employees to establish and follow their own goals, receive and give real-time feedback and keep an ongoing archive of performance during the year, Frazier said, adding that HighGround makes it easy to provide feedback.
"There is a feedback button. I can click feedback, type in my notes and hit send," he said. "I can click on a coaching note and offer coaching notes and hit send."
On a quarterly check-in page in the continuous performance management software, employees can describe the outcome of a goal and list ideas for improvement. Managers can evaluate if goals are still relevant.
The software also automatically tracks progress on action items that comprise a goal and warn about any items that might be incomplete.
Performance is tied to learning
Frazier said HighGround works together with the Litmos LMS, which employees use to schedule and track results of training classes. The classes are offered by LRW University, which lists 60 to 70 courses that are taught in person, mostly at headquarters, he said.
Employees access a user interface for HighGround, Litmos and other tools through a single sign-on via the corporate intranet, Frazier said. By clicking on Litmos, employees can view a course library, achievements, current live sessions, messages and a list of what training is completed or pending, along with news.
LRW University offers subjects such as research techniques, leadership, management and compliance and product development. The company also offers a six-month leadership development program and open office hours to talk about hot topics, Frazier said, adding that the company is exploring the purchase of video or other online learning content from Litmos.
Track training on Litmos
Employees are notified via Litmos when a class will start. They can then sign up and track their class progress in the system. Learning can be coordinated in HighGround. For example, Frazier said, an employee's developmental goal may be to take Excel Ninja training. That goal can be recorded in HighGround and then the employee can register for the class in Litmos and archive it in HighGround after it is complete.
In another example, Frazier said he recently set a goal for a recruiting manager to take a six-month leadership development program.
"She is in the program now and she meets with her manager regularly to talk about what she is learning in the leadership program and how that is helping her move the needle on her performance and sense of self and the way she is interacting with other people."
Frequent coaching on HighGround
HighGround, which was highlighted by Bersin by Deloitte in HR technology reports last year, and Litmos also work independently.
Frazier said he would use HighGround for once-a-week meetings with people on his human resource management (HRM) team. He and team members would use HighGround to document those conversations, which build trust and keep work flowing, he said.
"Conversation is the most fundamental unit of work, certainly in professional services and consulting," he said. "As a knowledge worker, conversation and dialogue is how work gets done. If you are not in constant dialogue, people are not connected. People don't feel seen, people don't feel heard. Problems can fester."
LRW has annual performance reviews tied to compensation and completed on a custom template in HighGround, he said. Skills and competencies are rated as exceeding expectations, meeting expectations, meeting some expectations, partially meeting expectations or not meeting expectations.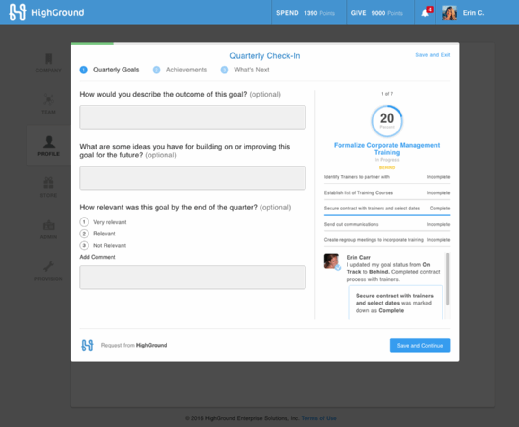 Annual reviews play a role
HighGround creates a record of feedback and coaching during a year, allowing the material to be used in an annual review, Frazier said.
"HighGround aggregates all that. When you do come to an inflection point, all the data is there. You don't have to solicit feedback and insight. It is all in one repository."
Frazier said HighGround's social recognition platform is popular and helps improve employee engagement at the company. Employees can recognize each other with badges and single out each other's work. Managers can spotlight superior work and high achievers, he said.
The feedback on the platform is open to all employees, meaning that workers can learn from the top performers, Frazier said.
"Everyone in the company can see it," he said. "People can like it, share it and comment on it."
Social recognition is fun
Frazier called up the platform last week and noted that one employee at LRW wrote that another was "a class act," and awarded the co-worker a badge with an apple and an A-plus on it.
"Thank you for taking the February 2017 new hire immersion class," the employee wrote to the colleague. "Through their assessments, your collaboration was awesome and definitely activated enthusiasm."
He said employees can design custom badges and get some laughs to break the tension if needed.
Frazier, who has a shaved head, said one employee created a caricature of him with his signature greeting, "Hey, thanks for coming in today." Employees might receive that icon if they are having a difficult day, he said.
"We have some fun with it," he said.
A culture of high performance
The HighGround performance review tool is helping promote a "make it happen" culture and high performance, Frazier said, adding that the company wants employees to make a big impact and understand that there is unlimited opportunity to learn and develop.
"People feel like they are being treated fairly and people feel cared about," he said. "That comes from being in constant conversation. HighGround has done an awesome job of helping to promote … the importance of human to human interaction, which makes us feel like we are all in this together."