Evaluate
Weigh the pros and cons of technologies, products and projects you are considering.
Performance appraisal software pushes anonymous feedback
Zugata aims for more honesty among employees by automating anonymous feedback on skills, but an analyst warns of a possible lack of accountability with the approach.
Gainsight uses performance appraisal software that automatically identifies people that employees work with and then allows employees to anonymously give each other weekly feedback on their work.
About a month ago, Gainsight went live with Zugata, which is among vendors offering continuous performance appraisal software to replace or supplement traditional reviews. In addition to connecting employees for feedback, Zugata, based in Palo Alto, Calif., also uses machine learning to follow employees' skills development and to recommend experts inside the organization to help an employee develop a skill.
Jenilee Deal, head of employee success at Gainsight, which sells software for customer success management, said she has received positive comments from employees about Zugata.
"Zugata recognizes that feedback from your peers is actually more important than feedback from your boss in this day and age," she said.
Zugata looks at calendars, email or collaboration tools such as Slack to determine team members and others who work with an employee. In soliciting feedback, the performance appraisal software does not pay attention to titles or hierarchy, only the people communicating with an employee.
Enterprise version allows for more transparency
The great majority of the 275 companies currently signed up with Zugata are using anonymous feedback, but the vendor, this month, launched an enterprise version that allows administrators to configure the software so users know the identity of people providing feedback. Zugata's standard version operates under the assumption that people can be more honest when they are anonymous.
Gainsight has had no problem with the anonymous aspect of Zugata, Deal said. "If you have a culture that has some issues, then there is certainly a way the anonymous feature could allow a bully to hide behind the scenes, but I can't imagine us having that issue."
Holger Mueller, a vice president and principal analyst at Constellation Research in Cupertino, Calif., said there are pros and cons to anonymous feedback. He said anonymous feedback is an interesting approach, but it also requires a delicate balance.
Traditional performance management gets mixed reviews
Continuous performance management tools such as Zugata are seeing increasing use in the wake of criticism of traditional performance management.
According to the Global Human Capital Trends 2015 survey by Deloitte, only 10% of respondents believe that performance management is a good use of time, up from 6% the preceding year.
"Companies are starting to phase out traditional performance management processes, notorious for their burdensome nature, in favor of more streamlined approaches," the report, based on responses from 3,300 business and HR leaders from 106 countries, said.
Deloitte said "top-down evaluation" and ratings of workers could undermine engagement and should be replaced with ongoing feedback and coaching.
However, formal reviews remain in heavy use and can be effective. In a survey of 391 HR professionals by the Society for Human Resource Management, 72% said their organizations give annual performance appraisals and 16% semiannual.
While only 53% gave their organizations a grade between B to C+ for effectively managing performance reviews, HR pros were more likely to give grades of A or B if they indicated performance management was a top priority at their firm.
Employees might be more straightforward in their reactions to a colleague's work, but anonymity could also make people less accountable, he said.
"Performance management doesn't work as it is, so any experiment is welcome," he said, adding that time will tell if there are any benefits with Zugata.
Traditional performance management is often criticized as broken and a burden because it comes only once or twice a year and uses numeric ratings that can be demoralizing and bureaucratic.
Rocking it, or work on it
Once a week, Zugata sends an electronic "skill card" to an employee, asking them to rate the skills of a co-worker, and then the co-worker receives the rating in an electronic envelope, Deal said.
At Gainsight, an employee chooses "rocking it" or "work on it" to appraise the skill of a colleague. An employee will be asked to respond to five or six skills at a time and maybe 30 to 40 over a period of weeks, she said.
The 109 software, product and other engineers at Gainsight evaluate each other on technical skills, for example, including whether they deliver code with scalability and security, help design simple and scalable systems or focus on becoming a domain expert.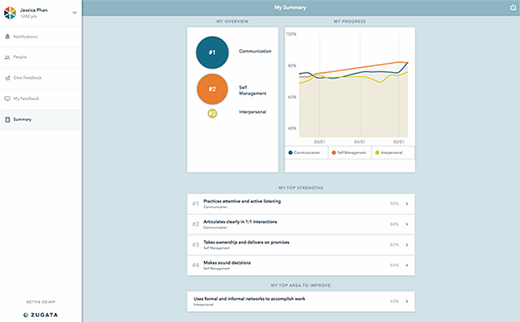 If an employee wants to give feedback, the worker can also sign into Zugata, find a colleague in the directory and review a skill, she said.
In addition to the skill card, Zugata sends a final blank card, asking an employee to write an example of something a colleague did well or could have done better, Deal said. If reviewers want to identify themselves, they can write their name in that card.
The only people who see the feedback are those who give it and receive it. People can also choose to "like" the feedback or reply after they receive it.
Analytics help in progress on skills
Employees can also see updated and aggregated summaries of feedback and check their progress on a category of skills.
It is tracked over time, so people can see if they are getting better or worse on a skill.
Zugata can also take users to a development page, where it can recommend colleagues who could be mentors.
The enterprise version includes a partnership with Lynda.com for recommending online learning to employees and additional resources to help in development, including articles and videos, Srinivas Krishnamurti, co-founder and CEO of Zugata, said.
The new edition also has advanced analytics that provide aggregated findings on skills for an organization or for teams, allowing for better data-based decisions on training, for example.
"The focus is on collecting feedback to help you understand your strengths and weaknesses and to give you the resources to get better," Krishnamurti said.
Next Steps
TINYpulse offers new app for continuous performance management
Appster employees stay in formation with 7Geese
How testers and managers can handle anonymous feedback
Dig Deeper on Performance management software