Machine learning drives Kanjoya performance review software
Kanjoya streamlines performance management by using natural language processing to assess feedback on an employee's review and summarize strengths and areas for improvement.
Each quarter, the editors of SearchFinancialApplications recognize new software for innovation or market impact. This quarter, that product is Performance for Performance.
Product and company name: Performance for Performance by Kanjoya.
Release date: March, 2016.
What it does:
Enterprises can use Kanjoya performance review software to obtain a synopsis of an employee's strengths, consensus on areas for improvement and a summary of all the feedback provided by people who review the employee.
Elaine Chang, director of products at Kanjoya, based in San Francisco, said Kanjoya's natural language processing and machine learning algorithms continually analyze performance reviews as they are submitted inside the software.
The cloud-based tool provides a simple dashboard that displays an employee's "opportunity areas," or items for improvement, and strengths. The performance review software can also present aggregated results for the company, including for each department.
The software works best with a 360-degree review, which includes feedback, often confidential, from multiple sources such as managers, team members or subordinates.
When a person provides a performance review for an employee, Kanjoya's algorithms analyze the review to identify the performance traits discussed. These traits are common adjectives or nouns typically used to describe a person's employment performance -- work ethic, empathy or work-life balance, for example.
The algorithm also determines if the reviewer deemed the trait as a strength or an opportunity area for the employee. The algorithm then counts the number of instances each performance trait is discussed and displays it, giving the employee's manager a high-level view of what the employee excels in, and what the employee should work on.
In one sample review for "Margaret," a reviewer is asked to list her strengths. Depending on the organization's policy, the reviewer could be a peer, team member, manager or any other employee. The reviewer responds that Margaret, who manages people, is good at getting employees to finish jobs, but uses intimidation. The reviewer also says Margaret provides an "invaluable" benefit by allowing her employees to work from home.
Asked what would make Margaret improve in her role, the reviewer says that she needs to provide employees with more encouragement, rather than criticism. The reviewer said Margaret should also curb her tendency to hurt feelings by comparing employees to each other and making them compete.
After examining those reviews, the machine learning algorithm automatically identifies Margaret's performance traits as "aggressiveness, empathy, professionalism and motivational ability" and that these traits are opportunity areas. Similarly, the algorithm identified "availability and work-life balance" as traits Margaret's reviewers discussed, and they evaluated these as strengths.
Next to all annotated topics, such as aggressiveness, the algorithm will list the number of comments from reviewers that discussed that topic. The benefit is that Margaret's manager can quickly see what reviewers say are strengths and weaknesses -- and can use that as the basis of a review of Margaret, without relying on gut feelings or potentially biased perceptions of Margaret.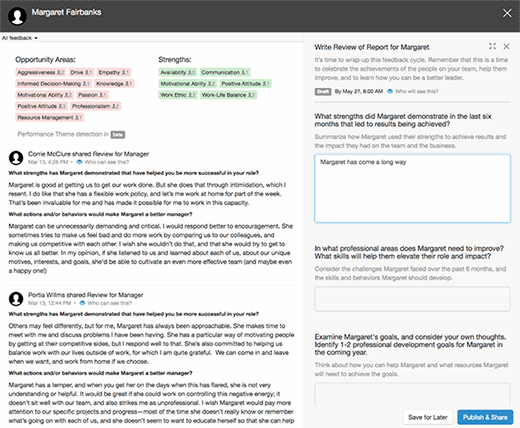 Companies also can use the performance review software with Kanjoya's employee surveys to connect performance with items such as attitudes about career opportunities, senior leadership or work-life balance.
Why it matters:
An important advantage is that Performance for Performance aims to strip the review of confirmation bias, or a manager's tendency, for example, to provide only what the manager already believes about the employee. It removes bias by giving the consensus of multiple reviewers.
The software can help managers with determining training, promotions and other workforce management decisions, and it can help employees understand ways to perform better at work.
Armen Berjikly, CEO of Kanjoya, said Kanjoya performance review software does not remove people from the process.
"It is only about removing some of the tedium in the process," he said.
What a user says:
David Hanrahan, vice president of human resources at Zendesk, said Performance for Performance streamlines the review writing process and can connect performance with engagement.
The natural language processing reviews all feedback and summarizes strengths and areas for development. This makes it easier for managers to write their final reviews and to more quickly discuss them with employees, because managers do not have to spend as much time looking through self and peer reviews while writing the reviews, he said. It also gives each employee a snapshot of their feedback.
Hanrahan said 1,358 employees are reviewed with the Kanjoya performance review software.
"While we're still in the fairly early stages, we anticipate that we'll be able to cultivate a more engaged and fulfilled workforce through the Kanjoya platform," Hanrahan said in an email. "We're excited to be able to see the hidden levers on performance and engagement and get a more 360-degree [view] of all the factors that influence employee experience."
The software connects performance data with the data from Kanjoya Performance for Employee Surveys, giving a more holistic view of an employee, team and entire company, he said.
Zendesk, a software development company based in San Francisco, went live with Performance for Performance in March and launched the engagement software in fall 2015.
The Kanjoya user interface is simple and requires no training, he said.
Zendesk's goal is for all employees to receive reviews with the tool at least twice a year.
In the future, the tool may be used for checking in on employees after finishing a project or during onboarding, he said.
Price:
The performance management tool, sold with the employee survey product, starts at $3.50 per employee per month, with volume discounts.
Employee Surveys starts at $2.50 per employee per month, with volume discounts.
The performance management tool has not been sold by itself yet.