LifeGuides aims to raise employer branding and recruitment
As a new tool for employer branding, LifeGuides enables workers to share through words and video some inside information about their roles to potential job candidates.
Each quarter, the editors of SearchFinancialApplications recognize new software for innovation or market impact. This quarter, that product is LifeGuides.
Product and company name: LifeGuides
Release date: September 2015.
What it does:
Employers can use LifeGuides to find and recruit top talent and to create content that improves the brand of their organization.
Phil Strazzulla, CEO and founder of LifeGuides, said his product provides video and text-based content generated by employees, which he calls "the holy grail" of employer branding and recruitment.
"We believe that your employees are your best brand ambassadors," he said. "You need to empower employees. Their content is a lot more engaging than traditional marketing content. If you want the best candidates, you have to give them strong reasons to apply. In order to do that, you need content that comes from your employees, your most credible source."
In a video on his site and in an interview, Strazzulla explained how the software works for employer branding and recruitment. He said it aims to mirror the "coffee chats" about careers that he would have with his classmates at Harvard Business School.
Essentially, his company designs a survey and then emails a link to employees with a few questions about their job. They can respond to the questions on their phone or desktop computer and answer with video or by typing on their keyboard. If they choose video, they click a button and their webcam or phone camera turns on and they talk for 30 to 90 seconds for each question.
He said employees are not badgered to participate and that he does not believe they would consider participation a way to score points with their employer.
Strazzulla said some companies are drawn to LifeGuides because they are troubled by negative reviews on Glassdoor and want to tell their side of the story. "This is the best platform for sharing what it is actually like to work at your company," he said.
LifeGuides creates a guide that focuses on a single role at the company. The guide generally includes three to seven employees responding to questions about daily work, their backgrounds, skills and experience, or how they prepared for an interview. A systems engineer at Cisco, for example, is asked, "What's your story?"
Why it matters:
Strazzulla said LifeGuides aims for a balanced view of working at a company to maintain credibility and portray an accurate view to the right candidates. In one guide, for example, a financial representative at Northwestern Mutual warned that, "People see us as sleazy salespeople."
And an internal consultant at Schlumberger cautioned that the hours were insane and he had no life. "There is a lot of pressure. Some people who come in look great on paper, but they can't deal with the pressure in this job," he said.
The guides are hosted on the LifeGuides site in addition to wherever else a user prefers to place them for employer branding and recruitment. The vendor supplies links for including the guides in job postings and emails to candidates.
Employers can also link to the guides from their LinkedIn site or a careers page. Recruiters can send links to candidates or employees can place the content in their own LinkedIn profiles.
To help ensure the content ranks high in Google searches, LifeGuides uses Schema markup and meta tags and traditional HTML tags. The vendor uses Python scripting to generate a site map for search engines to quickly crawl the website.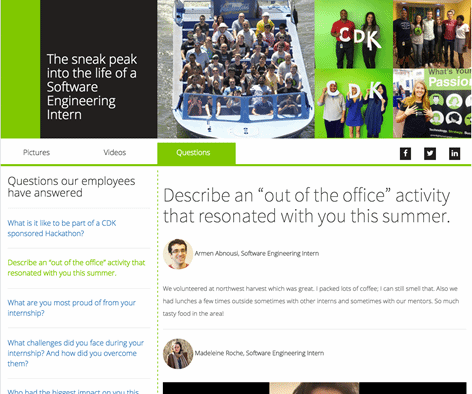 To determine what content is the most engaging, LifeGuides tracks each candidate that looks at LifeGuides content and for how long, Strazzulla said. The company uses this data to refine and improve questions on an ongoing basis, he said.
LifeGuides emphasizes social media and integrates with social media management systems such as Hootsuite and Buffer, as well as Twitter, Facebook and soon LinkedIn. The software automatically pushes out content each day for users on Twitter and Facebook, he said.
LifeGuides does not charge consulting or implementation fees. A guide takes 15 minutes to set up, and content can be live in a week.
What a user says:
Jessica Steinberg, director of recruitment marketing and employment brand for CDK Global Inc., said she considers LifeGuides to be one of a kind for employer branding and recruitment.
"From an employment brand perspective, it is exciting to find a product that allows us to give an inside look to CDK and some information I don't think job seekers will find anywhere else," she said of LifeGuides.
CDK Global contracted for a total of 10 guides for the first year, including two that are currently live with content from six or seven software engineering interns each, some with video in addition to photos and text. The company is planning to hire 140 software engineering interns this summer, she said.
CDK Global provides information technology to the auto retail industry and has more than 9,000 employees across the world.
The two guides went live the week of Oct. 19 and had received 12,128 page views as of Jan. 19, according to Strazzulla. CDK links to the guides from job postings for campus recruiting and asks campus ambassadors to share them.
Steinberg said she believes the traffic will increase substantially once the guides are posted on a new career site the company is launching in March.
CDK Global is in the process of selecting eight additional employees across the globe for the other contracted guides. Those will also be posted on the new career site, she said.
She had no caveats about LifeGuides and said the vendor's employees are easy to work with and very responsive.
Asked if she sees LifeGuides as an antidote to Glassdoor, Steinberg said, "Not exactly. To have a strong brand, you must create numerous channels for job seekers to experience your brand. However, job seekers are always going to seek unbiased opinions. It's no different than product or purchasing reviews. LifeGuides provides a compelling brand experience."
Price:
Annual subscriptions cost between $3,000 and $100,000 a year, depending on the features and the extent of the content.