HubSpot scales culture with social performance management software
A user and expert agree that companies need to pitch social performance management to employees to achieve the desired results.
It can sometimes be jarring for employees when an organization moves from an annual performance review cycle to social performance management software. Suddenly, feedback is exponentially more instantaneous and continuous, and can go in several directions. But for HubSpot, a Cambridge, Mass.-based marketing software company that already prided itself on having a transparent culture, the amplified feedback that resulted from implementing Salesforce.com's social performance platform Work.com was received with open arms.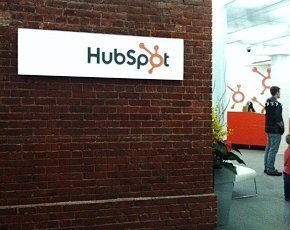 HubSpot's entrance.
"I think a lot of people were excited to get feedback on a more regular basis," said Katie Burke, media relations manager. "We have a lot of lifelong learners and people trying to develop cross-platform skill sets, so we found people were more eager for it than anticipated."
Instead of its having a significant impact on the company's culture, Burke said the greatest advantage of the system is its scalability. She explained that the company has experienced rapid growth over the past years, and while maintaining the open culture was easy when there were only a handful of employees, it is more difficult now that there are over 500.
While Burke testified to the employees' generally positive reaction, she said there was a period of assimilation where business leaders had to sell employees and managers on the value of the software. According to Rebecca Wettemann, this is a best practice for implementing social performance management software.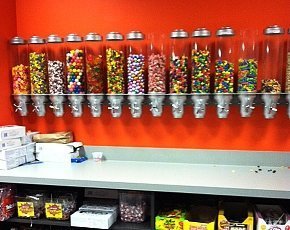 Employees can get free candy in the kitchen.
Ensuring that employees will adopt social performance management is "about communicating what's in it for them," said Wettemann, research vice president at Boston-based consultancy Nucleus Research. "Is it less time spent on paperwork, is it more frequent feedback, is it the ability to be recognized by their peers? Those are all carrots that you can use."
Selling social performance management to employees
Burke said HubSpot signed on with Work.com approximately one year ago, to replace the informal Google Docs-based feedback process.
"There was not much structure to it, and some managers did it better than others," she said. "Our company is all about being next-gen, [and] the reality is feedback living in Google Docs and various assorted places is not that." She added that providing feedback to help employees sharpen their skills is especially important at HubSpot since Millennials make up a significant portion of the company's population.
Because Salesforce.com is a HubSpot investor, the company didn't conduct an extensive search into social performance management vendors, Burke said. "We're a cloud-based company, so we didn't want HR software that felt old school," she said. "[Also] we'd heard good feedback from other people in the space about Work.com, so I think it was more about making sure it was the right fit for us rather than doing an RFP search."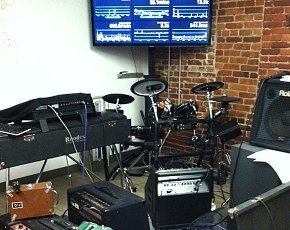 Teams can take a jam break if they get stuck.
HubSpot's director of people operations, Kristen Kenny, cited culture fit as a key factor behind adoption. "It's about making data accessible, transparent and measurable and being able to provide feedback via one easy channel, so it was a seamless fit with how HubSpot thinks about culture," she said.
After implementing the system, Burke said user training was minimal, as HubSpot employees are generally tech-savvy. But while most could quickly figure out how to navigate the software, explaining why they should use it was where the implementation legwork came in.
Burke said the company's team development group met individually with department heads to explain "how this works specifically for dev or marketing or sales. Here's why creating an account is valuable, here's why your team should know to look there for that feedback, and here's how you make it work for your team."
On the employee side, Burke said the company took pains to explain that the purpose of the system was enriching the workforce through more constant feedback. This also boosted adoption. "I think [when] people saw it as part of a broader goal and not just a box they had to check, it became much more pervasive," she said. "I think that's what it took to nudge it."
In addition to pitching the value of social performance management to both managers and employees, Nucleus Research's Wettemann said business leaders also should have clear objectives in mind before transitioning to a new system, rather than coming up with goals after making the purchase. She said HR managers should opt for a system that is easy to use, has mobile capabilities and can be expanded gradually, so it's "not overwhelming from a training perspective."
While HubSpot has customized two Work.com employee recognition badges over the last year, there are still a few items on Kenny's wish list. "We'd love to be able to customize the peer bonus program even more, and we'd also love it if goal progress automatically updated when someone sets a quantifiable goal, versus having to check it off manually," she said.
With the social performance management platform now in place, any HubSpot employee can provide feedback to almost anyone else in the organization. The most positive feedback from employees has been the ability to recognize "unsung heroes" and thank others publicly, Burke said.
However, the openness of social performance management software is precisely what makes many HR managers hesitant to adopt it. With employees able to provide feedback in any direction, isn't there a serious potential for misuse?
Burke said inappropriate use has not been a problem for HubSpot, which she attributed to the transparent culture. "On our Wiki page people disagree with our CEO on a regular basis, and that's encouraged -- what's not is truly negative, non-constructive feedback. So I think our culture has set norms that are conducive to encouraging constructive feedback," she said. "Where that might've been a challenge a few years ago, the transparency and the autonomy that our employees are given here have made [it] less of [one], although it certainly makes for some interesting debates." She added that "sunlight is the best disinfectant" is a motto of founder and CTO Dharmesh Shah, and he encourages internal problems to be made explicit so they can be addressed, rather than surfacing in an external social media forum down the road.
More on human capital management software
Learn the basics of HCM software
Read how Nucleus Research positioned HCM vendors in a recent report
Get three action items for HR managers in 2013
Burke encouraged business leaders at more traditional companies to not be held back by cultural or structural concerns when considering social performance management software.
"What we hear from companies is 'The transparency at your company is cool, but we can't do that because we're public, because we're not a SaaS company' -- fill in the blank for reasons. And our question's always been 'Why not?'" she said. "If you want to hire and retain great young employees, you have to work the way they live," and part of that is "using social networks to facilitate interactions on a regular basis and to solicit feedback."
Emma Snider is the associate site editor for SearchFinancialApplications.com. Follow her on Twitter @emmajs24 and the site @SearchFinApps.
Dig Deeper on Performance management software