tiero - Fotolia
Get started
Bring yourself up to speed with our introductory content.
How to create an employee journey map
This handy guide shows you how to build your own employee journey map, which is more important than ever as the coronavirus disrupts workforces across the globe.
As organizations compete for customers' dollars, focusing on the employee experience is critical -- especially during times of crisis or a downturn. Creating an employee journey map is one way to uncover potential problems workers are having and work toward improvements.
In simple terms, an employee journey map is a graphical image that represents the employee journey and can also include the candidate journey. As an HR leader, you can use these maps to understand what is working and what isn't. You will likely build a team to do this with department leaders and other stakeholders.
Here's a simple way to create an employee journey map.
1. Understand your "why"
As an HR leader, you play a crucial role in advocating for the employee experience and driving the mapping process. But as with any map, you need to know where you want to go before you understand the kind of map you need.
Working with a team -- including leaders from other departments -- decide what you hope to accomplish with the mapping process.
As part of that, figure out which map style or template aligns to your goals. Initially, you can start by sketching out the map by hand to easily make adjustments, and then build it out from there. While some organizations may want a complex map that covers all touchpoints, pain points and potential strategies, others may want a simple, straightforward map that identifies the most important touchpoints of an employee's journey from beginning to end.
2. Decide on personas to map
Once you have identified goals, identify employee segments or personas whose journey you want to map since each experience will be unique.
For example, IT teams will have a different journey than the sales teams. And an entry-level employee's touchpoints and pain points will be different than a C-level employee's.
While you don't need to create a different employee journey map for every single worker, segmenting employees and then building personas is critical to understanding employee pain points and potential improvement strategies.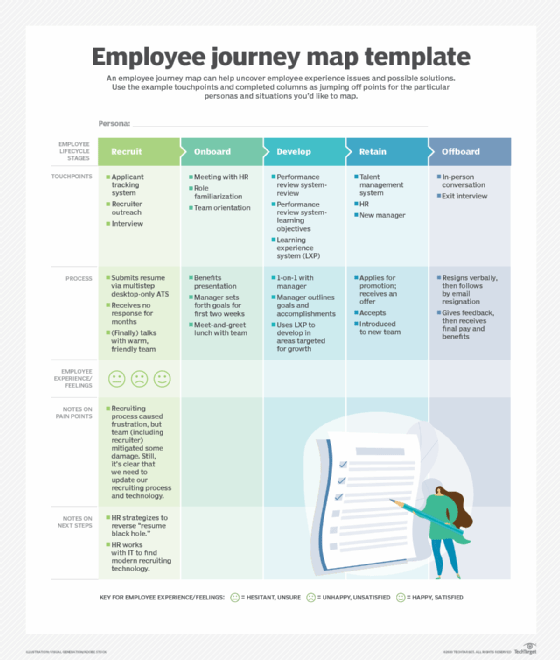 3. Identify touchpoints
An important step of creating an employee journey map is to plot the most important touchpoints for each persona or segment you're mapping. These moments that matter include critical junctures in the employee journey, from the first moment of contact as a candidate to the offboarding experience. Important touchpoints also include onboarding, performance reviews and training.
4. Gather feedback
Reach out to employees to identify which touchpoints matter most and to get a fuller understanding of each one. For example, you'll want to identify what the employee wants to accomplish at each touchpoint and what are the pain points.
Creating an employee journey map is not a one-and-done process, since change is the rule, not the exception.
To gather feedback, you can interview employees in person or send out a short poll to gather feedback. You may want to gather feedback from specific types of employees -- such as high performers or those who quit soon after onboarding -- to uncover critical issues.
5. Keep the map up to date
Creating an employee journey map is not a one-and-done process, since change is the rule, not the exception. For example, few would have foreseen that communicating about the coronavirus would become critical to employee experience. And for many companies, recent events have disrupted touchpoints, such as onboarding and hiring.
Gathering feedback as events change the employee experience is key to keeping the map up to date. For example, hold exit interviews to gather feedback on an employee's experience at the company, including what pain points were most responsible for the decision to leave.
Creating an employee journey map is not an end unto itself so it's important to understand how to use a journey map to boost employee experience.
Dig Deeper on Workforce analytics software