Manage
Learn to apply best practices and optimize your operations.
How people analytics tools can improve talent management
People analytics is not a substitute for strategy or critical thinking. But with the right measurements in place, companies can use data to improve talent management on every level.
One of the most talked-about trends in HR technology today is the use of people analytics tools and for good reason -- data is a differentiator in talent management.
Also known as HR analytics or talent analytics, people analytics aims to take the vast amount of employee-related data and put it to work. People analytics software examines that data and provide insight on goals such as creating more effective hiring criteria, better engaging employees, improving performance management and determining who's at risk of quitting, all of which are pivotal areas of an effective talent management strategy.
"The combination of technology and a wider interest in analytics in business makes it a good time to invest in people analytics," said Muir Macpherson, Americas analytics leader of EY's People Advisory Services group. "As the unemployment rate falls, we should expect the competition for talent to heat up, and companies will feel the pressure to raise compensation. As those pressures grow, they will want to invest in a better way to manage those people and those costs."
HR analytics is not, Macpherson and others said, wholly a substitute for the critical thinking and creative skills of humans. HR and other departments still need to have conversations about their company's talent management strategy and employee engagement. For that matter, people have to define the analytical measurements that are used in people analytics tools.
But there's no denying companies will want to invest in people analytics tools to glean the kind of powerful insight they've been using to target distinct segments of customers, according to Forrester analyst Paul Hamerman.
"If you have an organization with thousands of people, you can't do a seat-of-the-pants evaluation process," Hamerman said. "You've got to have real-time data analytics across the employee population. You need analytics tools to understand not just their talents, capabilities and productivity, but also their sentiments to programs that benefit them."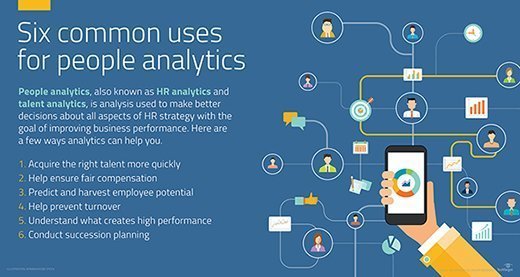 People analytics boosts collaborative coaching
For years, Cisco conducted annual employee engagement surveys. But it took time to analyze, share and implement the feedback of 73,000 employees. Last year, Cisco leaders decided that narrowing the focus of reviews to the team level would better solicit direct feedback that could be almost immediately implemented in those small groups.
"Death by survey was very prevalent," said Roxanne Bisby Davis, a director of team analytics and research at Cisco.
Now, using a custom-made program on the collaborative task and talent management platform Teamspace, Cisco employees provide direct feedback that is seen only by their team leaders, she said. Aside from prioritizing and inputting feedback about the tasks before them, employees occasionally take Pulse Surveys on Teamspace so that a leader can assess the team's opinions on a project or overall work.
Bisby Davis' team analyzes only the aggregate data from these surveys to measure team performance and leaders' interactions with their teams. One-on-one communications between leaders and team members stay private. "We're looking at the frequency in conversation a team leader has with a team and trying to quantify engagement and performance," she said. This frequent analytical review provides leaders with data that links to key performance indicators, leading to paths of improved performance, she said.
She added: "We're not looking at it from the perspective of 'Who's performing bad?' Rather, we're looking at who's great to see what they're doing and how they're doing it, whether it's team members or leaders. By highlighting 'goodness,' it gives the teams opportunities to say, 'I really like that approach. Let's try it.'"
Cisco still conducts an annual companywide survey, an assessment called "The Real Deal." The survey reviews what's expected from employees and what they believe it means to work at Cisco, Bisby Davis said. Instead of constructing questions that elicit "strongly agree" or "agree" responses, Cisco asks employees whether they "love" working there. An affirmation or rejection of love "puts more skin in the game," she said.
People analytics software allows Cisco to constantly look at the stories behind employee performance and adjust expectations with precision, Bisby Davis said. "Humans are so complex," she said. "We're trying to get them to the place where they can genuinely express how they're working."
People analytics software for a better employee experience
Several technology vendors have made headway in the employee engagement space of HR analytics, Forrester's Hamerman said. Glint lets employees take surveys on a mobile app. Ultimate Software uses natural language sentiment analysis technology (acquired in the company's purchase of Kanjoya) to uncover the true feeling behind what employees say in open-ended comments.
Another aspect of people analytics reviews employee data to better understand the factors behind attrition so that companies can address systemic issues that affect morale, potentially spotting individuals who might soon leave, Hamerman said. Predictive analytics technologies behind this type of study, he said, are already in widespread use, including by Oracle HCM Cloud, Workday and SAP SuccessFactors.
People analytics tools also provide insight to shape strategic workforce planning, Hamerman said. "Not just the head count but a view of what skills companies need and what the labor supply market is like to look at long-term growth and help with strategic planning," he said. In this space, Visier and Workday are popular offerings used by large companies.
It's expensive to replace people, and you don't want to lose your best ones.

Paul HamermanForrester
"Traditionally, HR analytics [was] used to manage costs," Hamerman said. "Salaries and benefits costs go up every year, and companies used massive spreadsheets for that. Now, it's progressed to analyzing engagement, retention and planning around employees as resources. It's expensive to replace people, and you don't want to lose your best ones. Meanwhile, employees want to be heard and provide feedback, and that's where the engagement tools might be well-received."
According to EY's Macpherson, a factor behind the growing interest in HR analytics is that companies are looking into the horizon and they see millennials and future generations seeking more direct engagement with their employers.
After years of using marketing analytics to get a better read on customers, companies recognize there is value in all the data they capture on employees, Macpherson said. "You would never think of throwing away old data on customers or financial data," he said.
Dig Deeper on People analytics software