Getty Images
Evaluate
Weigh the pros and cons of technologies, products and projects you are considering.
HRIS vs. HRMS vs. HCM: Key differences and similarities
Learning what the terms HRIS, HRMS and HCM mean -- and how they're different -- is an important step in the software buying process. Here are some ways to tell them apart.
The HR tech marketplace can seem like one big acronym soup, and getting clear on the main types of HR systems is an important first step in the software buying process.
The HR technologies that likely cause the most confusion are some of the most important to understand -- human resource information system (HRIS), human resource management system (HRMS) and human capital management (HCM) software.
Here's a look at HRIS vs. HRMS vs. HCM and the differences and similarities between them.
HRIS vs. HRMS
In most HR circles, an HRIS and an HRMS are considered to be the same thing. In other words, since most of the industry has moved away from differentiating the two and instead uses them synonymously, HRMS vs. HRIS is now more like HRMS = HRIS.
Both HRIS and HRMS are systems that automate HR tasks and processes and serves as the single source of workforce information. An HRIS, or HRMS, houses master employee data -- such as names and Social Security numbers -- that the human resources department needs to conduct its core HR processes such as payroll and benefits administration. For example, the system stores, processes and manages employee work permit information and tax data.
An HRIS or HRMS may also include other HR functions such as some training and development and applicant tracking and some self-service options, but these systems are associated primarily with the core HR functions.
In short, the HRMS or HRIS serves as the core of HR and workforce data management and shares this data with multiple HR software applications.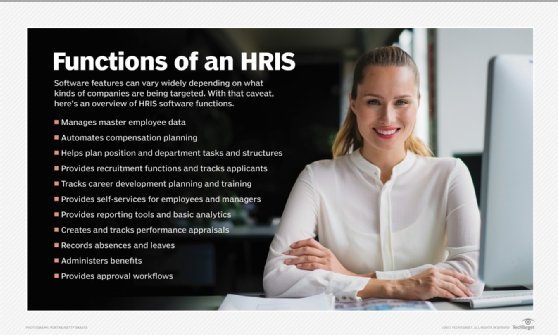 The one area where the term HRIS has a different meaning than HRMS is in defining job roles. One such role is an HRIS administrator. This person is responsible for updating and maintaining HRIS systems, as well as educating other employees on how to use the software.
HRMS vs. HRIS vs. HCM
HCM refers to much broader suites and their vendors and offers much more expansive functionality than either HRMS or HRIS.
For example, HCM software typically may offer talent management features that provide ways to better manage and optimize each stage of the employee lifecycle such as recruiting and onboarding. HCM software may also offer performance management and learning, along with next-generation capabilities. It may include workforce management and optimization, such as budgeting, analytics and compensation, and employee engagement features.
HCM suites can be on premises or cloud-based and the latter is increasingly popular. Cloud-based HCM provides a number of benefits, such as easier software updates, better scalability and a need for fewer IT resources.
The term HCM can also refer to the philosophy of viewing employees as valuable assets that leaders need to manage strategically. HCM practices help guide HR teams on how to act proactively, rather than reactively, to get the best value from a workforce.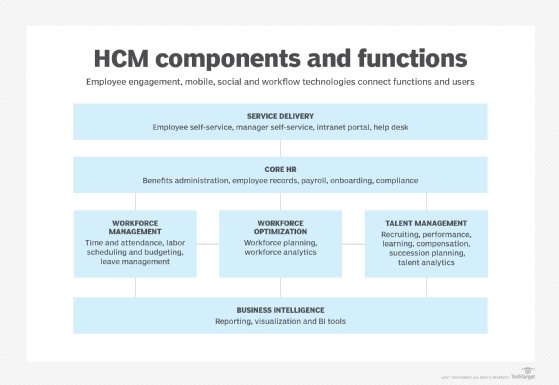 What matters
It's important to remember that HR vendors, analysts and consultants may have their own separate distinctions for each HR system. What's important when shopping for HR technology is understanding the features an organization needs and whether a particular vendor's software can deliver it.