Group-chat software sees explosive growth and intense competition
Microsoft Teams and Workplace by Facebook are facing off against rivals such as HipChat and Slack in a high-stakes competition for market share in group-chat applications.
Group-chat software is set to become increasingly important in HR this year and among IT teams.
While other technology trends may get a higher profile, group-chat applications by Slack Technologies Inc. and Atlassian are exploding in growth and turning into vital communication tools that replace internal email and connect employees and various applications. The space is also sparking hot competition among rival vendors, including Facebook and Microsoft.
Just ask the HR or IT departments at Hayneedle Inc., an online retailer for indoor and outdoor home furnishings and décor headquartered in Omaha, Neb. Early last year, Hayneedle began using a cloud-based version of HipChat and the group chat application is now used by about 600 of its estimated 1,000 employees.
Alexandria Olsen, recruiting specialist at Hayneedle, said HipChat is important for recruiting customer care representatives.
"We move quickly, and sometimes it is easier for us to have quick, informal, casual communication across multiple departments," she said. "That is what HipChat does for us."
HipChat coordinates hiring process
Olsen said she gets questions from employees all the time about HipChat. If an employee is applying for another position in the company, for example, she quizzes them in HipChat and can set up an interview.
In recruiting, when applicants for customer care, for example, walk into a separate building for an interview, a Hayneedle employee will use HipChat to notify HR. Then, HR will greet the candidate and, in turn, alert a hiring manager via HipChat, giving the manager time to prepare for an interview. Messages don't get lost or overlooked in HipChat, she said.
"We want to provide a good candidate experience," she said. "As soon as they come in the door, we want them to be greeted pretty quickly. We don't want them to be waiting."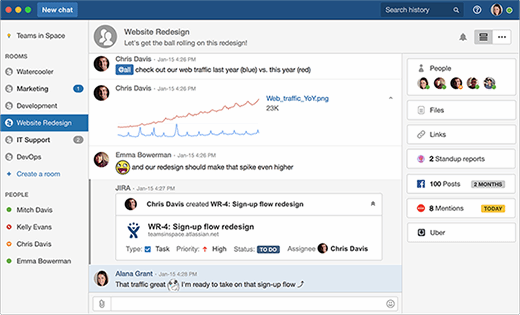 Brian Gress, director of IT systems and governance for Hayneedle, said HipChat is indispensable for IT and about 400 customer care representatives in the company's call center.
"It is a great communication tool for us," he said.
IT communications centralized
Gress said HipChat is key for group screen sharing and that he will often share screenshots with the company's executive team.
If Hayneedle, for example, sees a drop in conversion or the number of users who put items in their cart and make a purchase, he might break down the numbers by types of browsers and share that screen across HipChat. The information would help determine if the company is experiencing an issue with a particular type of browser, he said.
HipChat is also critical for the customer care center, he added.
If a representative needs help on a customer question, for example, the rep can post the question in HipChat and co-workers can help answer the question.
Call center runs with group chat
On the sales side, if associates can't answer a question about a product, they can use the group chat to immediately contact a buyer in the company who is an expert on that product, he said.
Gress said it is tremendously useful for IT that the group-chat software is integrated with JIRA, an Atlassian product for managing tasks and workflow.
An application developer, for example, can type an issue number into HipChat and it will automatically link to the ticket in JIRA and provide a summary of the ticket.
Conversely, as the ticket is updated in JIRA, it can post those updates into the HipChat window. When an update is published, the whole team knows what is happening, he said.
Eye-popping growth at Slack
The growth in group-chat software is astonishing.
As of October, Slack had about 4 million daily active users, up from 1 million in June 2015, and 2 million users connected simultaneously as of May 2016, up from 1 million in October 2015, according to a spokeswoman for Slack.
Jeremy Hamel, head of product and strategy at New York City-based CultureIQ, said in an email that the company began using Slack software in late 2014 and has replaced most internal email applications with the tool.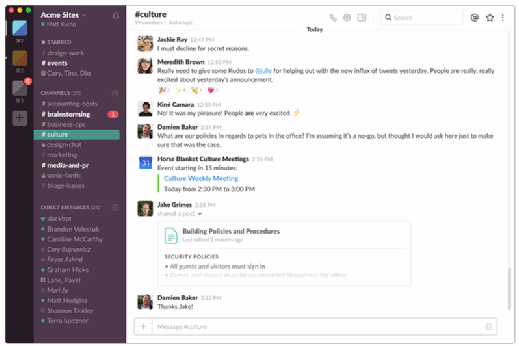 CultureIQ, which provides culture management software and services, obtains a lot of value by integrating Slack with its own application and with other systems, such as Salesforce, Google Analytics and Applicant Tracking System by Lever, he said.
Slack notifies of new resumes
With the integrations, CultureIQ receives notifications in Slack from other systems when certain events happen such as a survey going out, a new lead coming in or a job applicant submitting a resume, Hamel said.
"Slack notifies us about these events in the same way as it does for a new message, so we're able to stay up to date in real time across all of our tools and our app," he wrote. "lf there's an issue -- as an example, a bug -- it helps us respond and fix it more quickly. In general, it keeps us all informed and on the same page with less effort than it would be if the information was siloed across different programs."
Facebook and Microsoft seek share
Another collaboration tool, Workplace, an office version of Facebook, became more widely available to companies and organizations in October.
Microsoft introduced Microsoft Teams, a new chat-based workspace in Office 365, in early November.
Josh Bersin, principal and founder of Bersin by Deloitte, the research group of the human capital management business at Deloitte Consulting, said chat will become very significant in 2017. He said many companies are looking to replace old systems and are experimenting with group-chat applications.
Group chat can be a big part of employee engagement, Bersin said. HR needs to get comfortable with group-chat software and work with IT on choosing and designing systems, he said.
"Over the next year, it is going to be a question of, 'Which one do we standardize across the enterprise?' There is going to be a lot of focus on that."
Dig Deeper on Social HR and collaboration strategies