Evaluate
Weigh the pros and cons of technologies, products and projects you are considering.
Gamification platform aims to engage employees and boost performance
Cato Networks uses quizzes, puzzles and a racetrack on GamEffective to motivate sales development representatives to achieve weekly targets for calls and scheduling meetings.
Carmella Kettner wanted a tool to help engage and teach her five-member sales development team, including three who work thousands of miles away from her company's headquarters in Tel Aviv, Israel.
For this purpose, Kettner, director of global sales development at Cato Networks, chose to use the GamEffective gamification platform.
GamEffective, which was named one of Gartner's cool vendors in human capital management last year, allows sales representatives to compete by accumulating points for solving puzzles and quizzes related to their jobs and by achieving or exceeding certain key performance indicators (KPIs).
The gamification platform applies a racetrack as a narrative. The more points won by a representative, the faster a car moves around the track.
Gamification supports learning
"Keeping people who have this kind of role on a motivational level is difficult ... very difficult," Kettner said. "If you want to avoid churning, you must have something in place that gives them a competitive feeling and also knowledge. I push knowledge through the platform."
Sales development representatives are motivated by the competition and how they are doing against their team members, she said.
"They love it," she said. "It makes them more competitive. The nature of the sales development rep is to be competitive. They are hunting opportunities. It is a competitive game."
Kettner said the gamification platform tracks two KPIs: number of calls made each day by a sales development representative and the number of phone meetings scheduled by a representative for an expert to discuss the company's products.
GamEffective tracks key goals
Games on the platform can be held weekly, monthly or quarterly, she said, but she chooses to run games weekly. At Cato Networks, the gamification platform tracks the two KPIs and displays progress in near-real time. To illustrate performance, the software uses color-coded bars, with red for lagging a personal benchmark for the week, yellow for OK and green for good.
A sales development representative aims to make a minimum of 80 calls a day and schedule seven meetings a week, she said, and is awarded a certain number of points on the gamification platform each week, depending on how much they might exceed the minimum numbers.
The game rules are set before a week begins, and it is not always the highest number of points that wins for the week, she said.
In some weeks, more points are awarded for the percentage increase of calls or meetings scheduled by a sales development representative, or for calls made between certain hours, she said.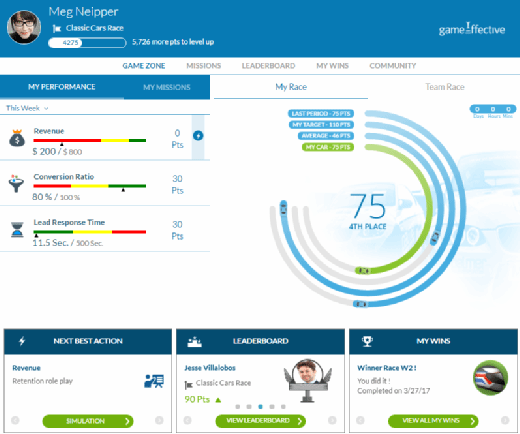 Points for winning a quiz
Kettner said a weekly quiz, which tests the knowledge of a representative and helps improve understanding of a product, might focus on a webinar that was held about a new product, with points awarded for the best performance on the quiz.
A puzzle might be a photo of a team member, and points would be awarded for the representative who completes the puzzle the fastest. The goal is to help people get to know each other better, despite the tremendous distances that might separate their offices, she said.
A representative can also win points for sending kudos to a co-worker or receiving one.
There is a lot of fun around the game for the five representatives, who are based in Vancouver, B.C.; Atlanta; San Francisco; and Tel Aviv, she said, adding GamEffective creates engagement among the team.
The winner of the weekly car race receives a $50 Amazon gift card that can be claimed that week or accumulated, she said. Everybody has won at least once so far.
GamEffective offers a choice of narratives, including a scavenger hunt, for example, but Kettner chose the car race. "From the nature of the job, the car race was the best choice for me. It is a race every week to meet the target and meet the metrics."
Platform helps increase performance
The platform is improving team performance, she said. In three months, for example, the number of scheduled meetings rose by 20%, which is "absolutely amazing," she said.
Kettner began using GamEffective in January at Cato Networks, which provides a secure enterprise network as a cloud-based service, with built-in global software-defined WAN and advanced threat protection. Kettner said the Cato Cloud securely connects all business locations, people and data.
Previously, she used the gamification software for several years when she was global director of a 13-member sales development team at Panaya.
Cato Networks accesses GamEffective via a tab on Salesforce, but it can also be used as an application on the internet.
"It syncs automatically with Salesforce," she said. "It was very simple to set it up."
GamEffective named cool vendor
With GamEffective, Cato Networks has a gamification platform that can provide greater levels of insights about employees and drive new and improved business outcomes, according to Gartner's "Cool Vendors in Human Capital Management, 2016" report. Some other GamEffective users include Trane, PayPal, Microsoft, Hewlett Packard Enterprise and eBay, the report said.
GamEffective is among six vendors in the report that offer "a real means of enhancing the capabilities of an HCM [human capital management] suite, and could make the difference between business success and business failure," Gartner said.
Brian Burke, vice president and chief of research at Gartner, said during the past couple of years, companies are focusing on a more narrow number of uses for gamification and a more consistent way of using gamification in those cases.
Burke said gamification works best in engaging and motivating employees to learn a new skill, encouraging innovation or managing performance in sales. Gamification has taken off in sales, and it has proven effective in that area, he said, adding that, in particular, a competitive game can motivate middle performers in sales to follow a company's best practices.
Gamification is motivational tool
"Gamification typically isn't about fun," Burke said. "It is about motivating people to achieve their own goals."
Roni Floman, vice president of marketing for GamEffective, said gamification is not actually a game, but uses game elements.
"It is a gamified performance management platform if you try to explain it on a higher level," Floman said.
Floman said GamEffective can also suggest the "next-best action," including micro-learning content such as a brief video to help an employee learn new skills to boost results. The video would be followed by a quiz to improve the learning, she said.
"Typically, we suggest one thing the employee should do when they log in to see how they are doing in the game. This can be a learning activity or another mission. In any case, the suggested activity is based on their actual performance."
Next Steps
Practitioners at Deloitte Consulting compete with mobile game
Constellation Research analyst cites prospects for gamification
Companies use gamification to increase sales
Dig Deeper on HR learning and development software