kreizihorse - Fotolia
Foot Locker seeks a good fit with Infor pre-employment assessment tool
Foot Locker is among a growing number of companies using cloud-based pre-hire assessment to screen job applicants for character traits and cultural fit.
In the highly competitive retail industry, Foot Locker says it needs employees who can generate increased sales and create better experiences for consumers.
The New York-based athletic shoes and apparel retailer uses a pre-hire assessment for applicants to help predict which candidates are more motivated, interpersonal and a better cultural fit. Job applicants are scored on how well they match up to ideal profiles for a position. Foot Locker says the pre-employment assessment tool reduces the time it takes for store managers to hire new employees and cuts turnover by double digits.
"It gives the store manager some additional insight into a candidate before they even talk to them, letting them know how this person does against top performers across our enterprise," said Alexis Trigo, director of store capability for Foot Locker. He spoke during a session at the HR Technology Conference & Exposition in Chicago along with Jill Strange, director of human capital management behavioral science at Infor.
Assessments save time for managers
Foot Locker found that the science-based pre-employment assessment tool from Infor reduced the number of interviews for each hire from seven to three, freeing up managers to spend more time on the sales floor and less time in a back room digging through resumes.
We were not suffering from a candidate pipeline issue. Our organization was more concerned about consistent experience.

Alexis Trigodirector of store capability, Foot Locker
Foot Locker is among a growing number of companies using assessments, such as personality tests, or exams for cultural fit and cognitive abilities.
According to the 2014 Global Assessment Trends report by CEB Inc., about 76% of organizations with more than 100 employees rely on assessment tools such as aptitude and personality tests for external hiring. Over the next few years, that number is expected to reach 88%.
Foot Locker offers cloud-based Infor Talent Science assessments, which compare a candidate's "behavioral DNA" -- a measure of 39 behavioral, cognitive and cultural traits -- against that of a performance profile for ideal employee. The company gives the same assessment to all applicants but can compare results against multiple performance profiles for different positions.
Current employees also use the pre-employment assessment tool
Performance profiles are created when current employees take the assessment. Those results are then compared to data from employees' performance management software, sales numbers or anything else that can help determine whether a person is a high, mid or low performer on the job.
By comparing the applicant's results to the performance profile, a report is generated that shows how well the candidate fits that role.
Analysts said a pre-hire assessment can be a useful tool.
Businesses that screen candidates with a pre-hire assessment are more likely to have new hires who meet performance goals over the next 12 months and are more likely to have employees who rate themselves as highly engaged, according to a 2015 report by Aberdeen Group. Businesses that use pre-hire assessments are 36% more likely than all others to be satisfied with their new hires, the report said.
Assessments not a holy grail
While assessments provide other valuable data points, they should not be the sole basis for determining a hire, said Jason Averbook, an analyst and consultant. Assessments are directional, not a holy grail, he said.
"If you are hiring someone just based on what an assessment shows, more than likely it will not fit the type of person you want," he said.
Holger Mueller, principal analyst and vice president at Constellation Research, said companies are opting for the tests partly because the assessments can help managers hire people who may be more suitable for a team. More and more companies are organizing around teams, he said.
"The challenge is that you do not only have to know the traits of applicants, but also the team they would work with," he said.
Pilot finds value in assessments
Foot Locker piloted the assessments in 2010, according to Trigo. The process started when more than 60% of existing U.S. employees took the assessments to help create profiles of top performers.
Foot Locker examined sales, customer satisfaction and turnover trends by comparing stores that used the assessments for hiring to those that did not use the assessments, Trigo said.
"I can't tell you the exact numbers, but when we looked at the control groups against the pilot groups, the pilot groups were selling at a higher pace than those in the control groups. That meant that the customers were more satisfied."
The behavioral assessments identify and attract candidates who are better fits, reduce the time required for recruitment, and predict job success much more accurately than using only interviews, he said.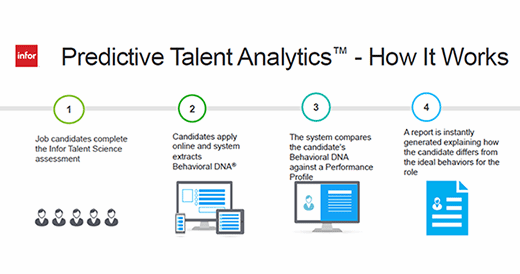 Consistency sought in hiring
Foot Locker, which operates about 3,400 stores, adopted the pre-employment assessment tool partly to ensure it ran a consistent practice for interviewing.
"We were not suffering from a candidate pipeline issue," Trigo said. "Globally, we had about 1.5 million candidates seeking opportunities across the enterprise. Our organization was more concerned about consistent experience."
Assessment results are available on a simple dashboard for managers. The results need to be easy to understand since managers operate a store and recruiting is a small segment of their job, he said.
A dashboard for a hiring manager would provide a candidate's overall fit score and when the candidate would be available.
Candidates get a thumbs-up or thumbs-down
An overview rates a candidate on a core competency with a "thumbs-up," a "thumbs-down" -- or both, to indicate the person is recommended with qualifications. The report also lists assets and liabilities, such as whether a candidate enjoys roles involving risk, recovers if things do not go as planned or displays more emotion than appropriate.
Foot Locker is currently faring better than some other retailers, as it is benefiting from a trend toward casual wear and a partnership with Nike.
Each test on the pre-employment assessment tool requires about 18-20 minutes to complete and can be taken on a mobile device, tablet or computer.
"If you take the time to invest in this, the way we look at it, it means that you are someone who wants to work at our organization," Trigo said.