Eight secrets of corporate wellness program success
A great employee wellness program can help create a workplace with happy, healthy employees. Here's some important advice on how to avoid common mistakes.
When done well, a corporate wellness program -- also known as employee wellness or health promotion programs -- can be a boon to a company's competitive edge. Research has shown that corporate wellness programs can improve employee loyalty and retention, reduce healthcare costs and even boost productivity.
But such benefits don't magically materialize. In fact, a number of common mistakes can threaten to derail corporate wellness programs. With that in mind, here are eight secrets that can help you bypass those common mistakes and instead create success.
1. Customize your employee wellness program
It's important not to look at your wellness program with a broad one-size-fits-all approach in hopes of getting 100 percent engagement. Rather, tailor it to the specific needs of your workforce. "There's no magic equation that says you'll have 100 percent engagement in your corporate wellness program," said Jen Wright, director of the employee wellness program Working Well.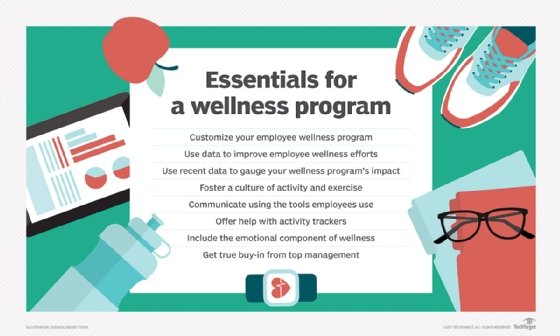 The Working Well program is an affiliate of the South Carolina Hospital Association (SCHA), a not-for-profit organization that serves as the "collective voice" for 100+ member hospitals and health systems in the state. The program has helped some 150 organizations -- including hospitals, health systems, governments and businesses -- in South Carolina and other states create a culture of well-being in their workplaces. Wright encourages participating employers to perform an employee wellness program needs and interests survey. "Find out what employees are interested in, what they need, what they like and don't like," she said. Employees "surprise us all the time with ideas that the wellness folks hadn't thought of."
In addition, giving employees a voice in how wellness programs are shaped can make them feel more valued and engaged in the process -- which, in turn, can lead to greater participation.
2. Use data to improve employee wellness efforts
Technology plays a pivotal role in many corporate wellness programs. The data generated is typically used to track team members' activities during fitness challenges, in which employees are encouraged to wear devices, such as Fitbits, or to determine the ROI of wellness program costs. But the data isn't always used to determine how wellness programs might be improved, Wright said.
With that in mind, the SCHA collaborated with the University of South Carolina's IT department to develop a web-based platform to gather wellness program feedback. The platform, called Strategy for Wellbeing, is designed to help participating employers assess the effectiveness of their workplace wellness initiatives.
The Strategy for Wellbeing platform encourages program managers to self-assess their teams across nine program elements: wellness culture; risk assessment and outreach; nutrition and food environment; physical activity; tobacco-free; emotional and mental well-being; financial well-being; incentives and communication; and evaluation. The platform then provides a score for each , ranging from bronze to platinum.
By using the Strategy for Wellbeing platform, employers also receive a detailed report that identifies customized improvement opportunities based on the assessments and scores, Wright said. Plus, they receive resources, contacts and the ability to consult with SCHA's dedicated wellness team members for coaching and other support. "We'll go on site, talk to the leadership and help them customize the wellness program even more to what aligns with their values and budget," she explained.
3. Use recent data to gauge your corporate wellness program's impact
It's extremely important to use the most recent data possible to gauge your wellness program's success (or lack thereof), said Chris Mileski, director of wellness and benefits at MTM, a nonemergency medical transportation broker.
Previously, MTM relied on metrics from its insurance broker to help it determine if, for instance, MTM's wellness initiatives were driving down prescription drug costs or were positively impacting wellness screening results. But the data the insurance broker provided was often 18 months old or older. Now, MTM uses the Springbuk health analytics software platform, which Mileski said provides granular data on health claims that are only about 30 or 45 days old.
"We can see where the spending is going when it comes to medical conditions, medicines and preventative measures on a per-employee level," Mileski added. The near real-time data has other advantages, too. "We can see if employees at one office are at a higher risk of prediabetes than at our other offices. Then, we can put a program in place at that particular office to raise awareness about prediabetes, rather than having to roll out that awareness program throughout the entire company."
4. Foster a culture of activity and exercise
Fitness challenges at work can be fun and motivational. But one mistake some employers make is to send the message of "exercise on your own time."
It's not feasible to let employees spend entire workday afternoons at the gym, of course. But in workplace cultures where sitting at desks is the norm, consider giving workers paid exercise breaks, Mileski said. At MTM, for example, employees are encouraged to take three 30-minute exercise breaks per workweek.
MTM operates call centers across the country, where employees sit for much of their shift. To help counteract the ill effects of prolonged sitting, MTM is also investing in sit/stand desks for employees. (Of MTM's 2,551 employees, 28.3% are call center representatives.)
On a larger scale, the company is also working to create a workplace culture that emphasizes movement. "We're trying to get people to change their ways, which is a challenge on its own," Mileski said. For example, the company suggests that "instead of sending an email to a colleague, walk a few cubicles down, and talk to them in person."
5. Communicate using the tools employees use
Good communication is key to corporate wellness program success, and it pays to give thought to how you share health-promoting messages. Take, for example, Nearpod, a classroom educational and assessment platform. It's using the collaboration platform Slack to drive engagement with its wellness initiatives, said the company's director of people and culture, Mike Teichberg. Because Slack is such a popular communications tool for work projects, employees started using it to organize healthy activities, such as visiting nearby gyms for classes, sharing favorite workout tunes and inviting colleagues to health and fitness events in their . Nearpod uses the Peerfit corporate wellness program that connects an employer's workers to local fitness facilities.
6. Offer help with activity trackers
Activity trackers are often the tools of choice in corporate fitness challenges. But the more advanced an activity tracker is, the greater the odds are that some employees will need help setting up and using them, noted Wright of SCHA, which partners with Fitbit Health Solutions. Wright recommends setting aside time to help employees with their devices. "Proactively talk to folks about setting up their trackers, and remind them to sync and charge their devices, too," she said.
7. Include the emotional component of wellness
A holistic view of employee health should -- but doesn't always -- include an emphasis on emotional well-being, said Emily Anhalt, a doctor of clinical psychology and consultant.
"There's a societal stigma about needing emotional support," Anhalt explained. And yet, she pointed out that issues at work "trigger all kinds of feelings" that can be difficult to handle on our own.
One of the biggest mistakes corporate wellness program managers make is not getting the full support of top executives -- especially the CEO.
There are multiple components to enabling employees' emotional well-being, Anhalt said, including providing referrals for therapists and coaches; "emotional fitness" training for managers to give them language and tools to support team members; communications training; and workshops that emphasize building teams, relationships and communities.
8. Get true buy-in from top management
One of the biggest mistakes corporate wellness program managers make is not getting the full support of top executives -- especially the CEO. Support doesn't just mean approval. In an ideal world, it means actual holistic participation. In other words, C-level executives and managers should model emotionally healthy behaviors, too, according to Anhalt. For example, if the CEO never takes a vacation, that sends a message to everyone else: Don't take a vacation. Managers and top execs should also make themselves transparent and vulnerable, within the appropriate context, to show it's OK for employees to do the same.
Dig Deeper on Employee health and wellness technology