Evaluate
Weigh the pros and cons of technologies, products and projects you are considering.
Dumping the old, companies flock to cloud HR systems
Frustrated with the performance of their Y2K-era human resources management systems, organizations are looking to the cloud for 21st-century functionality.
About four years ago, social media colossus Twitter got fed up with its on-premises human resources management system. Most data entry was manual, and the company couldn't track all international data in one system.
Using the aging ADP HR system was "quite painful," said Renee Taormina, director of HR and recruiting technology at Twitter. "Running all of our processes in spreadsheets was just not going to be an effective or scalable process."
So Twitter turned its gaze toward the cloud. It deployed Workday's human capital management cloud services at the end of 2012. Rather than having multiple systems around the world, Twitter now has everything -- applications, integrations, data and security -- running on the same system. "The power of one is tremendous," Taormina said.
Twitter isn't the only one trading on-premises HR for a cloud-based system. Taormina and other project leaders described their transitions during a Workday conference in San Francisco. For example, Hewlett-Packard needed to harmonize business processes across 175 countries as well as manage HR system performance globally. And Equifax, a workforce information services provider, wanted better merger and acquisition support for HR.
Majority rules
As soon as the economic recovery started rolling in 2011, businesses began dumping legacy human resources management systems like old Christmas trees. Bought in the big-box enterprise resource planning buying spree around the time of the Y2K scare, these aging, on-premises HR management systems are costly to upgrade and lack 21st-century capabilities such as mobile self-service, consumer-oriented self-service and social media-based recruiting, said R. "Ray" Wang, an analyst at Constellation Research. Cloud computing also created a variety of new options for users.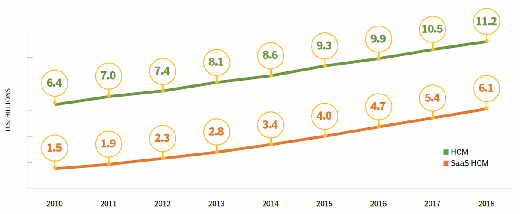 "Cloud has been and will be the choice for the majority of HR system buyers in this refresh cycle," Wang said. Gartner is predicting that cloud systems will account for almost half of the $9 billion human capital management systems market in 2015.
But cloud HR isn't all silver-lined. Companies that have moved the talent management piece to the cloud often report challenges in integrating it with the on-premises systems they still need for employee record management, benefits administration or payroll. Outsourcing those functions to a cloud service can raise cloud-to-cloud integration issues. Plus, there are other generic cloud tradeoffs, such as forced upgrades, smaller feature sets and lack of customizability.
And not all cloud HR systems are enterprise-ready. All the benefits of cloud don't make up for lags in capability and functionality, Wang said. Tarik Taman, general manager of Infor's HR and ERP operations, agreed. He has seen businesses move from on-premises to cloud-based systems and lose 50% of their capabilities. "Dive deep during the evaluation process and make sure you can replicate your current environment," he said.
All over the world
Examining the breadth of cloud HR providers' internationalization features such as language support is a must for global business buyers. Like Twitter, Equifax moved to cloud HR because it needed better international HR support, said Mike Bause, vice president of HR systems and innovation. Equifax, based in Atlanta, has about 7,500 employees and 5,000 contractors in 18 countries. Before moving to Workday cloud HR in 2012, each of those 18 branches operated independently and had limited visibility into corporate data. Management's view of the branches' data was also limited, as local HR managers manually input data into spreadsheets. "Access controls were a mess," Bause said.
Within weeks after deployment, every HR manager could access a master spreadsheet that contained all data, on compensation, performance, management structure and demographics. "Being able to use one process for all of these countries that met their needs was fantastic," Bause said.
Improvements in data access and sharing have made a big difference at Twitter, too. "Having analytics with global data sets has been really impactful for us," Taormina said. The system gives HR more credibility with the business, because HR managers can point to reduced costs and employee innovation. "We can show our client groups insights into data that we just didn't have before," she said.
Analytics functionality is a real value driver for cloud HR, said Scott Spradley, global functions chief information officer for HP's head office. Closing deals is easier when one can pull up reports on the spot that show staff allocations and other factors of interest to clients. "Now we have relational data ... right there on a mobile phone or a tablet," Spradley said. "They're making decisions in seconds instead of months."
Equifax also needed better support for ongoing merger and acquisition activities. Consolidating personnel and financial records and systems after an acquisition took months of work on the old system, Bause said. Shortly after deploying Workday's cloud software in 2012, however, migrating operations for 380 new employees took only three days. Then new employees could use self-service tools to sign up for and monitor benefits and direct deposits and input emergency contact updates.
A productivity boost
Unfriendly self-service is a common problem with Y2K-era HR systems, Wang said. The self-service forms are typically hard to access and their user interfaces (UIs) aren't intuitive. Unwieldy to work with on desktop systems, the forms are "impossible" to use on mobile devices, he said. That's all changed with the easier-to-navigate, Web-friendly apps typical of cloud HR systems.
How much does better self-service functionality improve productivity? After HP's March launch of Workday cloud HR, help desk tickets from HR system users have dropped from 1,200 a day to around 20.
Better self-service UIs help HR managers, too. The transactions needed to put through an employee's promotion, which took 45 minutes on HP's legacy system, now take one minute on cloud HR. "That was 45 minutes spinning through about 10 different systems and looking at 20 to 27 different screens," Spradley said.
Workday's self-service functionality paired with its social media-like communication systems help employees feel better connected, Bause said. "We can communicate informally if we want to, and we find the more that we do that, the more we're having managers respond to us." HR, after all, is about humans. Making people "feel part of the family," he said, increases innovation, productivity and employee retention.
Dig Deeper on Cloud HR software