Evaluate
Weigh the pros and cons of technologies, products and projects you are considering.
Degreed integrates and organizes content from online learning software
Atlassian and Intel use cloud-based Degreed to integrate e-books, articles, videos and other content and recommend training for employees based on their skills and interests.
Employees at Intel and Atlassian are using Degreed, a next-generation learning platform that organizes and recommends content and gives workers a new way to search the internet for online training and exchange ideas.
Cloud-based Degreed uses machine learning to recommend content based on the job history and skills of employees, information they might provide about career interests, and groups of co-workers they might be asked to join. It also provides analytics to track learning across all these systems and tools.
Degreed Inc., based in San Francisco, does not provide original content but uses free and low-cost open educational resources to integrate online learning software and talent systems so they can work and be curated together, recommended and tracked, said Todd Tauber, vice president of product marketing.
Content could be from online learning software partners Coursera, Udemy, Skillsoft and Safari Books Online or from sources such as Stack Overflow, YouTube, blog posts, technical articles, mini videos, webinars and podcasts.
Degreed goes live at Intel
Hosted on Microsoft Azure, Degreed was developed as a consumer application in 2012 and has been sold to businesses since 2014.
The ability to curate and aggregate content in a meaningful way is what sets Degreed apart from other solutions.

Tim Quinlandirector of digital platform for learning, Intel Corp.
Tim Quinlan, director of digital platform for learning at Intel Corp., said Intel went live with Degreed in June of last year and is gradually rolling it out to employees.
Degreed parallels the way many people from Intel and elsewhere learn these days, which is by video or by searching for content via Google, according to Quinlan.
"The ability to curate and aggregate content in a meaningful way is what sets Degreed apart from other solutions," Quinlan said. "It has an ability to curate content from anywhere: the World Wide Web, your internal systems or content providers."
Learning leaps in importance
Degreed is among online learning software that is part of a radical change in corporate employee training described in "2017 Global Human Capital Trends," by Deloitte Consulting LLP and Bersin by Deloitte. The report also underscored the rising significance of learning, with learning ranked as the second most important trend in a survey of more than 10,400 business and HR leaders, up from fifth in last year's survey.
Degreed integrates internal and external content, unifies the search and provides employees with an easy-to-use portal and single sign-on. A search yields suggestions for providers of e-books or videos, for example, and "pathways," or a collection of resources on a specific topic structured and curated with use of an easy drag-and-drop tool.
Degreed provided about 60 dedicated pathways and Intel has also created specific pathways of its own. Those pathways come up in search, but Quinlan said he uses the recommendation engine more often.
Degreed's algorithm provides sophisticated and refined search capability, he said.
Filter narrows search
Quinlan said he often uses a capability for filtering on search. After an initial search, a user can filter by modality on type of content.
If the search turns up a course, a user can choose beginning, intermediate or advanced; free or at cost; and the length in terms of hours, days or months, he said.
Quinlan said Degreed also includes a robust tool for collaboration and sharing. If he finds an article on the web that he wants to share with his team, he can distribute it and it will show up in members' learning cues.
Degreed could replace SharePoint
Eventually, Degreed could replace Microsoft SharePoint sites where people at Intel have aggregated internet content for business on top of the company's learning management system.
SharePoint breaks the learning into various aspects of an employee's role, Quinlan said. If an employee is a manager and also in finance, the employee would need to go to different webpages for management and finance. When all the learning is aggregated in Degreed, that eliminates the need for a user to visit a different SharePoint site for a different aspect of the job such as finance, product, business or management.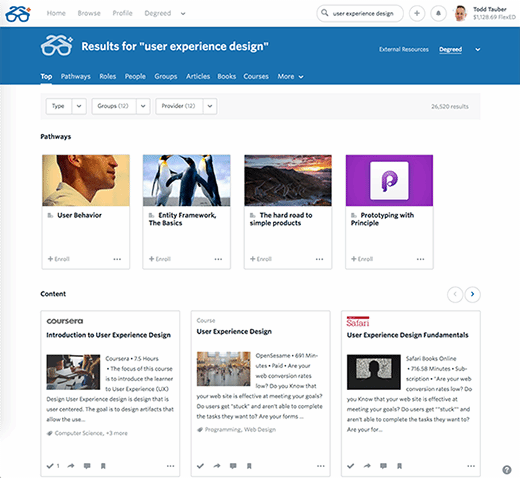 "With Degreed, we can give you all the learning in one place," he said. "The learning cue in Degreed can have a couple of different items for each one of those aspects of your employee profile."
It costs money to regularly maintain SharePoint and it sometimes needs code to maintain value, Quinlan said. On the other hand, it is simple for an administrator or any employee to build a pathway on Degreed in a matter of minutes, he said. With Degreed, SharePoint is no longer needed to aggregate content or links.
Unlike SharePoint, Degreed does not require a bolt onto a learning management system.
"That cost elimination or avoidance is big. We are still working on calculating what that means."
Atlassian gets on-demand learning
Sam Haider, former global head of talent development at Atlassian Corp., which sells business software, said Atlassian went live with Degreed online learning software in July 2015, deploying it all at once to workers in many time zones across the globe after some tweaks to test for engagement.
Atlassian, which owns HipChat, chose Degreed because it needs on-demand, up-to-date and personalized learning for employees. The rapidly growing company required a platform for employees to learn technical skills quickly and efficiently, Haider said.
At Atlassian, Degreed integrates online learning software getAbstract and Safari Books Online and it offers the learning in a consistent and user-friendly way, Haider said. Degreed also connects with Workday core HR, which provides employee data for use in analytics.
Atlassian also measures the results of Degreed, he said.
Platform boosts engagement
While it is difficult across the learning industry to measure ROI for the cost of additional learning in a substantive way, Atlassian was able to determine that Degreed increased engagement, the perception of career opportunities and growth inside the company, and the sharing of knowledge among employees, Haider said.
Using Degreed's analytics dashboard, Atlassian measured about 3,000 downloads or click-throughs from Degreed every month from its roughly 1,800 employees, he said.
On Degreed, Atlassian also measured the types of downloads and pages that employees were viewing to give the company a sense of the needs for learning, whether it be cloud-based or other technologies or around marketing and sales, he said.
"We were able to see by name and by organization where the highest engagements are," said Haider, who left Atlassian last month after two years in his post. "For us, this is important because we want to make sure that as we scale and grow, and as new employees come in, they are aware of the offerings and they are able to take advantage of those things as soon as possible to help them ramp up and be productive in their jobs quickly."
Twice a month, on average, every employee was going on Degreed voluntarily and pulling out learning material, Haider said. That means the UI is good, the content is relevant and employees were finding enough value to return to Degreed. "For us, that is a win," he said.
Dig Deeper on HR learning and development software