Corporate wellness software can help employers reduce turnover
Data from a corporate wellness technology vendor shows that engaged employees and ones who use wellness programs are more likely to stay at their jobs and be productive.
Corporate well-being programs -- some technology-based -- can drive down employee turnover rates.
Perhaps not surprisingly, that was the key finding of a recent data analysis by Limeade, a corporate wellness software vendor that markets its system as a platform for overall company well-being and employee engagement, not just health and wellness.
A corollary to the corporate wellness software firm's finding that turnover rates were four times higher for employees not in wellness programs was that worker churn was two times higher for employees signed up for wellness programs but who didn't participate in them intensively.
Study surveyed 500,000 employees
The research was based on an analysis of 2015 Limeade data from more than 500,000 employees working for U.S.-based employers ranging in size from 1,000 to 2,000 workers in the healthcare, retail and technology sectors.
While those results may appear inherently self-serving to the extent that a corporate wellness software company has confirmed the efficacy of its system, they also reflect a fast-growing trend in human resources technology.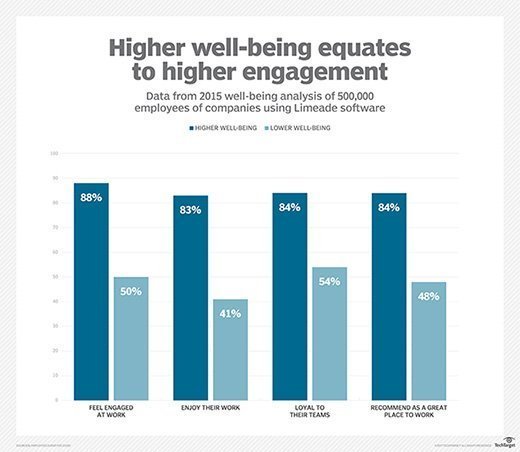 Other recent analyses of workplace benefits and technology-based wellness systems, including a survey by insurer Aflac, have indicated that corporate wellness programs are becoming the norm, and that companies see them as lowering overall healthcare expenses.
Forrester Research analyst Claire Schooley noted that a number of HR tech vendors in this space, including Limeade, Virgin Pulse, O.C. Tanner and others, are focusing on employee health and well-being, but there are other engagement "levers," too.
"That's great, but there has to be many other things in place to get engaged employees," Schooley said. "I'm hoping organizations aren't hoping, 'Oh, we can just implement this technology and we'll take care of our employee engagement.'"
Schooley co-authored a recent Forrester report on using digital technologies to improve employee engagement.
Areas of employee engagement
Among other things, the Forrester report said innovative technology offered by a "rapidly expanding vendor landscape" supports six key areas of employee engagement: coaching and performance, communication, learning and careers, measurement, and rewards and recognition, as well as health and well-being.
Many organizations also break down employee engagement into various similar component schemes and are using corporate wellness software to communicate, inspire, reward, motivate and educate employees.
One corporate Limeade user, Brinker International, which has 60,000 employees at about 1,000 Chili's and Maggiano's restaurants, bases its engagement and company well-being strategy on five pillars: career, social, financial, physical and community.
Brinker this year is extending its web and app-based Limeade corporate wellness software platform to its entire workforce, after starting out in 2016 with 16,000 benefits-eligible employees, according to Josh Lipscomb, Brinker's director of total rewards and talent analytics.
The challenge of involving everyone
Getting hourly employees -- who, like all its employees, Brinker refers to as "team members" -- who don't have company email addresses and can't easily take advantage of things like Limeade's online motivational well-being contests may be a challenge, Lipscomb said.
"They don't have the financial benefits of it, so they don't understand how it can really benefit them," he said. "My hope is that as we educate our team members, they'll come to understand that strong well-being creates happier lives and they'll understand that value proposition."
What we've found in our research is when you take a whole-person approach and you value people as people, they're much more loyal to you, they're 38% more engaged, they're way less likely to quit.

Henry AlbrechtCEO, Limeade
Meanwhile, Limeade is moving forward with a data analytics system that it says employers can use to improve employee retention.
The dashboard uses interactive charts to look at employee population trends in different countries and company locations and departments. The information comes from employee eligibility data and does not report at the individual level to preserve privacy and comply with the Health Insurance Portability and Accountability Act and other laws, according to the company.
Lipscomb said he plans to use the dashboard system -- which the newly formed Limeade Institute branch of the corporate wellness software vendor used to produce the turnover-wellness engagement ratios -- to get insight into turnover at Brinker.
Good marketing can help engagement
Meanwhile, Limeade CEO Henry Albrecht asserted that employers need to go beyond simply aggregating benefits offerings online and take a more holistic view of company well-being.
"We believe all employee benefits suffer from a lack of good marketing," Albrecht said. "People don't know about them. They're not clear about what their value is.
"What we've found in our research is when you take a whole-person approach and you value people as people, they're much more loyal to you, they're 38% more engaged, they're way less likely to quit," he said.
Albrecht said the chief human resources officer of the near future will need to consider employee health biometrics as well as data-based branding and positioning and technologies that do retargeting, segmentation and "hyper-personalization."
"That requires a great knowledge of technology and how marketing works," he said.
Dig Deeper on Employee health and wellness technology