Fotolia
Cornerstone OnDemand recruiting and onboarding tools help fuel ResCare
Using Cornerstone OnDemand to connect recruiting, onboarding and learning, ResCare helps prepare new employees for the vital work of supporting the elderly and disabled.
ResCare Inc., a large human services company, is using Cornerstone OnDemand cloud-based software to make it easier to on board and train many entry-level employees for the significant jobs of caring for the elderly and people with disabilities.
Shelly Morgan, director of HR technology for ResCare, said Cornerstone OnDemand connects recruiting, onboarding and learning in a way that helps improve hiring and best prepares new employees for critical jobs such as direct support professionals.
"Once we make that offer, it is very important that the transition be super seamless," she said.
ResCare went live with Cornerstone OnDemand learning management in June 2014. In 2015, it purchased Cornerstone OnDemand recruiting and onboarding tools to link with learning and replace outdated systems.
With Cornerstone OnDemand, ResCare has dramatically reduced the time for completing an application and onboarding a new employee, as well as improved training and engagement, she said.
Onboarding sets stage for long-term success
Onboarding begins once an employee is hired, extends through the first 30 days and includes possible training.
Onboarding begins once an employee is hired, extends through the first 30 days and includes possible training. The process is vital at ResCare because it helps prepare the employee for providing direct care while setting the stage for long-term success. Cornerstone OnDemand provides targeted training and goals so employees can get up to speed and start contributing faster, Morgan said.
Onboarding, which includes a video introduction to the values of ResCare, also is important for employee engagement, she said.
"The first 30 days are extremely important because they can determine if an employee stays for the long term and enjoys stability for the long term," Morgan said.
ResCare, headquartered in Louisville, Ky., is the largest provider of services to people with intellectual and developmental disabilities in the U.S. and the largest privately held home care provider to seniors, according to the company. It serves about 61,000 people daily and claims to be the largest provider of education, vocational training and job placement for people of all ages and skill levels who face barriers to employment.
ResCare has about 52,000 full- and part-time employees, including 17,600 who provide care in group homes for people with disabilities.
Recruiting software updates status of applicants
Cornerstone Recruiting tracks job hopefuls for each position at ResCare. The e-recruiting software automatically updates the status of an applicant and answers to certain preliminary questions, such as whether the candidate is confident of passing pre-employment requirements and years of relevant experience. The preliminary questions are customizable.
The recruiting system reduced the time for completing an application from 25 minutes to 17 minutes, or 32%, according to a case study on ResCare from Cornerstone OnDemand. ResCare hires thousands of employees each year to meet the increasing demand for direct care, according to the case study.
With Cornerstone OnDemand, ResCare streamlined the user interface. The application content remained the same, but the process is more user-friendly and less time-consuming.
Previously, the human services company used multiple talent management systems for recruiting and learning and was mired in paper and inefficiencies, the case study said.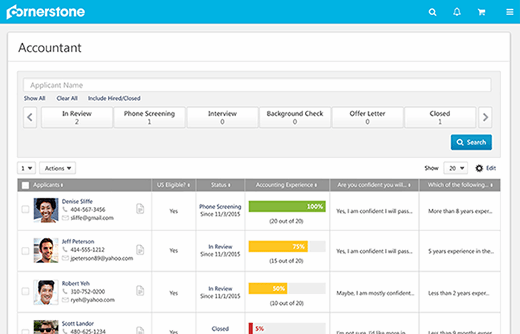 Morgan estimated that onboarding time at ResCare was reduced by 35% after switching to Cornerstone OnDemand. The prior system was largely based on paper, but with the cloud onboarding tools, all the forms can be set up in the central office and used by HR specialists in field offices.
With Cornerstone OnDemand, ResCare can create and configure its own forms, she said, and no longer relies on templates.
An HR specialist at ResCare launches onboarding tools with an Email that links a new hire to several online documents. These include forms for direct deposit of a paycheck and for determining eligibility for an employer tax credit for hiring from certain groups that traditionally face employment barriers, such as military veterans.
Cornerstone OnDemand provides the company with key analytics for each office, such as the number of applications compared to the number of hires; the number of potential applicants reached by career websites, job search websites or social networks; and how long it takes to hire for each position.
"I can run those reports any day of the week," Morgan said. "When I need to, I can go right into the system and pull out reports."
Training and certification for new hires
ResCare offers a blend of classroom and distance learning for training.
The company designs some of its own courses and purchases others from the content services team at Cornerstone OnDemand, Morgan added.
Most new hires include caregivers, either for basic services for elderly people in their homes or for providing 24-hour support in group homes for people with disabilities.
Unless new hires are registered nurses or licensed practical nurses or hold other licenses, they likely will need training and possible certification depending on the state. "For the most part, we are training entry-level workers," Morgan said.
Cornerstone OnDemand manages forms and certifications for workers in training, she said. The software tracks the number of people taking and completing courses, for example. Previously, the company tracked training with spreadsheets, which required a lot of time.
"Cornerstone OnDemand is one of the best things to happen to ResCare," she said. "We are increasing employee engagement, focusing on metrics and achieving breakthrough results."
Dig Deeper on Employee recruitment software