Gajus - Fotolia
Cloud-based HCM options now plentiful
Ceridian, Oracle, SuccessFactors, SumTotal, Ultimate Software and Workday are among vendors cited by analysts as having HCM suites capable of supporting a cloud-only HR infrastructure.
Increasingly, organizations are looking to move their human capital management systems to the cloud to enable better talent management, more advanced workforce analytics, enhanced employee experiences and lower operational costs.
The challenge for these companies, however, is determining exactly what options are available to have an entirely cloud-based HCM system. It is one thing to move some HR functions -- say, talent management -- to the cloud. It's another thing to replace on-premises core HR and shift the entire operation to the cloud or start a brand-new HR system in the cloud.
So, which vendors and products have the goods for 100% cloud-based HCM? Here's what four industry analysts had to say.
Ceridian Dayforce highlighted for multi-tenant SaaS
According to Brent Skinner, principal analyst at Boston-based Nucleus Research Inc., the vendors having the most impact on the cloud-only HCM market are Ceridian Dayforce HCM, Ultimate Software and SumTotal Systems. He added that Oracle HCM Cloud is another cloud-based HCM product that runs completely in the cloud. Skinner is the author of Nucleus' "HCM Technology Value Matrix 2016" report.
Dayforce HCM resides in a multi-tenant cloud and is delivered via SaaS. With Dayforce, Ceridian provides functionality for talent management all on a single application, including the essentials for employing people, such as payroll, time and attendance, benefits administration and elements of workforce management (WFM), as well as analytics and HR document management, Skinner noted in the report.
"The Ceridian Dayforce solution has been a trailblazer in advancing and building on the idea of a single application running a single data set run by a single rules engine for HCM," Skinner said.
This fact, as well as the depth of Ceridian's offering, set Dayforce apart from other vendors of cloud-based HCM, according to Skinner. "The technology's architecture enables Ceridian to innovate more quickly than its competitors can and spares users the challenges associated with even the best integrations of multiple applications behind the user interface," Skinner wrote in his report.
Ultimate Software's UltiPro suite encompasses all of HCM "to provide users with a clear line of sight from payroll to the outer edges of talent acquisition," according to Skinner's report. Nucleus' analyses of UltiPro deployments consistently show that the product delivers a positive return on investment.
UltiPro is an end-to-end, public cloud-based HCM application delivered via SaaS that covers HR, payroll, time and attendance, benefits administration and some aspects of WFM, according to Skinner. It also includes the full range of talent management functions.
"SumTotal Systems, part of Skillsoft, is a full HCM solution that can be cloud-only or on premises or a single instance," Skinner said. "What's interesting about their solution is that no matter what solution the user is on -- a single instance, hosted solution, on-premise[s] solution or a real multi-tenant cloud -- there's an option for anybody at any time to be on the very latest version of their software."
SumTotal consists of unified applications for learning and talent management, as well as a comprehensive platform for time and attendance, scheduling, absence and leave management and payroll data processing, the Nucleus report noted. SumTotal's talent suite includes a broad cross-section of talent management and learning. "In-memory data-crunching capabilities in the elixHR platform pull together and process data from all these applications to produce embedded predictive and prescriptive analytics that help users in their decision-making," Skinner said in the report.
Additionally, SumTotal has rebuilt the user experience (UI) by working with customers, as well through extensive usability testing. For instance, companies can now tweak the UI to match their brands.
Oracle HCM Cloud consists of a wide range of HCM functionality, including core HR, payroll, time and attendance, some WFM functions and all of talent management. The product appeals to large companies: Those with more than 25,000 workers have deployed the full Oracle HCM Cloud suite, including payroll, Skinner said in his report.
Oracle HCM Cloud also has a social network that sits on top of it to facilitate "trigger-based performance review and collaborative learning." In addition, mobile-enabled functions allow managers to provide feedback on performance in real time, according to Nucleus' report.
The product's predictive analytics feature uses data from the social network and the system as a whole to help employers operate more efficiently. For example, managers are able to identify employees who might be looking to leave the company and take action to stop them.
Oracle has also added to the functionality of its learning module, according to Skinner. "Mobile functionality for recruiting now pipes into LinkedIn, and the vendor has strengthened the solution's ability to handle high-volume, potentially complex hiring scenarios," he said in the report.
Cloud-based HCM may already be the default
Holger Mueller, vice president and principal analyst at San Francisco-based Constellation Research Inc., pointed out that, today, everything in HCM is in the cloud.
"[SAP] SuccessFactors is in the cloud, Oracle is in the cloud and you can't get Workday to run on premise," he said. "It's really hard to do HCM on premise because the vendors all want cloud revenue. CRM [customer relationship management] and HCM have been the leaders of moving to the cloud."
CRM and HCM have been the leaders of moving to the cloud.

Holger MuellerConstellation Research
Muller said that the discussion among North American employers about whether to put employee data in the cloud ended four or five years ago.
For Josh Bersin, principal and founder of Bersin by Deloitte, based in Oakland, Calif., the vendors whose cloud-based HCM software is strong in core HR are ADP, Ceridian, Oracle, SAP and Workday.
"Those are companies that do payroll, they have the core employee system of record and that have all the security and customization features to manage the data about every employee," Bersin said. "That's a massive category of billions of dollars."
The second category is software for managing hourly workers, which takes care of how many hours employees work in a week and if they worked overtime, for example, Bersin said. He named Kronos as the primary vendor in the category, adding: "There is a bunch of smaller ones that do that."
Then, there is all of the software for training and learning, a market that totals $4 billion or $5 billion, and includes software for managing online courses, training programs, testing certification and compliance, he said. Companies in this category include Oracle, SAP, Skillsoft and Workday, Bersin noted on his blog.
"Another category is recruiting software that handles all the resumes and the incoming job applications and the process of recruiting," he said. "Then, there is a bunch of software that just does performance management; it handles performance appraisals, it handles feedback, employee engagement, data and analytics."
Cloud-based HCM shows clear growth
SaaS, the purest form of cloud software, is seeing rapid growth in HR. Between 2013 and 2017, vendor revenue from the SaaS portion of HR systems grew from 36% percent to 56%, said Paul Hamerman, an analyst at Forrester Research Inc., based in Cambridge, Mass.
"But if you look at some of the recruiting and talent management applications, it's much higher," he said. "It's hard to buy a recruiting system of any kind that's not cloud. When you look at the landscape, you have a lot of pure-play SaaS HR. I call them comprehensive HR vendors, because there's more than core HR. Almost all of them now have some talent management capabilities."
According to Forrester's "Vendor Landscape: SaaS Human Resource Management Systems, 2017" report, authored by Hamerman, the three major enterprise vendors for cloud-based HCM are Oracle, SAP and Workday.
"Oracle supplements its comprehensive suite with Taleo for recruiting, but it has indicated it will migrate this functionality natively to the Oracle HCM Cloud platform," Hamerman wrote in the report. "Oracle can unbundle talent management components and sell them separately, but deals typically involve the core HCM components. Oracle offers a full ERP suite and CRM on the same cloud platform, giving it the opportunity to include HCM cloud in larger deals."
SAP SuccessFactors offers a full SaaS human resource management system (HRMS), Hamerman noted in the report. SAP positions SuccessFactors as an integrated cloud solution within its SAP S/4 HANA product family, and it also offers a SaaS migration path for customers using the on-premises offering, SAP HCM, he said in the report.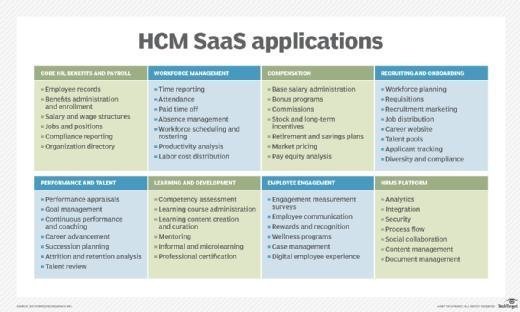 Workday offers a comprehensive suite of HR capabilities, as well as planning and learning applications.
"Workday embeds talent management capabilities in its core HRMS offering, with optional native modules for recruiting, learning, planning, payroll (in four countries) and time tracking," the Forrester report said.
In addition to Ceridian and Ultimate Software, U.S. midmarket vendors include Kronos and ADP.
"ADP Vantage targets U.S.-based companies with more than 1,000 employees," the report noted. "ADP Workforce now targets companies with 50 to 3,000 employees."
Vantage appeals to companies with relatively sophisticated compensation and talent management needs, while Workforce is used mainly by SMBs with less complex requirements, Hamerman said in the report.
As companies consider their cloud-based HCM options within the SaaS vendor landscape, Hamerman cautioned that it's important to first have a clear vision of the end state and business outcomes.