City Football Group moves from paper to SAP cloud-based HR software
City Football Group last year replaced paper-based systems with SAP SuccessFactors Employee Central and Performance & Goals and is using SAP Jam for collaboration on projects.
At the City Football Group, paper used to be "flying around" during performance reviews and employees filed paper forms to seek holidays or update their HR records.
Those manual processes stemmed from an earlier era for the company and were scrapped last year when the City Football Group implemented SAP cloud-based HR software in stages.
During the final quarter of 2016, SAP SuccessFactors Employee Central, SAP SuccessFactors Performance & Goals and SAP JAM went live at different times at City Football Group, which has about 1,000 employees around the world, said CFO Andy Young.
The group's prior systems were bespoke and not designed for an international business, but SuccessFactors reflects the values of the current business, he said. The cloud-based HR software means "big, big change," for the company, Young said.
Software supports business growth
"We needed to come up with a product that would help support the growth of our businesses," Young said. "We became much more of a global brand.
"We have close to 1,000 users around the world," he said. "This has been quite a revelation for them. Ten years ago this business was 100 people. The requirements were very different."
The human capital management software is powered by the SAP HANA database platform.
SAP also recognized the value of City Football Group coming on board as a sponsor, Young said. SAP has a global, multiyear marketing and technology partnership with City Football Group.
The company, based in Manchester, England, is also planning to go live with SuccessFactors Recruiting Management, SuccessFactors Onboarding and SAP BusinessObjects Cloud, which combines analytics capabilities including planning, predictive analytics and business intelligence in a single software-as-a-service offering.
Employees gain more control
The football group, which owns and runs football clubs in England, Australia, New York City and Japan, is also considering Employee Central for payroll and believes it will end up using the software.
Employee Central, which is the core HR system, allows employees to control more of what they are doing, including requesting holidays and direct deposit of checks, Young said. People can access all their employee records with mobile and were encouraged to check their information when it was loaded and to update it where necessary, he said.
Self-service on the cloud-based HR software is "huge" for the staff, since the process used to be very manual, according to Young.
"If you needed to change your bank account details [or] if you needed to apply for holidays, you filled in a piece of paper," he said. "You took it to the HR department and they would input and update your records accordingly."
Performance reviews go paperless
Employees in major offices completed their six-month performance development reviews in the cloud-based HR software, according to Young.
"It simplified the process enormously," he said. "This was a very manual process in the past. Having it online, paperwork is not flying around. I know instantly who has done their reviews and who has not done their reviews and at what stage they are."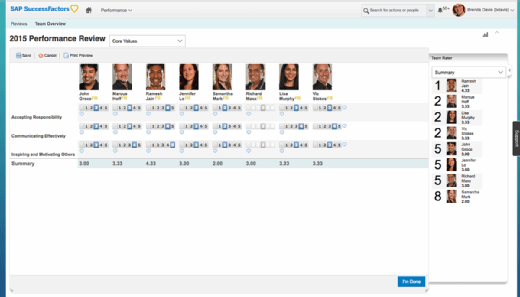 After their goals were loaded in the software, employees and managers met to discuss progress and complete narrative updates, he said. More comprehensive annual reviews, including scaled ratings on skills and competencies, will be completed at the end of the fiscal year, he added.
Young said he reviewed the goals of about 10 employees including the group finance director, the procurement director, two of three HR directors and the vice president of finance in New York. Most employees were responsible for between five and eight goals during the online performance and development review (PDR), he said.
"I don't know historically how long it took us to get through the PDR process to get it 100% complete and accurate," said Young, the CFO at the company since May. "Given that we have been live on this for only a few months, to have 100% completion on that PDR process online is pretty remarkable."
SAP Jam is homepage
Every day, when people at the City Football Group open their browser, their homepage is SAP Jam social collaboration software, with company information, stories and "always something to grab your attention," Young said.
On the cloud-based HR software, employees also have personalized pages for accessing individual information. Additionally, SAP Jam is used for communicating in groups across international offices, he said.
"At the moment, there is basic information sharing," he said. "There are some closed groups between departments and projects where information is shared. It is a tool for us for informing staff and helping us to work more efficiently across departments and groups and projects."
SAP Jam is relatively new, so Young said there is a lot more that the company can do with it. "We will also start to use Jam increasingly for more general all-staff communication," he said.
According to Young, the company faced the standard challenge of providing a certain degree of training to employees. "It is fairly intuitive, but you have to provide a little bit of training," he said.
SAP ERP on tap
The company is also implementing SAP ERP, which is set to go live later this year.
"We feel very, very positive about the implementation," Young said. "We feel very positive about the product. We are excited about taking this forward and adding … the recruitment, the onboarding and the analytics."