Share this item with your network:
Technology insights for the data-driven enterprise

Aleksandr Bedrin - Fotolia
AI in HR: Artificial intelligence to bring out the best in people
Machine learning technology helps the most people-centric of departments work more effectively and boosts recruitment and development of high-performing employees.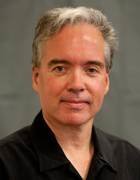 By
Whenever there's a need to draft a job description, Expedia Inc.'s 3,000-plus recruiters and hiring managers have...
Continue Reading This Article
Enjoy this article as well as all of our content, including E-Guides, news, tips and more.
the option to call on a writing coach. The online travel-booking company's writing companion is Textio Inc., an artificial intelligence application that runs in the cloud and analyzes each typewritten word in milliseconds to spot gender bias or other language that might turn off good candidates. The software generates an effectiveness score and suggests alternative phrasing, in effect teaching the recruiter how to write a job description more effectively.
Textio is just one of many recent applications of AI in HR. The oft-derided, overhyped and misunderstood technology is undergoing a renaissance in businesses, and that includes human resources, the department that's arguably the most focused on people.
"It's eye-opening to many of [our recruiters] to see really low scores -- that their original writing or some version of a [job description] that they received was not well written," said Lisa Christensen, a director of talent acquisition at Expedia, based in Bellevue, Wash.
Strongly influenced by a paper on unconscious bias from a roundtable on women in technology, Expedia set out to improve gender balance. "The language in a job description can really influence whether men or women apply to it," said Rupert Bader, senior director of talent analytics at Expedia. The company uses Textio to craft a neutral or slightly feminine tone in the hopes of attracting more women. Textio, he said, is providing the company's recruiters "feedback in a really scalable way." Based on data from Textio, HR employees typically are excited when they get good scores, and they're willing to accept a bad score, Bader noted.
Terms with a masculine tone like nerf gun and rock star have been shown to be less likely to attract women. Even the proportion of bulleted items will tilt the appeal to one sex or the other, while "growth-mindset" language brings in more women, Textio co-founder and CTO Jensen Harris said. Qualifying language -- "you must have done this [job]" -- more often attracts men, while women are more likely to disqualify themselves.
So far, Expedia has seen a modest 2% boost in female applicants and managed to shorten the time to hire by five days, from 55 to 50, Bader reported. The company brought in 17% more applicants, and 33% more of them passed a screening interview, Harris added.
Many roles for AI in HR
The language in a job description can really influence whether men or women apply to it.

Rupert Badersenior director of talent analytics, Expedia
Expedia is among a growing number of companies taking advantage of an influx of AI in HR applications or piloting beta versions planned for deployment sometime this year. "It's now popping into almost every piece of software," said Josh Bersin, principal and founder of consulting firm Bersin by Deloitte. "It's becoming pretty common in big companies and also in tech companies where they have no intimidation with technology." (See "The many faces of HR AI apps.")
Vendors of talent management software have touted the advantages of integrating functions like recruiting and learning management more seamlessly to create a whole that's greater than the sum of its parts. These vendors are doing the same with machine learning by spreading it to every corner of talent management and directing AI algorithms on the software's underlying data stores.
Cornerstone OnDemand is a good example. Its main AI and HR analytics product is Cornerstone Insights, what CTO Mark Goldin called "machine learning in a box." But the technology is also embedded in its recruiting tool and learning platform and is moving into career development, succession and performance management. "You can look at all of that holistically and then try and make predictions about, on the one hand, who's going to be our next CEO -- who's going to be our next star -- and on the other hand, [decide] how do I best guide people through the career paths that are available to them," Goldin explained.
It's eye-opening to many of [our recruiters] to see really low scores.

Lisa Christensendirector of talent acquisition, Expedia
The dispassionate analysis that AI brought to Expedia's recruiting practices can also be applied to performance management, which Holger Mueller, vice president and principal analyst at Constellation Research, considers talent management's core function -- and the part that's most broken. "We don't like to have unpleasant conversations; we don't like to criticize people; we don't like to get rated; we don't like to rate people," Mueller said.
"The way things are going is where machine learning becomes quasi-invisible and just gives you guidance and recommendations all along the way," said Yvonne Baur, head of predictive analytics and machine learning at SAP SuccessFactors, another vendor that has been incorporating AI in HR products and, like Textio, addresses gender bias.
Where have we heard this before?
Nevertheless, those of us who've been around IT for a decade or two have reason to be skeptical about AI claims. "The word AI is going to go down in history as a buzzword that came and went," Bersin asserted.
Mueller concurred. "There's a lot of hype," he said "because when you boil it down, what really is the breakthrough in 2016 is that neural networks scale and work really, really well thanks to the cloud."
The word AI is going to go down in history as a buzzword that came and went.

Josh Bersinprincipal and founder, Bersin by Deloitte
Past AI applications were hampered by their inability to scale, he said. The cloud gave them the big data, processing and storage they needed. He cited voice recognition applications such as Apple's Siri, which uses machine learning to adapt to the speech patterns of individuals. Similarly, HireVue Inc., with its AI-driven analysis of video interviews, needed cloud processing to bring the same specificity to each new hire.
Putting the 'AI' in HR analytics
To a large extent, the new AI applications are just advanced, updated versions of the HR analytics of recent years. "The applications of AI basically are analytics applications, where the software is using history and algorithms and data to be smarter and smarter over time," Bersin explained.
The many faces of HR AI apps
HR is a good target for AI because many HR practices are "handcrafted," cultural in nature and could be better at handling data, according to Josh Bersin, principal and founder of consulting firm Bersin by Deloitte. Research by Bersin's firm shows that nearly 40% of companies are using some form of AI in HR.
Recruiting is a common AI application. Most major HR software vendors have or will soon release products that can help decide which applicants to pursue for a given job, what attributes in their background might be a good fit and how to conduct the most productive interview. Bersin said the AI software typically does all that by analyzing data about people in a company to identify patterns common to successful employees, such as schools attended and past jobs. Then it looks for candidates on the web with similar backgrounds and career levels.
"We have AI software that can actually watch the video and determine if the person is telling the truth or pick up personality clues about that person," Bersin said, referring to software from HireVue Inc., one of the applications of AI in HR.
Career development is another focus, Bersin added, with IBM and Workday among vendors providing tools that analyze mobility patterns inside an organization, examine the experience and development tracks of successful employees, and advise managers what to do next. Other AI software performs sentiment analysis on data from social media and online surveys to measure morale and spot employee turnover risks.
In areas of learning -- another core component of talent management -- AI can read documents and turn them into assignments or recommend courses based on a person's career track and performance, Bersin said.
Many involved in development agree that AI differs in one respect: its ability to learn from the collected data. "It doesn't take a lot of technology to just predict something," Textio's Harris said. "[But it takes] a lot of technology to be right about that prediction in a provably quantitative way and then to take that learning and cycle [it] back into the system."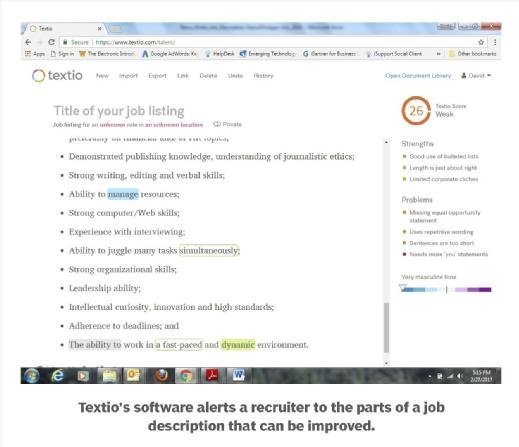 Textio is built on a data store of more than 70 million job listings and quantitative outcome data on such measures as how many candidates apply, their qualifications, demographic profile and how they performed in screening interviews. "All of this is fully quantitative," Harris said. "In tech jobs, the phrase big data was a really important and very successful phrase. In [two years], we've watched that go from highly positive to fairly neutral to, actually, a moderate negative now."
Always proceed with caution
The use of AI in HR comes with some risks, certainly not as dramatic as the predicted "singularity" of machine intelligence or the sinister Skynet in The Terminator (see "Rise of the bots in human resources").
AI algorithms are imperfect, relatively and not ready to take over HR processes, Bersin said. AI can't say with absolute certainty, for example, that a person is going to lie based on certain communication patterns. "Not only is it inaccurate, but it's dangerous, and people will get upset," he said. People are already nervous about how their employers might be using their data, so companies should be transparent about how AI will be used and emphasize the personal benefits.
Rise of the bots in human resources
Off to one side is a different application of AI in HR that automates the repetitive document sharing, data entry and messaging by having AI-powered chatbots, or software robots, handle the tasks for employees and HR managers. By drawing on databases of commonly asked questions, bots can ask IT to set up a computer for a hire or change an employee's benefit elections, said Josh Bersin, principal and founder of consulting firm Bersin by Deloitte.
Employees might not even be aware that they're not talking to a human. Bob Schultz, general manager of IBM talent management solutions, which uses Watson cognitive computing in several products, recalled the story of a Georgia Tech professor whose employee, "Jill Watson," nearly won a student vote for best teaching assistant before the professor came clean. Students praised Jill for always being available and responsive, Schultz said. He added that some beta users of IBM's bot offering, Watson Virtual Agent, are using it in HR workflows.
Software robotics is taking off in other business functions, raising fears of job displacement, but Bersin said HR workers needn't worry. "It's not going to be like the computer just wiped out the HR department and did it all," he said. Losses should be limited to labor-intensive support functions such as call centers that help employees fill out expense reports. Bots are best thought of as "augmented intelligence" that helps people work faster and with more accuracy, he said.
Management should take steps to ensure that AI exists not to simply replace HR workers, but rather it can be used as a way to free them up to do more and better work, such as solving problems the software can't resolve. "I wouldn't use it only as a tool to reduce cost," Bersin said. In addition, human oversight of AI tools is important to catch errors and put recommendations in context. "These are learning systems," he said. "They're not perfect."
Mueller said AI simply has to be just good enough and only bring measurable improvement: "If [human decision-making] works at 51%, if you shoot for two-thirds or 80%, you're moving the quality of decision-making in your company through the power of AI dramatically."
At the same time, he cautioned that some AI applications depend heavily on consulting services and are less functional out of the box than users might expect. "Smart people -- with time -- can build the most amazing things," he said. "It definitely will work eventually. The question is how much you pay for it."
Mueller recommended asking for a "sandbox" to try out the software on real company data. "Challenge your vendor: Say, 'Here's my data, show me what your machine learning AI can accomplish.' If that takes weeks, it's probably not a product," he advised. Another kind of test is to take year-old data and compare the AI's predictions to how new hires actually performed.
Choosing the right data is essential to making AI solve real problems, SAP's Baur said. For example, a company that feeds all of its historical data on high performers into an algorithm could perpetuate bias in recruitment if most of those performers were male. "Looking at the data in a thoughtful way and crafting your choice of data and your presentation is important," she said.
Bader plans to use Expedia's data warehouse to gauge AI's impact on such HR metrics as the time it takes to fill a position and the quality of a new hire. "Sometimes HR organizations overlook that basic fact and go off to the shiny new object without really thinking about how it's going to connect back to the core analytics of the function," Bader reasoned. His advice is to establish a baseline to measure improvement.
Dig Deeper on Employee engagement and recognition software