peshkova - Fotolia
A revolution in employee performance review software to loom over HCM
The traditional annual review in HR is being supplemented with cloud-based software to enable continuous coaching and feedback, regular check-ins and agile goal setting.
In a radical alteration of one of the bedrock processes of human resources, performance management is becoming more continuous.
The transformation is sparking vendors to accommodate users with automated, cloud-based employee performance review software and innovative tools.
The traditional annual review once stood virtually alone as the yardstick of an employee's performance. Now, the yearly review is increasingly being augmented with continuous coaching and feedback, regular check-ins, more frequent setting of goals and a management technique called Objectives and Key Results. Companies are also moving away from numeric and forced ratings of employees.
Revolution in performance management
"It is a giant revolution," said Josh Bersin, principal and founder of Bersin by Deloitte, the research group of the human capital management (HCM) business at Deloitte Consulting.
Bersin said the main problem with an annual review is that it happens only once a year. He said one company described the annual review to him as "a drive by shooting," because employees can be surprised to be told of an issue only at year-end.
"Some managers don't talk to people about performance during the year," Bersin said during an interview at the HR Technology Conference & Exposition. "They are either afraid to or they don't know how to have a conversation, so they write it all down at [the] end of year and say, 'OK, here is your review.'"
It is a giant revolution.

Josh Bersinprincipal and founder, Bersin by Deloitte
In a 38-page report issued this month, Bersin by Deloitte said the revolution in performance appraisal software is still in its early stages and predicted it will be one of the big trends in 2017 in HR.
Pioneering vendors fill a gap
Next-generation vendors such as BetterWorks, 7Geese, Reflektive and Zugata are offering a new type of employee performance review software.
"In some ways, this trend has left the incumbent HR software providers flat-footed," the Deloitte report said. "They see the opportunity and they see the need, but, frankly, they have not moved fast enough to capitalize on the change."
During 2017, the trend could be the focus of a "complex and somewhat brutal war" among software companies, the report said, adding that the market is enormous and the stakes are high.
The year-end review is not going away, but performance management is changing from an annual manager-driven process to one that is continuous, developmental and open.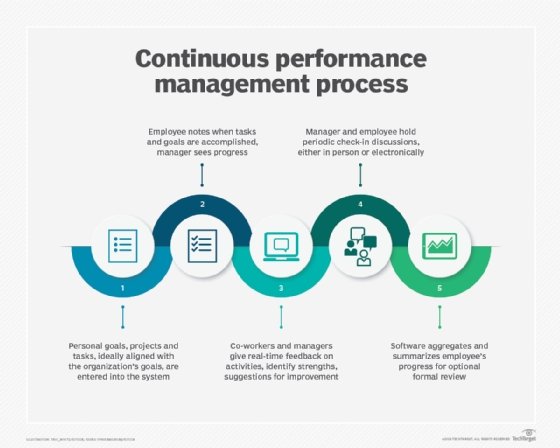 Check out how this new kind of employee performance review software works in the infographic above and our essential guide on how to make the shift to continuous performance management.